i5 / P55 Lab Update -
We welcomed Anand back into the office with open arms this past weekend. He immediately started working on an in-depth analysis of clock for clock comparisons for several processors as a follow up to our Lynnfield launch article (among many other things). This analysis along with a quick i7/860 performance review will be available in the near future.
In the meantime, I have additional performance results using the P55 motherboard test suite along with some unusual results from our gaming selections. I am not going to dwell on with commentary in this short update. We will let the numbers speak for themselves at this point. Let's get right to the results today, but first, the test setup.
Test Setup-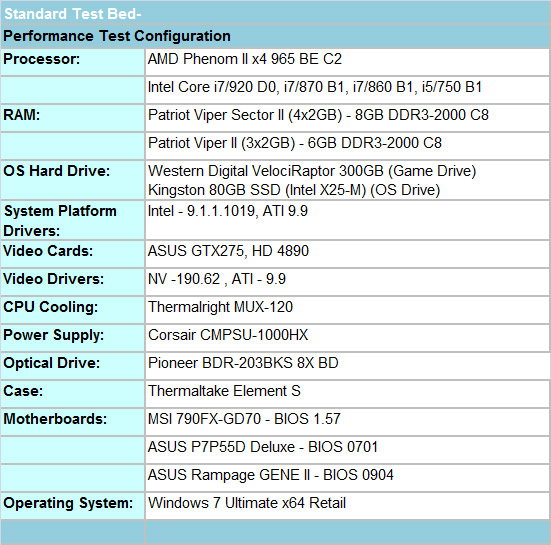 For our test results we setup each board as closely as possible in regards to memory timings and sub-timings. The P55 and 790FX motherboards utilized 8GB of DDR3, while the X58 platform contained 6GB. The P55 and X58 DDR3 timings were set to 7-7-7-20 1T at DDR3-1600 for the i7/920, i7/870, and i7/860 processors at both stock and overclocked CPU settings.
We used DDR3-1333 6-6-6-18 1T timings for the i5/750 stock setup as DDR3-1600 is not natively supported in current BIOS releases for this processor at a stock Bclk setting of 133. We had early BIOS releases that offered the native 1600 setting but stability was a serious problem and support was pulled for the time being. Performance is essentially the same between the two settings. When we overclocked the i5/750 to 3.8GHz, we utilized the same DDR3-1600 7-7-7-20 1T timings as the i7 setups.
The AMD 790FX setup is slightly different as trying to run DDR3-1600 at CAS 7 timings on the 1:4 divider is extremely difficult. DDR3-1600 is not natively supported on the Phenom II series so this divider is provided with a caveat that you are overclocking the memory bus. The same holds true for the Lynnfield (i7/8xx, i5/7xx) processors as DDR3-1333 is officially the highest memory speed supported and it is DDR3-1066 for the Bloomfield (i7/9xx).
Without resorting to some serious overvolting and relaxing of sub-timings, we set our AMD board up at DDR3-1600 8-8-8-20 1T timings. The difference in performance between C7 and C8 DDR3-1600 is practically immeasurable in applications and games on this platform. You might pick up an additional few tenths of second in SuperPi or a couple of extra points in AquaMark or 3DMark 2001SE, but otherwise performance is about equal.
However, in order to satisfy some of our more enthusiastic AMD supporters, we also increased our Northbridge speed from 2000MHz to 2200MHz to equalize, if not improve, our memory performance on the AMD system. Yes, we know, further increasing the NB speed will certainly result in additional performance but the focus of this short article is to show clock for clock results at like settings. Personally, I would run DDR3-1333 C6 with 8GB as this platform favors tighter timings over pure bandwidth.
Last, but not least, I only ran the i5/750 without turbo enabled and the P45/C2Q setup is missing. I am still completing those numbers. Anand will be providing additional analysis on the other Lynnfield processors in his update. The image gallery below contains our Everest memory results with each processor overclocked at similar memory settings along with voltage/uncore/subtiming options. I will go into these in more detail once the motherboard roundups start. For the time being, the 860/P55 offers slightly better throughput and latency numbers than the 920/X58 when overclocked. At stock, the numbers favor the Lynnfield, but primarily due to the turbo mode.
Other than that we are in a holding pattern on the P55 roundups at this time trying to figure out some unusual game and 3D Render results with our GTX275 video cards. I will discuss this problem in the game results.