Microsoft Excel 2007
Excel can be a very powerful mathematical tool. In this benchmark we're running a Monte Carlo simulation on a very large spreadsheet of stock pricing data.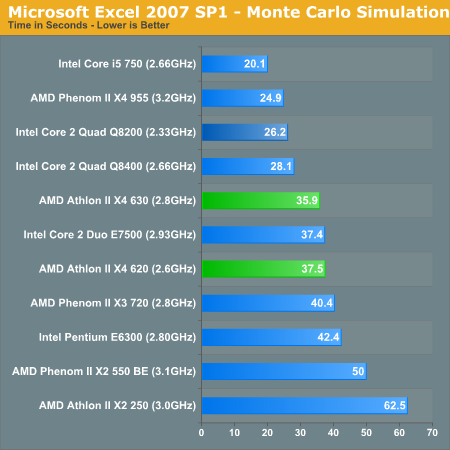 Like Blender, we have another highly optimized Intel case - but even here the Athlon II performs admirably. It's faster than the Phenom II X3 720, slower than the Q8200 but faster than the E7500.
It's priced like an Intel dual-core processor, but outperforms it in even the most Intel-favored situations.
Sony Vegas Pro 8: Blu-ray Disc Creation
Although technically a test simulating the creation of a Blu-ray disc, the majority of the time in our Sony Vegas Pro benchmark is spent encoding the 25Mbps MPEG-2 video stream and not actually creating the Blu-ray disc itself.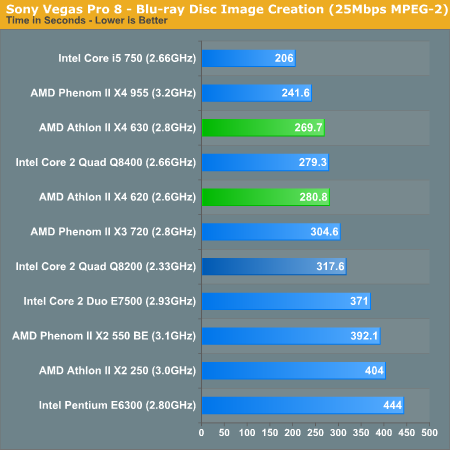 The Athlon II X4 620 goes back to delivering the goods. Faster than a Q8200 and an X3 720 once more.
Sorenson Squeeze: FLV Creation
Another video related benchmark, we're using Sorenson Squeeze to convert regular videos into Flash videos for use on websites.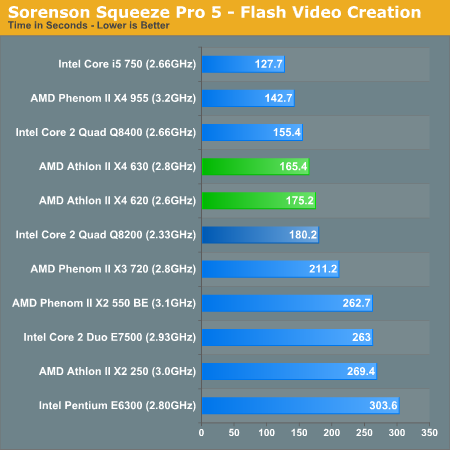 More of the same here.