Netbook Browser Battery Life
The first two laptops are representative of a large portion of the mobile market. Both processors are reasonably fast, you get 4GB RAM, and battery life is acceptable if not great. Discrete graphics would improve performance in gaming applications by a substantial amount, but it would also eat into the battery life, which is why most laptops utilize integrated graphics. Our last laptop for the browser battery life testing represents the last major chunk of the mobile market where battery life would matter: netbooks. The ASUS 1005HA represents the current state-of-the-art in netbooks, with an Intel Atom N280 processor, 1GB memory, a 160GB hard drive, and a 10.1" LCD. It uses the Intel 945GSE + ICH7MU chipset with integrated GMA 950 graphics.
Unlike our testing for the 1005HA review, we set the Super Hybrid Engine to "High" instead of "Auto", so the N280 won't underclock on battery. This reduces battery life by around 6%. Since the 1005HA runs XP instead of Vista, we also chose the "Portable/Laptop" power profile rather than the "Max Battery"; the reason is that the netbooks tend to run too slow when set to "Max Battery" and the gains aren't as substantial as with faster laptops. We measured a 7.5% increase in battery life by switching to the "Max Battery" profile, if you're interested.

ASUS Eee PC 1005HA Specifications
Processor
Intel Atom N270 or N280 (Tested)
N280: 1.66GHz, 512KB L2, 45nm, 667FSB
Chipset
Intel 945GSE + ICH7MU
Memory
1x1024MB DDR2-533 @ 4-4-4-12 Timings
Graphics
Integrated Intel GMA 950
Display
10.1" Glossy LED-Backlit ~16:9 WSVGA (1024x600)
Hard Drive
2.5" 160GB 5400RPM 7MB (Hitachi HTS543216L9SA00)
Networking
Atheros AR8132 Fast Ethernet
Atheros AR9285 802.11n WiFi
Audio
Realtek AL269 2-Channel HD Audio
(2.0 Speakers with headphone/microphone jacks)
Battery
6-Cell 11.25V, 5600 mAhr, 63.0 Whr
Front Side
None
Left Side
Heat Exhaust
Kensington Lock
1 x USB 2.0
VGA
AC Power Connection
Right Side
SD/MMC reader
Microphone/Headphone Jacks
2 x USB 2.0
100Mb Fast Ethernet
Back Side
None
Operating System
Windows XP Home SP3
Dimensions
10.31" x 7.01" x 1.02"-1.44" (WxDxH)
Weight
2.8 lbs (with 6-cell battery)
Extras
1.3MP Webcam
Super Hybrid Engine (software over/under clocking)
Available in White, Black, Blue, and Pink
Warranty
1-year standard ASUS warranty (USA)
Extended warranties available
Price
Black 1005HA-PU1X-BK starting at $381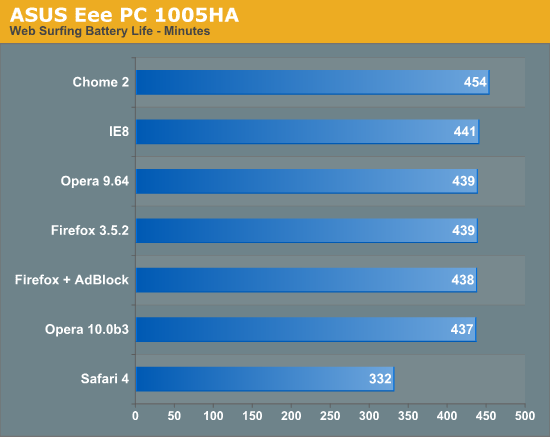 Unlike the other laptops, all of the browsers offer almost the same battery life on the 1005HA. Google Chrome comes in first this time, offering 2.5% more battery life than IE8. There's only a four minute gap between IE8 and Opera 10, a difference of less than 1% total. AdBlock doesn't help Firefox this time, most likely because of the amount of processing it takes to parse HTML and perform regular expression matching.
The gap between first and sixth with a netbook looks to be 3.5%, so if you're using a netbook you can select a browser based on other features, though Chrome does come in first by almost 15 minutes. The major exception is that Apple's Safari 4 web browser again comes in last, again by a large margin. Chrome managed 36% more battery life on the 1005HA than Safari, and Flash content within Safari 4 used a significant amount of CPU time. Safari seems to want more CPU power than the Atom can provide, with the result being the processor is often near 100% utilization for significant amounts of time on Flash-heavy sites.