PCMark Vantage: Used Drive Performance
Immediately after finishing my PCMark Vantage runs on the previous page, I wrote one large file sequentially to the rest of the drive. I then deleted the file, rebooted and re-ran PCMark Vantage. This gives us an idea of the worst case desktop performance of these drives as you create, delete and generally just use these drives.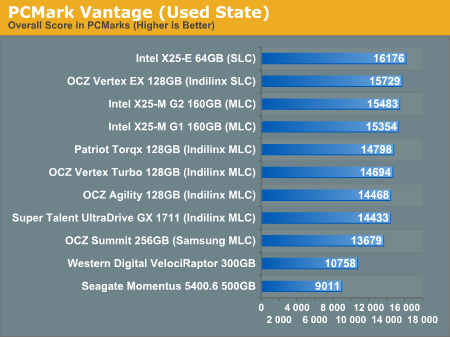 The biggest difference here is that the Samsung based OCZ Summit drops from 5th to 9th place. All of the drives get slower but the Indilinx drives hardly show it. When it comes to dealing with write speed, SLC flash does have the advantage and we see the X25-E and Vertex EX rise to the top of the pack. The G2 is slightly faster than the G1 and the Indilinx drives follow in close pursuit.
The mechanical drives don't change in performance since they don't get slower with use, only as they get more full.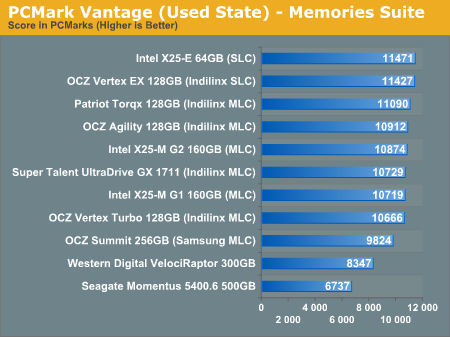 Again we see the two SLC drives at the top, this time followed by a mixture of Indilinx/Intel drives, and the Samsung based Summit is at the bottom of the pack before we get to the HDDs.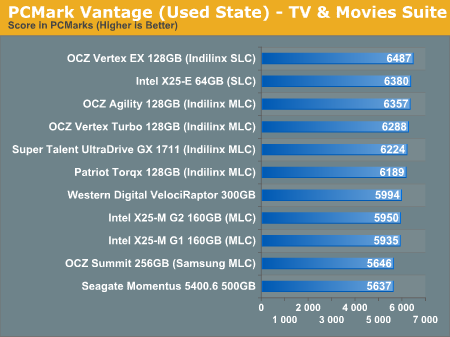 The spread in SSD performance here is only 10% between the slowest non-Samsung drive and the fastest. That tells me that we're mostly CPU bound, but the worst performers other than the Samsung drive are the two Intel X25-Ms. That part tells me that we're at least somewhat bound by sequential write speeds. Either way, the Indilinx drives have a good showing here.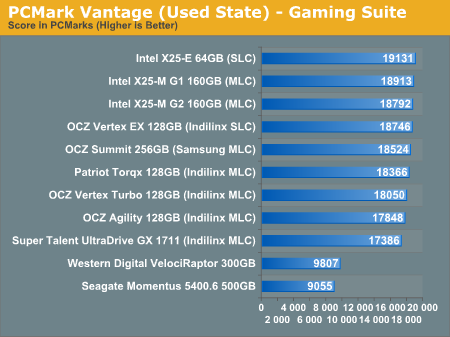 Intel followed by Indilinx SLC with Samsung in league with the MLC Indilinx drives. This is an SSD's dream.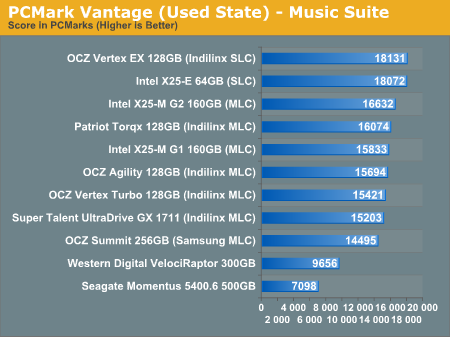 Despite the improvements, the G2 can't touch the much lower write latency of SLC flash here. The Indilinx and Intel G1 drives intermingle while the Samsung drive pulls up the rear. All are faster than a regular hard drive of course.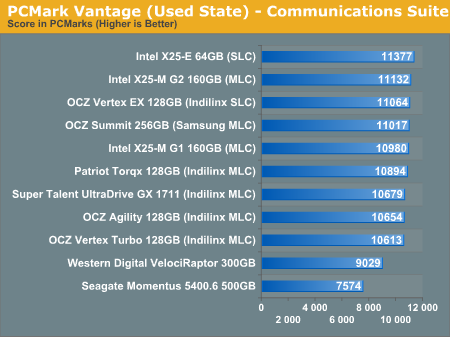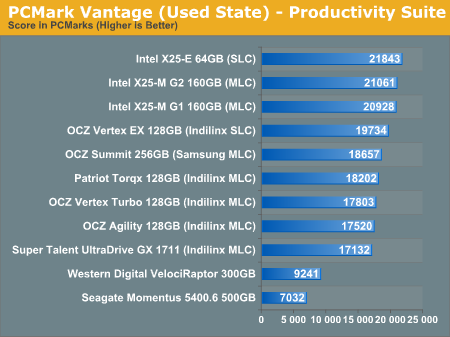 In the multitasking test we once again see Intel rise to the top. The Samsung drive does surprisingly well and the Indilinx drives continue to perform admirably.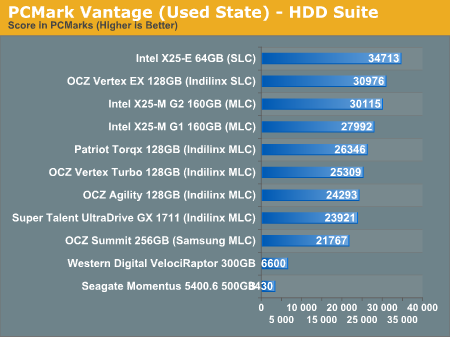 The breakdown between SSDs here is almost linear. The X25-E leads the pack, followed by OCZ's SLC drive. The G2 and G1 are next, then a ton of Indilinx MLC drives. The slowest SSD? The Samsung based Summit of course.