All Indilinx Drives Are Built Alike
G.Skill, OCZ, Super Talent and Patriot all sent their Indilinx MLC drives in for review. If you take the drives apart you see that most are the very same on the inside, despite differences externally: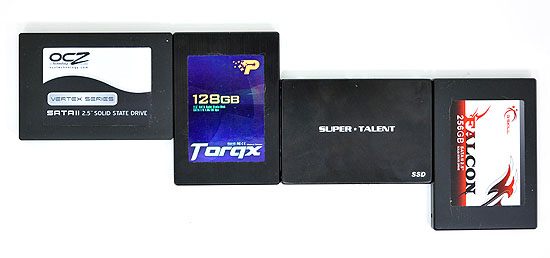 From Left to Right: OCZ Vertex Turbo, OCZ Agility, Patriot Torqx, G.Skill Falcon and Super Talent UltraDrive GX. Only the Super Talent drive uses a different PCB design.
Even the packaging doesn't appear to vary much between manufacturers; that part I don't really understand. All that seems to change is the artwork on the outside.
There are some minor differences between drives. Patriot ships its Torqx with a 2.5" to 3.5" drive bay adapter, a nice addition. The Torqx also comes with a 10 year warranty, the longest of any Indilinx based manufacturer. OCZ is next with a 3 year warranty, followed by Super Talent and G.Skill at 2 years.
Indilinx is still a very small company so it relies on its customers to help with validation, testing and even provide feedback for firmware development. As far as I can tell, every single Indilinx customer gets the same firmware revisions. Some vendors choose to rename the firmware revisions, while others do not. OCZ calls its latest stable firmware 1.30, while G.Skill, Super Talent and Patriot call it 1571.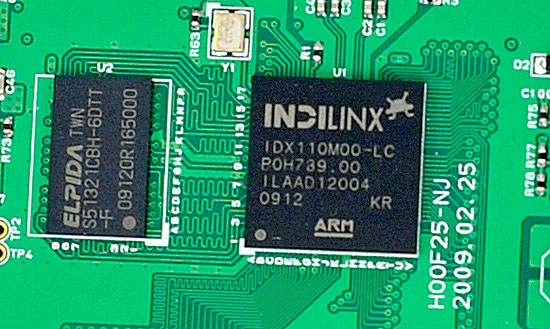 The Indilinx Barefoot controller (right), powered by an ARM core.
Of all the Indilinxites, OCZ and Super Talent work closest with the controller manufacturer. In exchange for their help in manufacturing and validation, OCZ and Super Talent also get access to the latest firmwares earlier than the rest of the manufacturers. Ultimately all manufacturers will get access to the same firmware, it just takes longer if you're not OCZ or Super Talent.
You no longer need to use a jumper to upgrade your firmware, provided that you're already running fw revision 1275 or later. If you have a previous version you're pretty much out of luck as you need to upgrade to 1275 first before upgrading to anything else, and none of the manufacturers make it easy to do. Some don't even offer links to the necessary firmware you'd need to jump to 1275. Thankfully pretty much anything you buy today should come nearly up to date, so this mostly impacts the original customers of the drive.
Performance, as you'd expect, is the same regardless of manufacturer: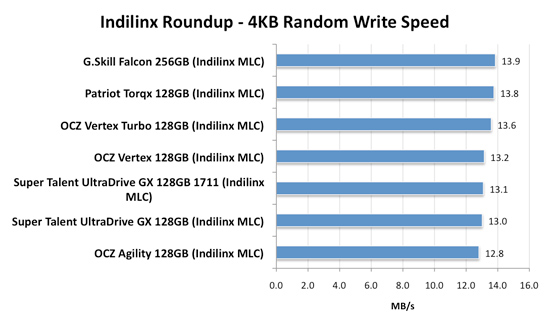 There's normal variance between drives depending on the flash/controller, that's why the OCZ Vertex is slower than the Patriot Torqx here but faster than the Super Talent UltraDrive GX. The manufacturer and size of the flash has more to do with determining performance. Samsung is used on all of these drives but the larger the drive, the better the performance. The 256GB model here will always be faster than a 128GB drive, which will always be faster than a 64GB, etc...
All of the drives here use the same firmware (1571) except for one of the Super Talent drives. That drive is using the beta 1711 firmware with TRIM support that was pulled.
When it comes to the best overall package, I'd say Patriot's Torqx is the nicest for a desktop customer. You get a 3.5" adapter bracket and a 10 year warranty (although it's difficult to predict what Patriot's replacement strategy will be in 10 years).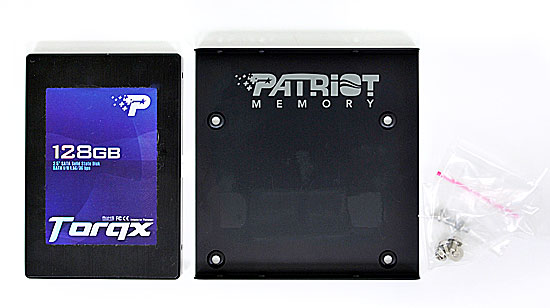 The Patriot Torqx bundle, complete with a 2.5" to 3.5" adapter.
Prices vary a bit between manufacturers, although most of the more expensive drives here have a $30 rebate to bring their prices in line:
OCZ does do some unique things that the other manufacturers don't such as deliver an overclocked drive (Turbo) and a drive with slower flash (Agility). There's a Mac Edition of the Vertex, unfortunately it's no different than the regular drive - it just has a different sticker on it and a higher pricetag.