The ASUS A3TB7A-I: Does it Work?
I decided to add this section after the issues with Zotac's Ion board and not supporting wake on USB. There are several features which any reader would assume work on this board but I thought I'd go through and confirm that they do indeed work as prescribed.
H.264 GPU Acceleration
Yes. This one works and works well. Just like the Zotac board, I had no problems using the ASUS Ion motherboard in a real home theater environment. The lack of an external DC power supply is less convenient when transporting the motherboard around, but the board decoded 1080p H.264 without an issue.
Both original Blu-ray discs and Blu-ray rips worked without a problem. See our Zotac review for instructions on enabling H.264 decode acceleration under Media Player Classic - Home Cinema.
8-channel LPCM
Sort of. One of the core features of NVIDIA's GeForce 9300/9400 chipset is its support for 8-channel LPCM audio output over HDMI. Don't know what this is? Read up on it here.
I list this one as sort of because both Gary and I experienced a strange problem with this ASUS board. While we could both get video/audio output when connected directly to a display via HDMI, as soon as we stuck a receiver/preprocessor in between we got no signal at all. My Integra DTC-9.8 would see a signal while the system was POSTing/booting, but as soon as it got into Windows the signal died. Gary saw the same thing with his Denon AVR-3808, Pioneer VSX-94TXH and Yamaha RX-Z11BL.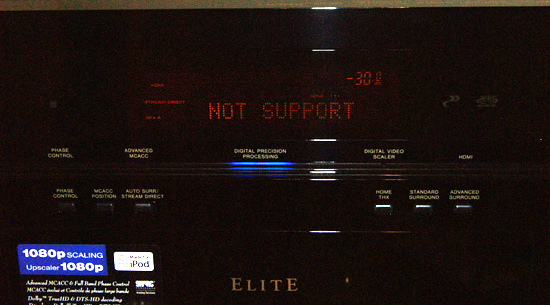 Gary tried rolling back to an older version of the NVIDIA HDMI driver (1.0.0.42) and was able to get both 5.1/7.1 audio and video working across his receivers, but the latest HDMI drivers would not allow it.
We've fed this information back to NVIDIA and hope to see it resolved soon.
Wake on USB
Yes. Unlike the first PCB version of Zotac's Ion board, ASUS's Ion will properly come out of sleep whenever there's a USB event (e.g. mouse click, key/button press).
Bluetooth
Sort of. Unfortunately the Bluetooth controller used on ASUS' board has no driver support under Windows 7, and the supplied Windows Vista drivers don't exactly work. If you fool the driver installer into thinking that you're running Vista then the drivers will install. Unfortunately I wasn't able to actually use any Bluetooth devices with the PC after pairing; even my Blueant headset wouldn't work as either a microphone or speaker.
We've fed this information back to ASUS and NVIDIA.