And so it ends at 4GHz, again.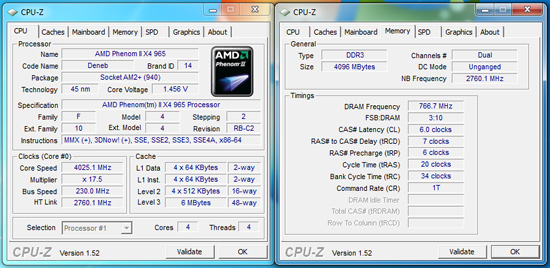 A 625MHz overclock is nothing to sneeze at, but it certainly does not come near those 6GHz~7GHz clock speeds we see on a regular basis with the Phenom II series. Granted, reaching those high clock speeds requires LN2 cooling but there is another important reason. We have discussed it several times and still do not have an acceptable answer from AMD about the inability of the Phenom II to clock much past 4GHz with a 64-bit operating system. Even with LN2 cooling we have not successfully benched past 4.4GHz with a 64-bit OS.
Once again, we tried XP 64-bit, Vista 64-bit, and Windows 7 64-bit and the results are always the same. As we near 4GHz, the voltage requirements increase dramatically and the clocking ability of the processor decreases in much the same manner. This does not occur in a 32-bit operating system, which happens to be the recommendation for any sort of benchmarking activities with the Phenom II.
That said, running this particular processor in the 3.8GHz~4GHz range offers performance that should satisfy just about any desktop user. Moreover, it is easy to do, in fact, much easier than our collection of 955BE samples scattered about the labs.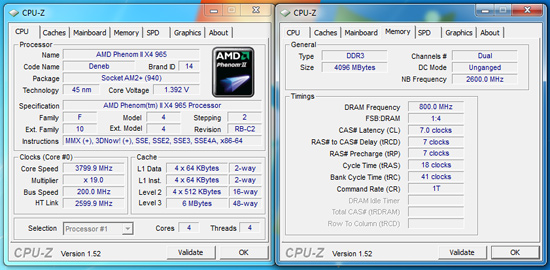 Windows 7 Ultimate x64 - Stock Voltage Overclock

The stock Core VDDC (VCore) is 1.4V as delivered from AMD. At this stock voltage and a slight bump in NB Core voltage to 1.250V, we hit 3.8GHz with a 2.6GHz Northbridge speed on our MSI 790FX-GD70 motherboard. The AMD specific 4GB DDR3-1600 kit from OCZ was set at 1.65V with 7-7-7-18 1T timings. We used the retail air cooler and load temperatures stayed around 58C~62C with Windows 7 Ultimate x64 as the operating system of choice.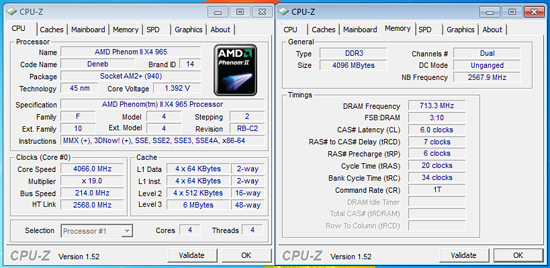 Windows 7 Ultimate x86 - Stock Voltage Overclock

At the same voltages but utilizing Windows 7 Ultimate x86 we end at a final core speed of 4.066GHz (19x214). Northbridge speed is set to 2.567GHz and memory at DDR3-1426 with 6-7-6-20 timings. This is a similar pattern when testing the Phenom II cpus on air-cooling; we typically can clock the processor about 200MHz higher at similar voltages and settings when using a 32-bit OS in place of a 64-bit OS. Our particular sample made it to 4.2GHz on 1.50V with a NB speed of 2.4GHz using our Vigor Monsoon III LT air cooler. We almost hit 4.3GHz at 1.52V with a 2.7GHz NB speed on water cooling before temperatures spiraled out of control.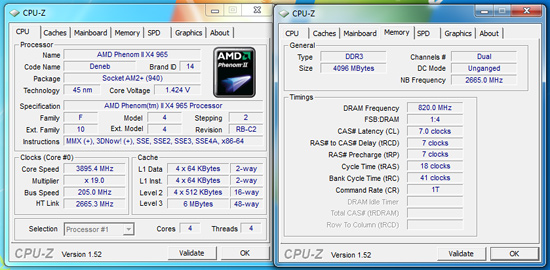 We swapped out our retail air cooler for the Corsair Hydro H50 to hit our top two overclocks. We reached 3.89GHz on 1.45V with the NB speed of 2.66GHz and memory running at DDR3-1640 on 7-7-7-18 timings. When running higher NB speeds, it is a requirement to keep the core as cool as possible to guarantee stability under load conditions. This was our preferred setting as temperatures stayed below 54C under load and the system was very responsive in a variety of applications, especially gaming.
Our best core clock reached 4.025GHz on 1.475V (shown at the top of the page) with a 2.76GHz NB speed and memory operating at DDR3-1532 on 6-7-6-20 timings. Temperatures crept back up to the 58C range under full load conditions.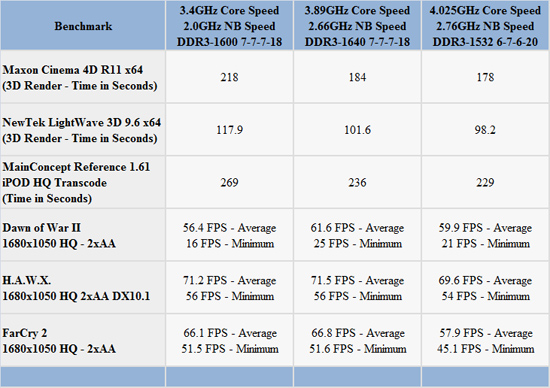 The 4.025GHz setting offered the best results in several video/audio transcoding benchmarks due to pure processor speed, it was actually slower in gaming than the 3.89GHz setting thanks to improved memory bandwidth and internal latencies.