3dsmax 9 - SPECapc 3dsmax CPU Rendering Test
Today's desktop processors are more than fast enough to do professional level 3D rendering at home. To look at performance under 3dsmax we ran the SPECapc 3dsmax 8 benchmark (only the CPU rendering tests) under 3dsmax 9 SP1. The results reported are the rendering composite scores: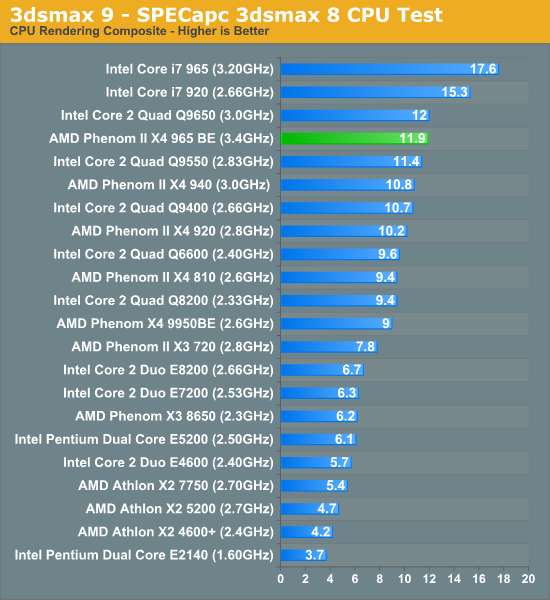 While the Phenom II X4 965 BE is able to roughly equal the Q9650 in performance, it's unable to come close to any of the i7s. In our Lynnfield preview we found that without Lynnfield's aggressive turbo modes, a 2.66GHz i5 750 would still be faster than the Q9650 so it doesn't look like Lynnfield will tip things in AMD's favor here either.
Cinebench R10
Created by the Cinema 4D folks we have Cinebench, a popular 3D rendering benchmark that gives us both single and multi-threaded 3D rendering results.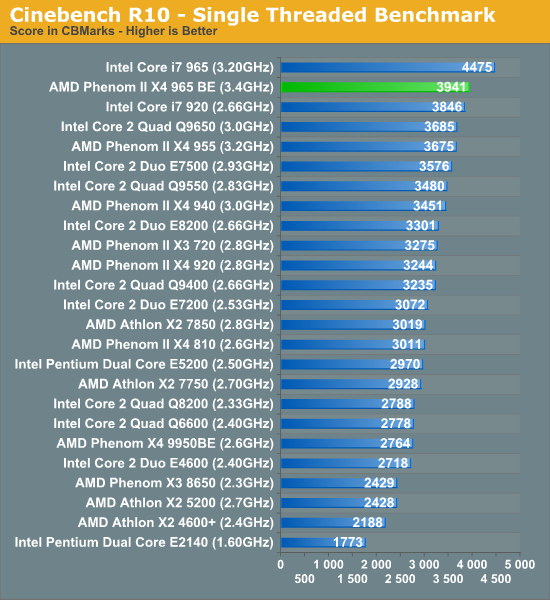 Single threaded performance is clearly an area where the i7 920 can't use Hyper Threading to its advantage. The 965 BE is second only to the i7 965.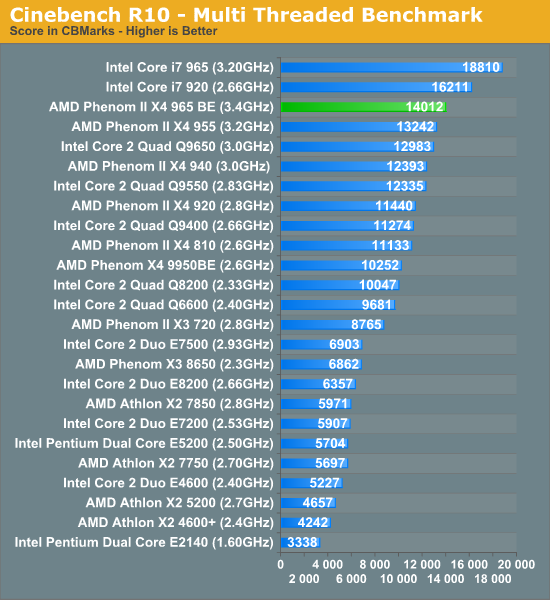 Once more, other than the i7 processors you can't touch the 965 BE. Depending on how well Lynnfield's turbo works, AMD could even be competitive against the entry level Core i5.
POV-Ray 3.73 beta 23 Ray Tracing Performance
POV-Ray is a popular, open-source ray tracing application that also doubles as a great tool to measure CPU floating point performance.
I ran the SMP benchmark in beta 23 of POV-Ray 3.73. The numbers reported are the final score in pixels per second.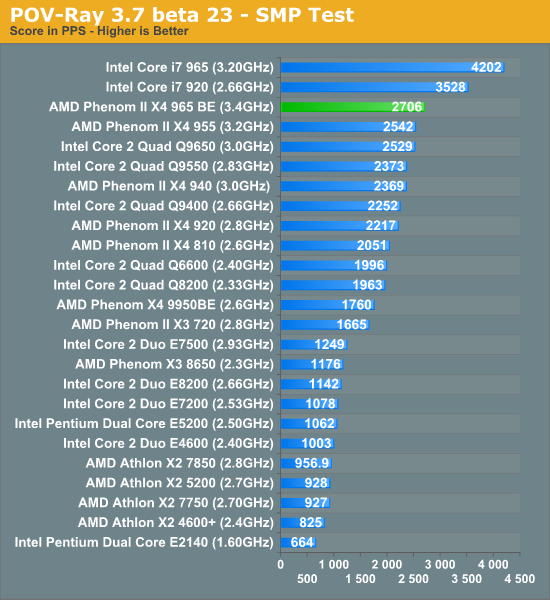 More of the same, the 965 BE is the fastest non i7 processor on the block. Even Lynnfield may find it difficult to significantly outperform the Phenom II flagship here.
Blender 2.48a
Blender is an open source 3D modeling application. Our benchmark here simply times how long it takes to render a character that comes with the application.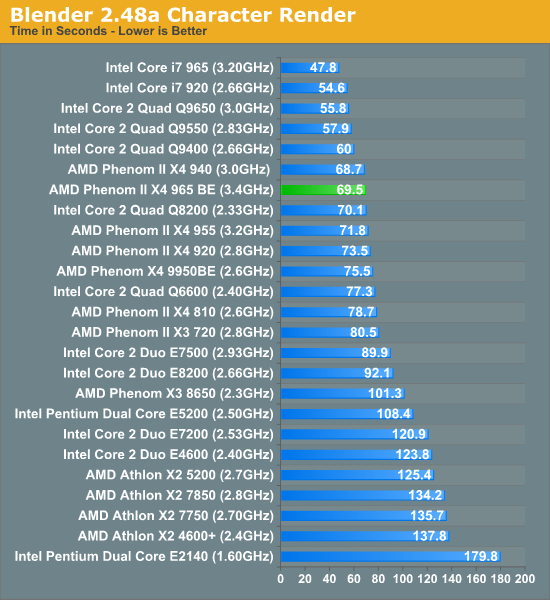 All of the DDR3 Phenom IIs are actually slower in our Blender test, but it doesn't matter since the app seems to heavily favor Intel CPUs.