Intel Performance Midrange
In recent months, AMD is finally effectively competing in midrange computer systems. With the AMD Phenom II line, Intel and AMD enjoy rough parity in the price ranges and processor speeds where they compete. Of course, the top AMD still cannot compete with Intel Core i7, which remains the performance leader. We could have chosen an Intel CPU for our performance midrange that would have competed very well with the AMD Phenom II 955BE used in the AMD performance midrange setup. The problem with that is we would not make that choice ourselves. If we were spending $1600 or more a system, we would definitely stretch the extra $150 to buy a Core i7-920 system. That is exactly what we did for the Intel performance midrange system. (You can of course trim down other component choices to get into a Core i7 system for less money, but we're going with the type of system we would like to build.)
The reasoning was very simple. It was difficult to recommend another Intel system at anywhere close to the price point of the i7-920, and socket 1366 components have been dropping in price over the past three months. For those reasons if you plan to spend over $1000 on a base Intel box you should definitely consider a Core i7-920 system. That will likely change with the coming i5 release providing additional Intel midrange choices.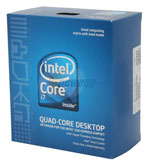 The i7-920 is the lowest priced Intel Core i7 you can currently buy. The other choices, even after the recent i7-975 and i7-950 introductions, are in the $562 to $1000 range. Don't assume, however, that the 920 isn't a powerful processor. The i7-920 is capable of reaching the performance levels of the top i7 CPUs, because it has also proven to be a dynamite overclocker for those who care about that - provided they are also willing to provide decent cooling to the i7-920.
The Core i7-920 is 30% faster in some parameters than a Core 2, and you can overclock this 2.66GHz CPU to 3.8GHz to 4GHz with careful tweaking and better cooling. As shown in the Phenom II launch, the 920 reached as high as 3.8GHz at stock voltage and 4.0GHz when overvolted to 1.35V. That is a 50% overclock without a ton of effort on air-cooling. You will certainly be very happy with Core i7 base performance, but if you are interested in overclocking you will be extremely pleased with this CPU.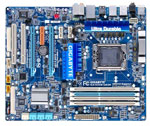 The GIGABYTE GA-EX58-UD3R remains the X58 board of choice for the Core i7-920. It is one of the least expensive X58 chipset motherboards currently available. Others have joined that +/-$200 X58 club in recent months, but the GIGABYTE still provides excellent value and is now selling with a rebate that reduces the price to $180. Test results and user reports for the GIGABYTE EX58-UD3R are very favorable. This low-priced X58 board also excels in overclocking, which is why it remained the motherboard choice for the performance midrange Intel system. Other good choices are the MSI X58 Pro LGA 1366 and the ASRock X58 Deluxe LGA 1366.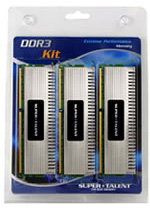 Super Talent introduced an excellent 6GB triple-channel memory kit in their Chrome DDR3-1600. This Super Talent 6GB kit is another low-voltage memory kit preferred in AnandTech memory testing. Specifications are 8-8-8-18 timings at DDR3-1600 and 1.65V. This triple-channel memory kit provides excellent value in a 6GB kit and overclocking headroom to spare with its low voltage design. Six months ago in our last midrange guide, a slower 6GB kit set you back $145 where the Super Talent DDR3-1600 is now $96. DDR3 prices just continue to drop. You can select from a number of quality memory suppliers, but make sure to include their warranty and customer service reputation in your decision-making.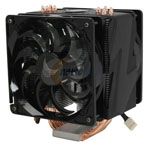 Unfortunately, the Core i7 CPU runs hot and eats lots of power. In fact, the stock Intel HSF is barely adequate for the CPU, which is a change in philosophy from lower Intel processors. For those reasons we almost always recommend a third party CPU cooler for an i7 system - particularly if you plan to overclock at all. Our cooler choice to mate with the GIGABYTE X58 board is the Vigor Monsoon III LT at $55. This Monsoon is a standard vertical heatpipe air-cooler, with effective and quiet push-pull cooling. The Monsoon appears a good match to the OC capabilities of the i7-920. Another excellent option is the Thermalright Ultra 120 eXtreme with the 1366 mounting kit. You pay a bit more for the Thermalright cooler, but this top Core 2 cooler also works very well when paired with a Core i7.