Performance
Understanding how the new Nehalem Mac Pro performs really isn't that difficult; it all boils down to the type of workload. On very threaded workloads, the new Mac Pro should be much faster than the old one, even at a lower clock speed. Single threaded applications will show us the opposite - the new Mac Pro will need equivalent clock speed to equal the older one. And for everything in between, the wins will vary.
Adobe Photoshop CS4 Performance
To measure performance under Photoshop CS4 we turn to the Retouch Artists' Speed Test. The test does basic photo editing; there are a couple of color space conversions, many layer creations, color curve adjustment, image and canvas size adjustment, unsharp mask, and finally a gaussian blur performed on the entire image.
The whole process is timed and thanks to the use of Intel's X25-M SSD as our test bed hard drive, performance is far more predictable than back when we used to test on mechanical disks.
Time is reported in seconds and the lower numbers mean better performance. The test is multithreaded and can hit all four cores in a quad-core machine.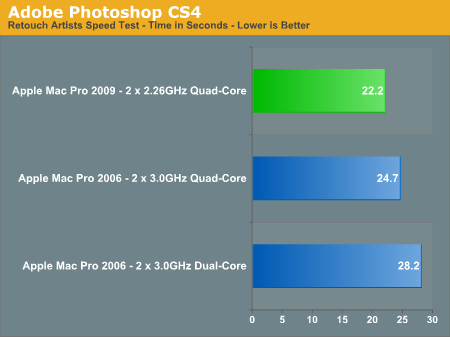 This test isn't heavily threaded from start to finish, some actions only stress one or two cores while others will drive all sixteen virtual threads on the new Mac Pro. The speedup from Hyper Threading is enough however to give the new Mac Pro an advantage, even at a lower clock speed, over the older model. This makes sense given how well the Nehalem based Core i7s do in our CS4 benchmark in Bench.
Apple Aperture 2.1.2 Performance
While Photoshop lets us do a lot of photo processing, Aperture is useful in managing workflow before we get to the heavy processing stages of Photoshop. For this test I'm exporting one of the sample albums that comes with Aperture from RAW to JPEG format.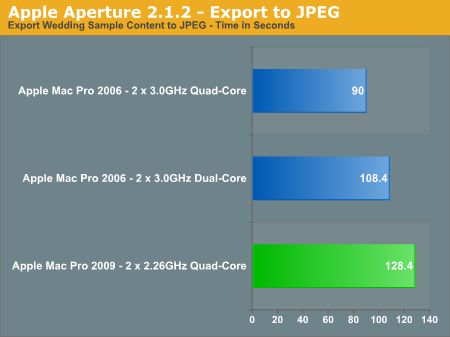 The results here aren't uncommon. In a lightly threaded task you shouldn't expect the new Mac Pro to be faster than the old one, there's no replacement for clock speed. Other workloads will be hurt simply because L2 cache sizes are smaller with Nehalem then they were previously (only 256KB L2 per core with Nehalem).
Xcode Performance
Good compiler tests are hard to come by, but I've found that building the Adium source in Xcode is not only repeatable but a great test of platform performance. The build process is multithreaded and will use up to 16 threads, although not consistently over the course of the build.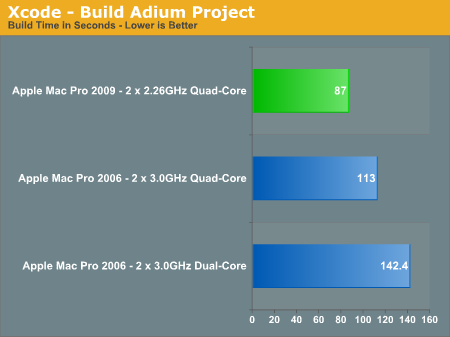 Hyper Threading has the potential to really help the new Mac Pro if you're running a heavily threaded workload. The Xcode test is the perfect example of a real world usage scenario that doesn't max out all cores, but still does very well on the new Mac Pro.
Adobe Premier Pro CS4 Performance
Video encoding under Quicktime was a bust, but using a professional encoder like Premier Pro shows the strength of Nehalem: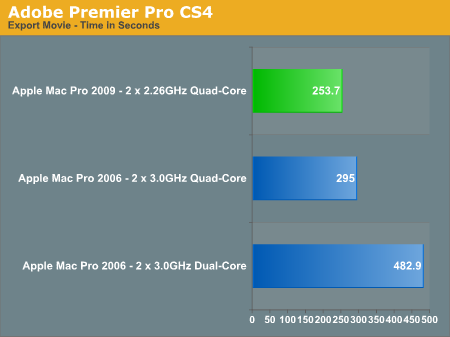 At 2.26GHz we're faster than eight cores running at 3.0GHz with the first Mac Pro. Throw in a pair of 2.93GHz Xeons and you'll see another ~20% performance improvement on top of that.
I would guesstimate that the quad-core 2.66GHz Mac Pro should deliver performance similar to (if not slightly slower than) the older 8-core 3.0GHz Mac Pro.
Quicktime H.264 Encoding Performance
While video encoding can definitely benefit from the monster threading abilities of the new Mac Pro, lighter encoding workloads don't really benefit: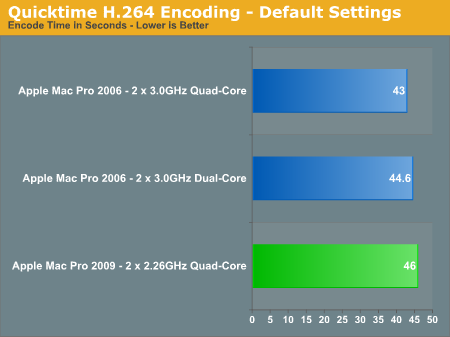 Quicktime is hardly the best application to do serious video encoding, here we see it barely scales beyond two cores - Nehalem has nothing to offer us in this sort of a situation.
iWork, iLife and General Use Performance
If you plan on using your Mac Pro for more than just rendering, encoding and computation, you'll find that it does work very well as a general use machine: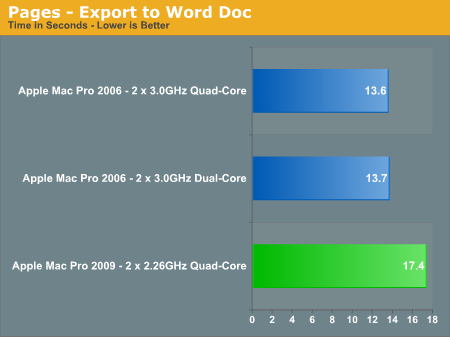 But clock speed definitely matters. In these two iWork benchmarks the 2.26GHz eight-core Mac Pro is measurably slower than its 3GHz predecessors. You'll at least need the 2.93GHz upgrade to equal their performance here.