Microsoft Excel 2007 SP1
Excel can be a very powerful mathematical tool. In this benchmark, we are running a large Monte Carlo simulation on stock pricing data to estimate the riskiness of an investment portfolio.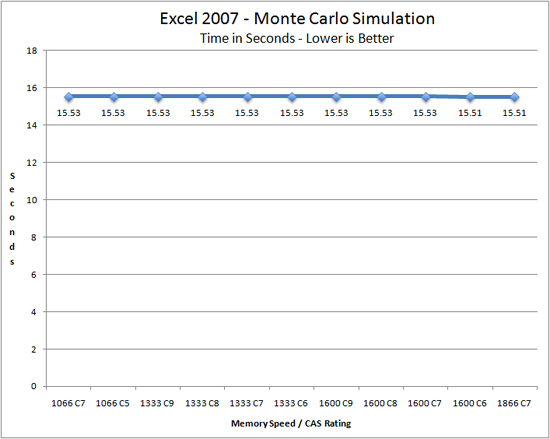 This benchmark runs entirely in cache, so the results are predictable. Memory bandwidth or latency is not going to make a real difference here.
Photoshop CS4 x64
To measure performance under Photoshop CS4 x64, we turn to the Retouch Artists' Speed Test macro only with a custom image sized at 4800x3600. The test performs basic photo editing; a few color space conversions, several layer creations, color curve adjustment, 3x image and canvas size adjustments, unsharp mask, and finally a gaussian blur performed on the entire image.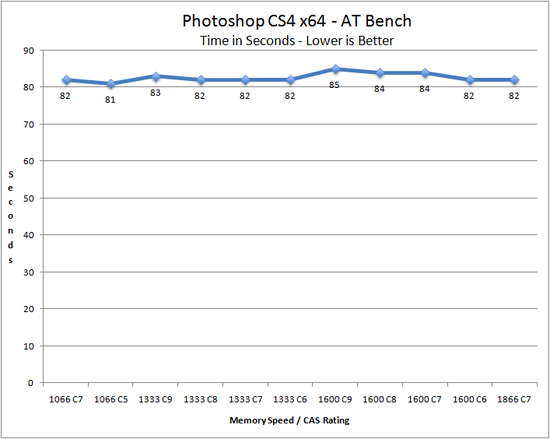 We expected different results in this particular benchmark, but it is one of several applications that responded well to DDR3-1066 C5 settings in single task mode.
Bibble 5.0
We utilize Bibble Labs' Bibble 5 v2 to convert 50 RAW image files into full size JPEG images with the program's default settings. This program is fully multithreaded and multi-core aware.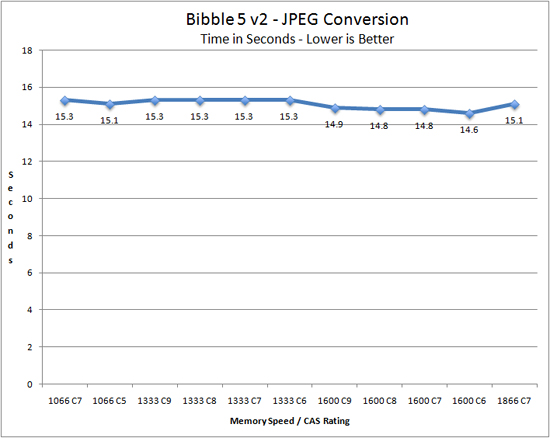 This application responds well to memory bandwidth coupled with improved latencies as we see about a 5% improvement switching from 1066 C7 to 1600 C6.
iTunes 8 x64
We import the album Tommy by The Who to our disk in WAV format. The directory consists of 25 songs totaling 751MB. We then convert this music collection to MP3 format utilizing 320Kbps VBR Highest audio settings or to an AAC format using the iTune Plus option.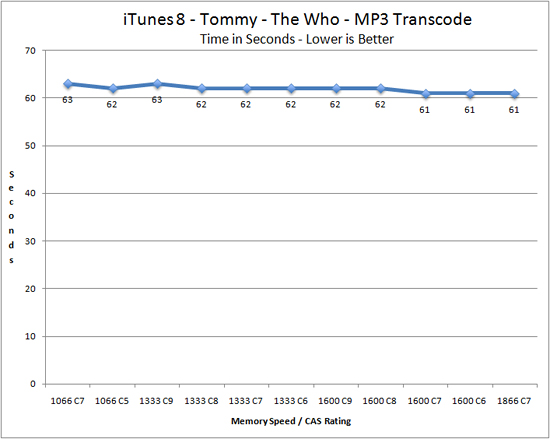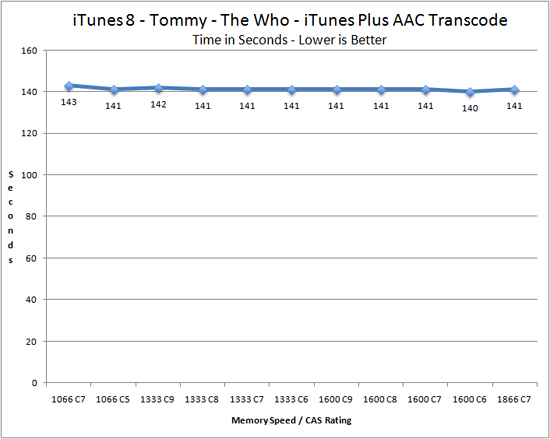 Utilizing either transcoding method, iTunes performance remains almost flat regardless of memory type. We notice about a 2% improvement switching from 1066 C7 to 1600 C6.