Memory Prelude
Intel designed Core i7's performance around triple-channel mode and low latency DDR3-1066. In fact, with three channels of DDR3-1066 memory, the platform will provide up to 25.6GB/s of memory bandwidth and nearly 38.4GB/s at JDEC approved DDR3-1600 memory speeds. Intel figures the bandwidth numbers available at DDR3-1066 coupled with the on-die memory controller and relatively fast secondary cache speeds should provide enough performance to satisfy anyone. For the most part, they are right.
However, we are never satisfied so we set out to determine if applications we utilize everyday would benefit from increased bandwidth, improved latencies, or a combination of both. Obviously synthetic memory benchmarks improve greatly as you increase bandwidth and decrease latencies. The memory companies (with help from us at times) tout their latest and greatest memory products with these benchmarks while they are staples on the benchmarking circuit.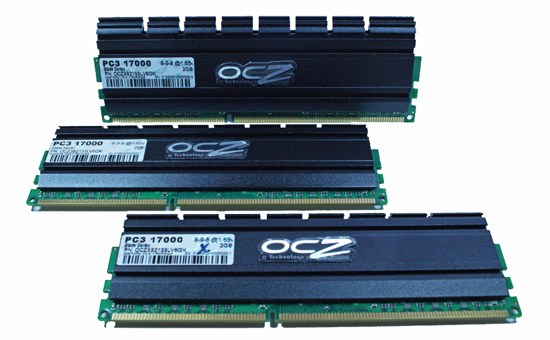 We were discussing our initial overclocking results with a couple of BIOS engineers and came away surprised. We learned they typically tune memory performance utilizing a combination of Sandra/Everest and Super Pi. That did not shock us but it explains why time after time our various test systems would perform exceptionally well in the synthetic benchmarks and then fall flat on their collective faces when faced with heavy multitasking situations. We believe too much emphasis is placed on trying to win a benchmark that in no way reflects the true performance of applications or enhances the stability of the system.
That brings us to another story. We had planned to incorporate a full overclocking section in this article but our DDR3-1866 and DDR3-2000 kits based on the Elpida DJ1108BASE, err Hyper ICs, have been experiencing technical difficulties as of late. As in, the damn things are failing faster than we can keep replacements in the labs. This is not a vendor specific problem, nor does it seem to be a voltage problem either, as we have had modules from various suppliers fail at stock VDimm or at 1.8V when trying to push through to the DDR3-2300 level. We have asked the memory suppliers a few pointed questions and are waiting for answers. In the meantime, replacements are arriving shortly. We will follow up with additional DDR3-2000 overclocking scenarios in the near future.