Gaming Performance vs. Memory Speed
One game actually made it to our list of applications that benefit from faster memory: H.A.W.X. The rest were a mix of slight to borderline noticeable increases in overall performance.
FarCry 2
Featuring fantastic visuals courtesy of the Dunia Engine, this game also features one of the most impressive benchmark tools we have seen in a PC game. We set the performance feature set to Very High, graphics to High, and enable DX10 with AA set to 2x. The in-game benchmark tool is utilized with the Ranch Small level and we report an average of three test runs.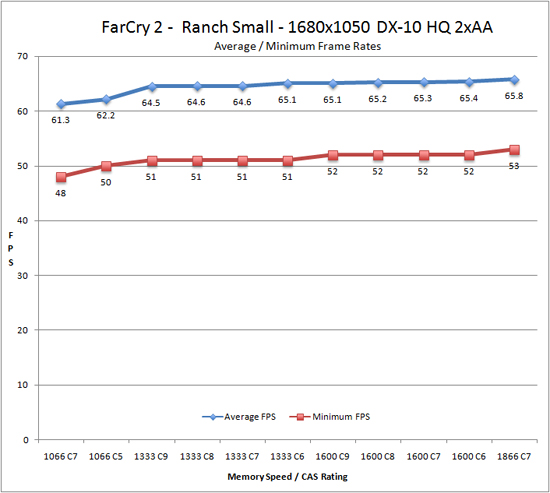 Although the differences are minor, we do notice a linear scaling in frame rates as we improve both bandwidth and latencies. Average frame rates are up 7% and minimum frame rates by 10% when moving from 1066 C7 to 1866 C7.
Left 4 Dead
This game is a blast and addictive to boot - provided you like killing hundreds of zombies while trying to take care of your teammates and sustaining high blood pressure rates. We enable all options, set AA to 2x and AF to 8x, and play back a custom demo of a game session from the Runway Finale chapter within the Dead Air campaign.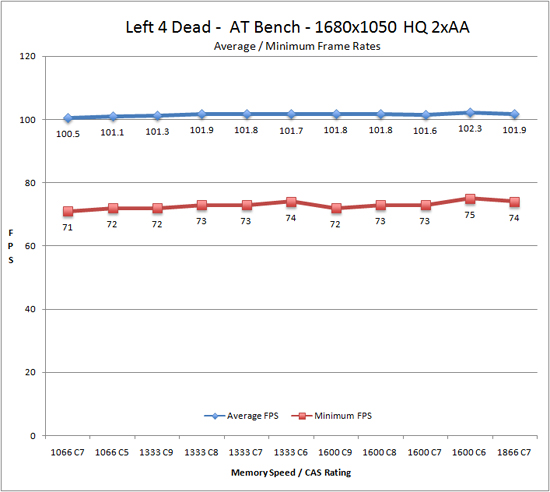 Average frame rates improved around 2% and minimum frame rates about 5% as we moved from DDR3-1066 C7 to DDR3-1600 C6. In a recurring theme, DDR3-1600 C6 offers the best overall performance although we noted no differences in game play.
Company of Heroes: Tales of Valor
The oldest title in our test suite is still the most played. CoH has aged like fine wine and we still find it to be one of the best RTS games on the market. We crank all the options up to their highest settings, enable AA at 2x, and run the game under DX9. We track a custom replay of Able Company's assault at Omaha Beach with FRAPS.
Average frame rates improved around 4% as memory bandwidth increased with DDR3-1600 C6 offering the best overall performance. However, there was no difference in game play between 1066 C7 to 1866 C7 as minimum frame rates did not change for the most part.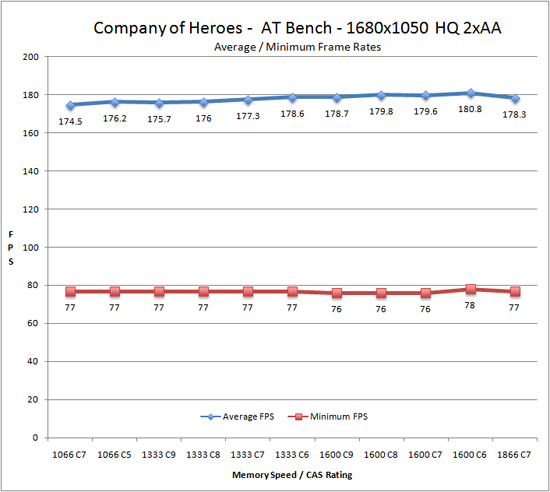 Warhammer 40K: Dawn of War II
We are big fans of the Warhammer franchise, especially Dawn of War II. One of the latest RTS games in our library is also one of the more demanding titles on both the CPU and GPU. We crank all options to High, enable AA, and then run the built-in performance benchmark for our result.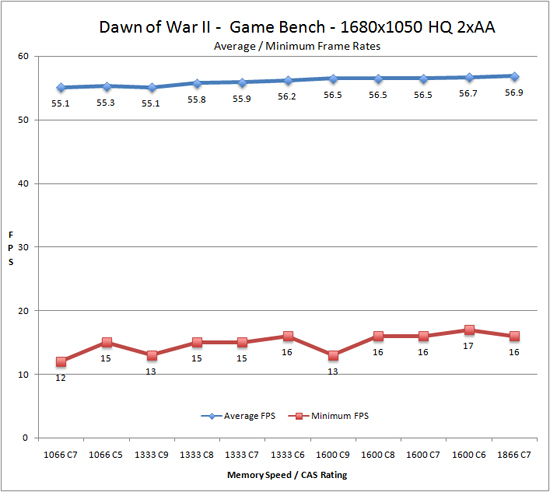 Minimum frame rates responded well to latency and bandwidth improvements with DDR3-1600 C6 offering the best overall performance. Average frame rate performance increased by 3% and minimum frame rates by 41% when moving from 1066 C7 to 1600 C6.
Tom Clancy's H.A.W.X.
While not a true flight simulation or even serious air combat game, it is a lot of fun and looks visually stunning on a 30" monitor with all options turned up. In our case, we set all options to high, enable 2xAA and DX10, and then use FRAPS to time a custom demo sequence. We run three loops of the benchmark and average our scores for the results.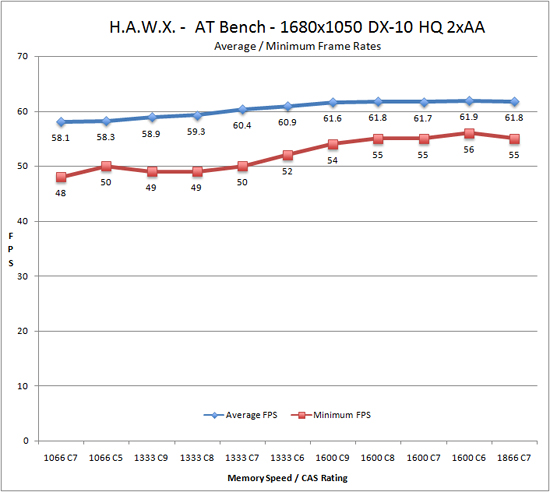 In H.A.W.X., minimum frame rates improved about 14% going from 1066 C7 to 1866 C7, while average frame rates improved 6%.
World in Conflict - Soviet Assault
WIC is an RTS favorite around here and one that can still bring the latest systems to their knees if all options are enabled. We set our options to High, DX10, 2xAA. 4xAF, and then utilize FRAPS to track a repeatable game sequence for our results.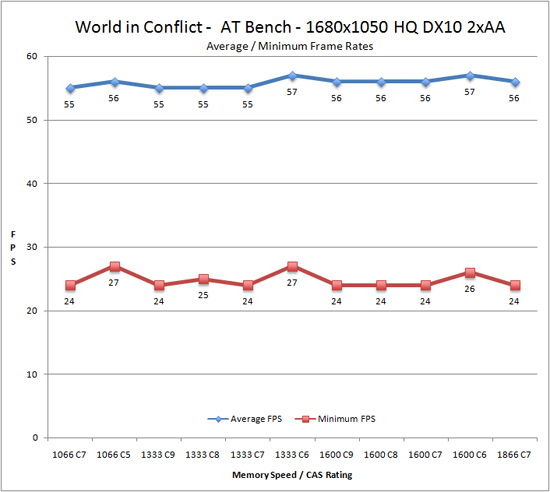 Another example of the ping pong effect as memory bandwidth and latencies are optimized at 1066 C5, 1333 C6, and 1600 C6 settings, which offer the best overall performance. DDR3-1333 C6 offers a 3% improvement in average frame rates and 12% in minimum frame rates over 1066 C7 as one example.