Shader Overclocking
We were able to really crank up the shader core on our GTX 275, hitting almost an 18% increase in clock speed with our 1656MHz shader clock. This is a pretty huge overclock for an already highly clocked aspect of the hardware. While or core clock speed couldn't quite push up like other overclockers, our shader overclock made up for this and was pretty high from what else we've seen out there on stock cooling.
In shader heavy applications, we should see a significant benefit from this, but the reality of the situation is a little bit disappointing.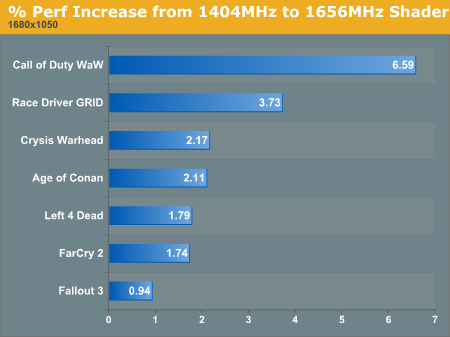 1680x1050
1920x1200
2560x1600
At best we see about a 7 and three quarter percent improvement in Age of Conan at 2560x1600. This certainly doesn't come near our 18% theoretical maximum. Most of our other tests don't even see the type of performance they got from a much more modest boost in core clock speed. In fact, in a couple cases it makes more sense to overclock the memory than the shader core.
If we take everything separately, the prospects for getting good performance improvement out of the GTX 275 don't look that great. But, even more so than with the 4890, putting overclocking together right can make huge gains in realized performance.