Memory Overclocking
Data availability is important in the performance of GPUs, and AMD and NVIDIA pack huge amounts of bandwidth into their designs in order to accommodate this need. While AMD's high end parts have moved over to the newer, less tested, GDDR5, NVIDIA will stick with GDDR3 until at least their next architecture revision (though it is still unclear exactly what memory technologies NVIDIA will support beyond the current generation). This does mean that NVIDIA needs twice the number of pins to achieve the same bandwidth (at the same clock speed), but this isn't a huge problem for the already monolithic G80 and GT100 based GPUs.
With the 448-bit wide connection to GDDR3 memory, NVIDIA's GTX 275 needs to run it's RAM at a higher clock speed in order to achieve the same data rate the Radeon 4890 can hit with it's 256-bit GDDR5 bus. Certainly fast GDDR3 has had time to mature and is highly available. This and the fact that demand is still much higher for GDDR3 mean that NVIDIA is saving some money on competitive memory subsystems. But needing a higher baseline clock speed to compete with AMD's solution could mean less overclockability overall.
We were able to get a greater than 23% clock speed increase out of our 4890, but the best we could manage between a couple of GTX 275 samples was a little more than 14%. Starting out with very nearly the same memory bandwidth, our overclocked AMD part comes out ahead in absolute terms.
It is important to remember, however, that absolute bandwidth doesn't matter as much as how well the bandwidth matches the demand of the GPU. This isn't something we can easily ascertain, but our look at the impact of only overclocking memory certainly shows that the bandwidth NVIDIA chose for the GTX 275 is a good match for the core and shader clock speeds with which it is paired.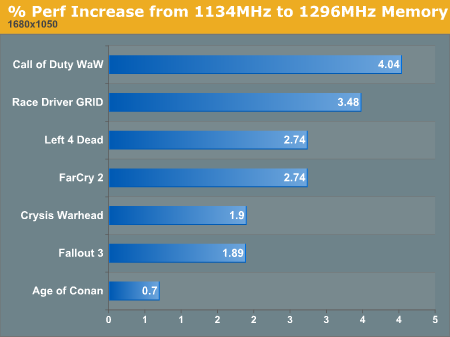 1680x1050
1920x1200
2560x1600
We will be digging deeper into how memory speed impacts performance after we look at the rest of our scaling tests, but without any other assistance, just overclocking memory is not going to gain a lot for the GTX 275.