Overclocking
Without increasing the core voltage on the 975, and using the retail cooler the highest stable overclock I was able to achieve was 3.73GHz: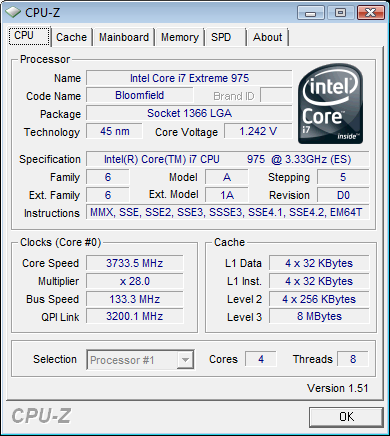 Boosting core voltage by 16% I was able to hit 4.13GHz with the retail air cooler, but I could not get the system fully stable at any higher frequencies: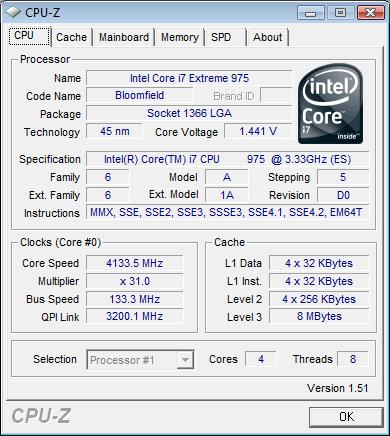 Gary was able to squeeze a 24/7 stable 4.4GHz out of his 975 on aftermarket air cooling with the EVGA X58 Classified and Gigabyte EX58-Extreme motherboards at 1.4V Core Vid, 1.375V VTT, 1.62V VDimm, and memory set to 7-8-7-20 at DDR3-1704 (new OCZ Blade PC17000). However, he admitted that if the retail Core i7-975 chips clock anything like the ES samples we were provided with that buying one would be a huge waste of money (actually his exact words were quite explicit but not printable). All of his retail D0 stepping Core i7-920 processors are easily hitting 4.4GHz~4.6GHz on high-end air coolers when installed in a variety of X58 motherboards. We have a retail Core i7-975 arriving later this week and will provide an update in the near future. As is always the case with overclocking: your mileage may vary.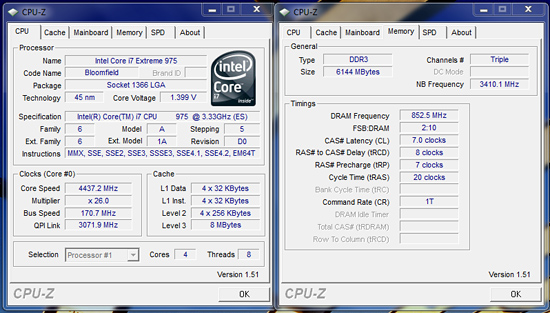 | | | | |
| --- | --- | --- | --- |
| Processor | Highest Overclock (Stock Voltage) | Highest Overclock (Overvolted) | % Increase over stock |
| AMD Phenom II X4 955 | 3.8GHz | 3.9GHz | 22% |
| Intel Core i7 975 | 3.73GHz | 4.13GHz | 24% |
With relatively similar transistor counts, similar starting clock speeds, it's wonderful to see that AMD is able to offer virtually identical overclocking headroom to Intel's flagship Core i7 in a 64-bit operating system.