Istanbul's Improvements
The cores inside "Istanbul" are not different from those found in Shanghai. Istanbul introduces only a few improvements: HT assist, slightly higher HT speeds, APML and x8 ECC.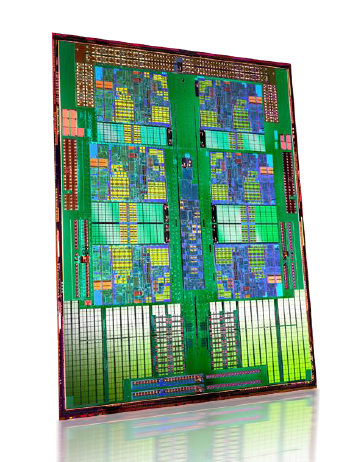 X8 ECC: Each DRAM chip on a DIMM provides either 4 bits or 8 bits of a 64-bit data word. Chips that provide 4 bits are called x4 (by 4), and chips that provide 8 bits are called x8 (by 8). It takes eight x8 chips or sixteen x4 chips to make a 64-bit word, so at least eight chips are located on one or both sides of a DIMM. Istanbul's memory controller now supports error correction for both x4 and x8 DIMMs.
APML Remote Power Management Interface: APML provides an interface that allows you to monitor and control platform power consumption via P-state limits. You need to have a CPU and BMC (management processor) that support APML on the server and you need to have some type of software (OS or management software) that supports APML and allows you to monitor power and make changes to power management parameters. Both hardware and software are in development, so this won't be available on the servers that will be launched this month. APML is interesting as it would allow you to cap power without going into the BIOS. AMD's PowerCap Manager allows you to limit power to a certain amount by making sure the CPU's clock never goes beyond a certain limit, effectively underclocking the CPU. This is very useful in a datacenter that is cooling or power limited. Of course, BIOS options are not that handy in a datacenter with hundreds of servers. That is where APML could make the difference.
Higher HT Speeds: The later versions of the "Shanghai" Opteron versions support HyperTransport 3.0 or HT3. HT3 allows much higher clockspeeds than the HyperTransport links that all the older Opterons have been using so far (1GHz). The clockspeed was boosted to 2.2 GHz DDR, good for 8.8 GB/s in each direction. Istanbul pushes the clock of the HyperTransport up to 2.4GHz DDR, good for 9.6 GB/s in each direction. Or as fast as the QPI links which can be found on the slower "Nehalem" Xeons. Since the new Fiorano platform is not ready, we still have to test with an older NVIDIA MCP55 platform. But that does not matter; the CPU interconnect speed is handled by the CPUs, not the board or chipset. You can clearly see in the BIOS screenshot below: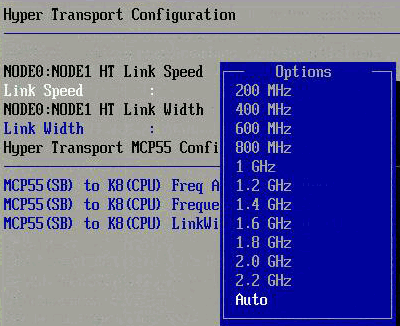 The last improvement is HT Assist. We will discuss this feature in more detail.
HT Assist: Only for the Quad-Socket
HT assist is a probe or snoop filter AMD implemented. First, let us look at a quad Shanghai system. CPU 3 needs a cacheline which CPU 1 has access to. The most recent data is however in CPU's 2 L2-cache.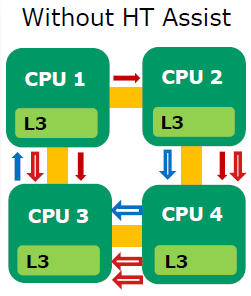 Start at CPU 3 and follow the sequence of operations:
1. CPU 3 requests information from CPU 1 (blue "data request" arrow in diagram)
2. CPU 1 broadcasts to see if another CPU has more recent data (three red "probe request" arrows in diagram)
3. CPU 3 sits idle while these probes are resolved (four red & white "probe response" arrows in diagram)
4. The requested data is sent from CPU 2 to CPU 3 (two blue and white "data response" arrows in diagram)
There are two serious problems with this broadcasting approach. Firstly, it wastes a lot of bandwidth as 10 transactions are needed to perform a relatively simple action. Secondly, those 10 transactions are adding a lot of latency to the instruction on CPU 3 that needs the piece of data (which was requested by CPU 3 to CPU 1).
The solution to is a directory-based system, that AMD calls HT Assist. HT assist reserves 1MB portion of each CPU's L3 cache to act as a directory. This directory tracks where that CPU's cache lines are used elsewhere in the system. In other words the L3-caches are only 5 MB large, but a lot of probe or snoop traffic is eliminated. To understand this look at the picture below: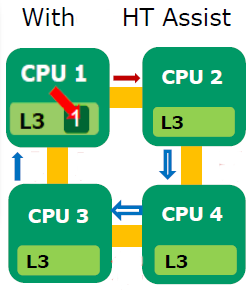 Let us see what happens. Start again with CPU 3:
1. CPU 3 requests information from CPU 1 (blue line)
2. CPU 1 checks its L3 directory cache to locate the requested data (Fat red line)
3. The read from CPU 1's L3 directory cache indicates that CPU 2 has the most recent copy and directly probes CPU 2 (Dark red line)
4. The requested data is sent from CPU 2 to CPU 3 (blue and white lines)
Instead of 10 transactions, we have only 4 this time. A considerable reduction in latency and wasted bandwidth is the result. Probe "broadcasting" can be eliminated in 8 of 11 typical CPU-to-CPU transactions. Stream measurements show that 4-Way memory bandwidth improves 60%: 41.5GB/s with HT Assist versus 25.5GB/s without HT Assist.
But it must be clear that HT assist is only useful in a quad-socket system and of the utmost importance in octal CPU systems. In a dual system, broadcast is the same as a unicast as there is only one other CPU. HT assist also lowers the hitrate of L2-caches (5 MB instead of 6) so it should be disabled on 2P systems. If you look in the BIOS...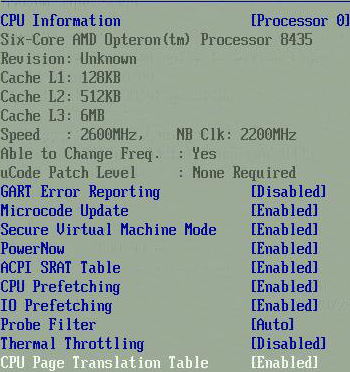 ...you get 3 options next to probe filter: "auto", "disabled" and "MP". In automatic mode the probe filter or HT Assist will be turned off for 2P systems. You can force "HT assist" by setting "MP", indicating there are more than 2 processors.