AMD Budget
Leaving the entry-level sector behind, and with a budget of around $800, our options increase significantly. Prices have dropped again and we could either build a cheaper budget system or add significant new capabilities to the systems. With the recent release of the $99 ATI HD 4770, we made the choice to provide even more performance and capabilities at the $800 price point. Our goal is to provide more performance in the upper entry segment than any OEM can provide at the same price.
This is the first time we have included a discrete GPU into an $800 system, and it isn't just any GPU. Most are finding the ATI HD 4770 to be a very satisfying graphics card with playable frame rates in almost every current game at resolutions below the 30" monitor level. Entry and midrange buyers don't normally own 30" monitors, so for them the 4770 is the ideal performance GPU. Those who don't game but still want more graphics capabilities can substitute the ATI HD 4670 for every reference to the 4770 and expect to save $40 to $50 after rebates on the $99 price tag of the 4770. The 4670 is perfect for any graphics task short of demanding gaming, and it will even satisfy casual gamers who like to play the Sims for example.
Both budget systems with 4770 graphics are just over $800 complete, with the basic box under $550. We balanced the assembled system for a wide variety of computing tasks, but the 4770 tilts it toward gaming and graphics manipulation. Substitute a 4670 GPU, save $40 to $50, and you have a much better than average entry system that can still handle casual gaming. Look at pre-built OEM systems in this price range, and you're likely to find anemic HD 4350 or GeForce 9300 parts - about 25% of the performance of the 4770! While we generally consider PC gaming rigs to begin at the lower midrange bracket, the ATI Radeon HD 4770 has changed that thinking. With a true HD monitor and the 4770, a gamer can find satisfaction with these $800 entry-level computers.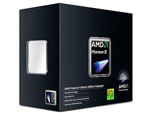 While the GPU is the most important factor in gaming performance, the CPU is also a factor - particularly at or below 1280x1024. To make sure the CPU is not a bottleneck now or in the near future, a Black Edition Phenom II X3 is our CPU choice. The Phenom II X3 720 Black Edition has an unlocked multiplier should you choose to overclock, which makes overclocking as simple as it gets. It has three cores rated at 2.8GHz, with 3x512KB L2 cache, and 6MB shared L3 cache. As a 45nm Phenom II, it is also a dynamite overclocker. In fact it is the same CPU we have recommended in our Phenom II Overclocking Guide.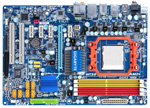 The first board that came to mind when we decided to build a budget system with the HD 4770 video card was the Gigabyte GA-MA770-UD3. This board is a perfect match for the Phenom II 720 BE or 710 processors and those looking to maximize their performance on a limited budget. This board targets the budget overclocker and features the AMD 770 IOH and SB700 Southbridge. Gigabyte offers support for the latest AM2+ and AM3 CPU processors with BIOS F5 while overclocking has been a treat (260+ HT ref clocks) with our Phenom II or Athlon X2 processors. This board features Gigabyte's Ultra Durable 3 Classic technology, 16GB of DDR2 memory support, Realtek ALC 888 HD audio codec, Realtek RTL8111C Gigabit LAN, six 3Gb/s ports capable of RAID 0/1/10, a single IDE port, twelve USB 2.0 ports, and IEEE 1394a support. The layout features one PCI-E x16 slots, four PCI-E x1 slots, and two PCI slots. This board has performed almost flawlessly to date (S3 resume was a bit touchy until the F5 BIOS) and is a genuine bargain at the current price.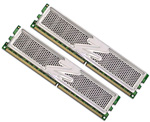 We've chosen OCZ Platinum 4GB DDR2-1066 (PC2-8500) with fast 5-5-5 timings in a 4GB kit for $38 after a $25 rebate. This is certainly a value price, but this is not value memory. It is high performance DDR2-1066 memory from a top memory supplier. The extra 1066 speed lets you run your memory at a faster speed or provide reserves for overclocking the CPU. OCZ is a great memory choice, but there are many memory options at great prices today if you shop around. Quality DDR2-800 and DDR2-1066 RAM from Corsair, OCZ, G.Skill, Mushkin, Patriot, and GeIL are available at any of the major online retailers. Just be sure to look for RAM with the better timings if you can afford it.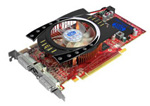 The kicker in both the AMD and Intel budget systems is the ATI Radeon 4770 video card. If you missed it, you can see the numbers in our ATI HD 4770 launch review. ATI's first 40nm GPU is a great performer at a bargain price of just $99. To quote the results from the review "The Radeon HD 4770 always outperforms the older 4830 and sometimes gives the 4850 a run for its money. As for the competition, the 4770 comes out on top in the games we tested. The more expensive GTS 250 leads in Call of Duty World at War, while the 4770 blows the doors off everything in Age of Conan. In the other benchmarks, they come out pretty close with the 4770 generally ahead, but the clincher is Far Cry 2 performance which shows the Radeon HD 4770 leading the GTS 250 fairly well in a heavy hitting graphics engine."
Those results should explain why we were so interested in including the ATI 4770 in our Budget systems. With this $99 video card and a competent AMD or Intel entry system, even gamers should be satisfied with the performance of an $800 computer.
The remaining components are minor upgrades from our entry systems. The hard drive is a little larger with a 640GB Western Digital instead of 500GB. The cost is just $10 more. The DVD burner remains the same fast Sony 24X.
The case receives an upgrade with the selection of the Cooler Master Elite 330 and our AnandTech Gold Editors' Choice BFG Tech LS-550 power supply. The BFG has had a $20 rebate for several months that reduces the final cost to $60. The BFG 550W is a great power supply, but you could save a few dollars here with an OCZ, Corsair, or PC Power and Cooling PSU as they are often on rebate in recent months. It all depends on timing of your system purchase.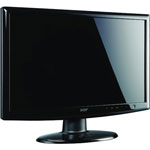 The LCD display was an easy choice with the 1080p ASUS 21.5" LCD for just $155 after a $10 rebate. A 19201080 TN panel with a 3-year parts and labor warranty from a major computer manufacturer is about as good as you'll find in this price range. If you prefer a larger display, you can find 23.5" LCDs starting at $250. Another interesting option is the Samsung 2343BWX, a 23" LCD with a native resolution of 2048x1152 on a 16:9 panel. Priced at $220, it's the highest resolution you're likely to see before moving to dual-link DVI. If you need to save a few dollars a lower resolution 19" like the $99 Acer 1680x1050 widescreen chosen in the entry systems will save some money. Any of these LCDs will work for most users, but we haven't discussed image quality.
Honestly, the LCD market has been quite disappointing during the past year. Virtually everyone is moving to TN panels now, because they're inexpensive. One of the better panels we tested was an AU Optronics S-MVA panel in the 24" BenQ FP241VW, but besides being expensive (over $800 at launch) it's also discontinued, and there were other aspects of the LCD we didn't like, for example the base stand and sluggish OSD controls, plus some problems with non-native resolutions. However, the viewing angles and lack of image lag were huge pluses. If you can find a 24" LCD with an AU Optronics S-MVA panel at a reasonable price, you might want to get it while you can.
The fact is, outside of LCDs costing $400 or more, pretty much everything is now TN panels. HP does offer the LP2275w (22" S-PVA) and the LP2475w (24" S-IPS), but both cost a lot more than similar sized TN panels, and some users report issues with the LP2275w. If you just want a decent, inexpensive 22" to 24" LCD, we personally haven't seen a lot to differentiate one brand from another. That's not surprising, since there are only a handful of actual panel manufacturers, so outside of the base panel the main differences will be in features. If you're worried about color accuracy or viewing angles, you shouldn't get a TN panel; if you're not concerned with getting the "best" image and colors, you probably won't notice the difference between "great" and "lousy" panels.