Zotac's Ion in My Theater
Last year I spent a lot of time building a home theater. All content is played back on my HTPC running Windows Vista Media Center along with MyMovies (to catalog my library) and VMC Media Browser to tidy up the interface. The hardware is composed of an ATI Radeon HD 4550 as well as an Intel Core 2 Quad Q9650. The result works pretty well. I wanted to see how close the Zotac Ion could get to my setup.
With an external power supply I didn't have to do much, I just grabbed the Zotac board and the power brick, set the two on top of my equipment rack and plugged it in. I immediately appreciated the silence of the Zotac, as quiet as I've made my HTPC, it's still not totally silent. That doesn't usually matter while I'm watching a movie, but whenever I pick the seat closest to the equipment rack it irks me a bit (similar to how you can always notice even the most minor scratches on your car).
Actual video playback wasn't an issue, the Zotac board already passed all of my Blu-ray tests if you'd remember. And I rip all of my content so CPU usage never even went beyond 20%. What I wanted to know was how well the Zotac board could handle navigating through my library, the VMC menus, etc...
I for sure thought that the Atom was too slow to serve as a real HTPC. Sure you could watch movies on it, but actually navigating through your library using a pretty UI - no way.
I must admit, I was pleasantly surprised.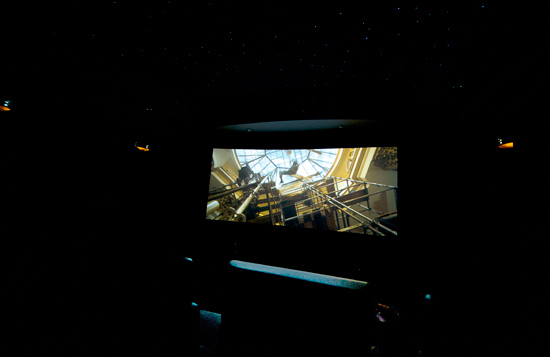 Quantum of Solace - 1080p - 11' screen - all powered by Zotac's Ion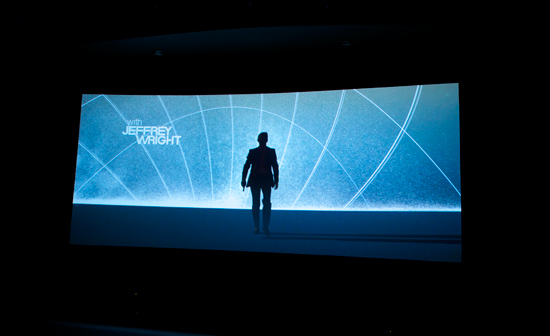 The Zotac Ion was by no means fast at navigating through the Media Browser interface, but it was acceptable. Scrolling through tens of movies is a bit painful, make it hundreds and you may want to consider a faster CPU, but it wasn't nearly as bad as I expected.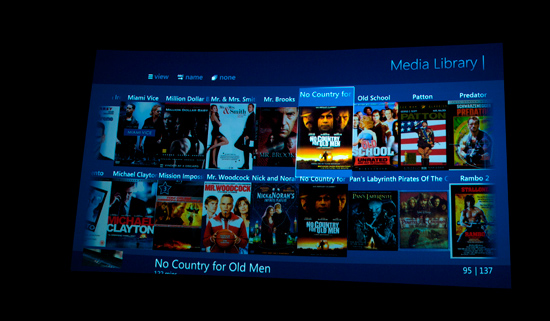 The VMC Media Browser interface, slow, but usable on the Ion
During playback I could pause, skip forward and adjust volume without dropping any frames. The Ion worked as a real HTPC doing real duty. I was impressed. Pair it up with a TB hard drive and you have a great way of watching your content on your TV or projector. Use a NAS and you can even keep all the noise out of your theater room.
Performance aside, remember that this is a GeForce 9300 we're talking about here. I had a single HDMI cable going to my receiver which carried 1080p video, DD or DTS 5.1 audio or 8-channel LPCM if I decided to let my machine do all of the decoding. I didn't test CPU utilization on the latter due to time constraints but I plan to in the near future.