Battery Testing - we need Hybrid Power, please!
For battery life testing, we run all laptops at around 100 nits brightness. If you choose to run your LCD at maximum brightness, you may lose 10 to 60 minutes depending on the laptop and the display. In the case of the GT627, maximum brightness is ~190 nits and uses just 1W more power, so the impact on battery life is generally small (see the idle chart below for reference).
We run several different battery life scenarios: Internet surfing (load several webpages using the wireless adapter every minute until the battery dies), DVD playback, x264 playback, and idle (maximum) battery life. For x264 playback, we copy a 720p file to the hard drive and loop playback using Windows Media Player Classic Home Cinema; we will include scores from other laptops, but it's worth noting that we did not have GPU accelerated x264 decoding enabled in earlier laptop tests. We've also included web surfing results (and DVD for the MacBook Pro) for the latest Apple MacBooks as a point of reference.
Several systems that we've tested include extended capacity batteries or a second battery, so we've colored those results light blue. The Alienware m15x has two batteries in addition to letting you disable the discrete 8800M GPU and run on the integrated X3100 graphics, so we colored the IGP results gold/yellow. Using the IGP cuts power requirements by about 20W at idle (and over 60W at load), which dramatically changes the m15x X3100 placement in these charts. We really wish more manufacturers would offer such a feature, especially with high-end GPUs.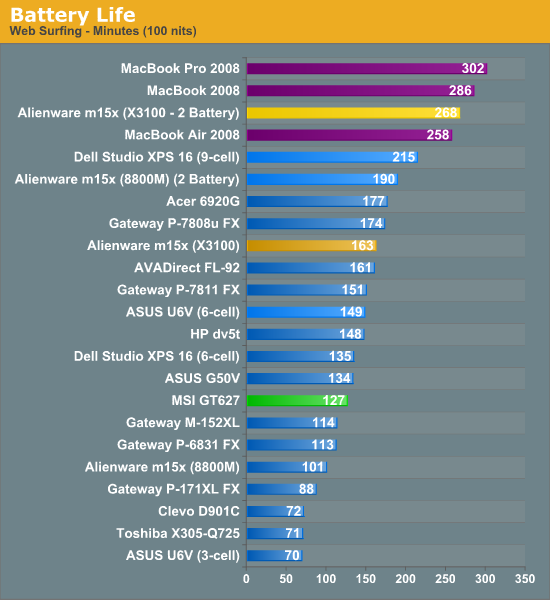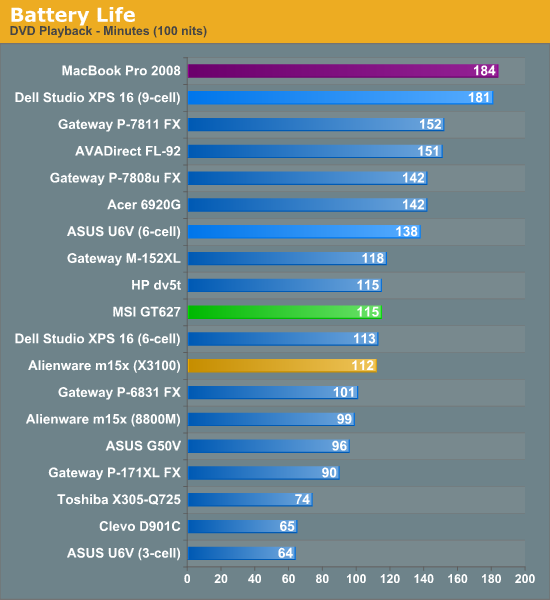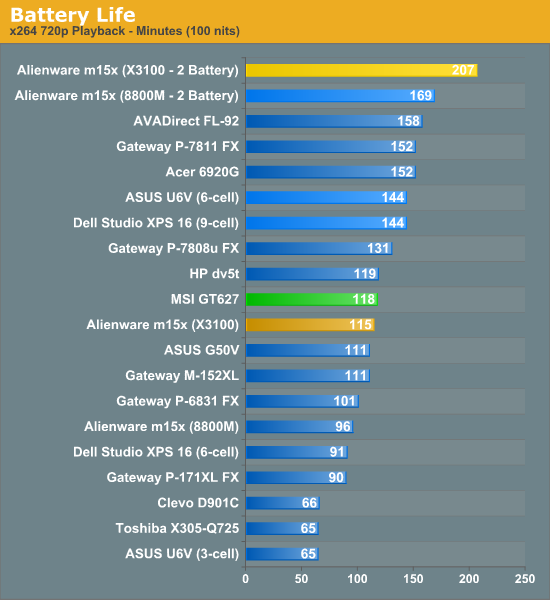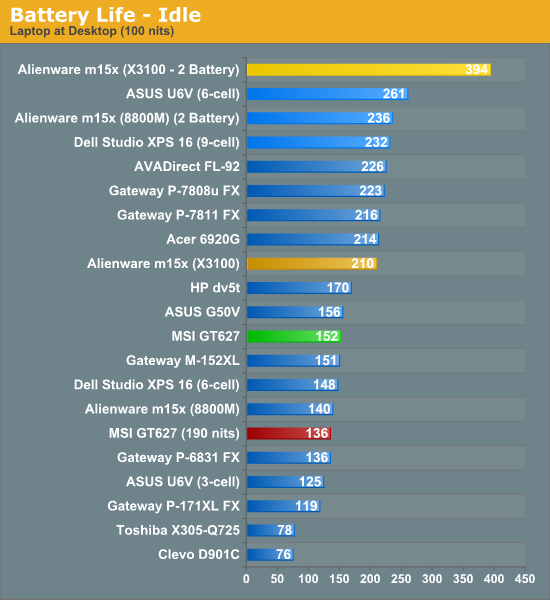 Battery life is generally unimpressive, hovering around the two-hour mark. In a best-case scenario - i.e. doing absolutely nothing - the MSI GT627 manages 2.5 hours of battery life. We didn't really expect much more than this, considering this is a moderate gaming laptop with a 6-cell battery. We can only wonder what might have been if MSI included an integrated graphics solution and supported NVIDIA's Hybrid Power feature. That should reduce power requirements by 5W to 10W at idle, which could result in a 50% (or more) improvement in battery life. Consider, the difference between maximum brightness and 100 nits is only 1W, and yet battery life improves by 16 minutes in the idle chart. If we could shut off the discrete graphics chip and save 5W, we would get about 3.25 hours of battery life, and 7.5W saved would give us nearly 4 hours. There is simply no good reason why users can't buy a reasonably priced gaming notebook and still be able to use it for three or four hours without plugging in. If it added $100 to the price of the notebook, I would be more than happy to pay that extra money rather than spending $100 on a second battery.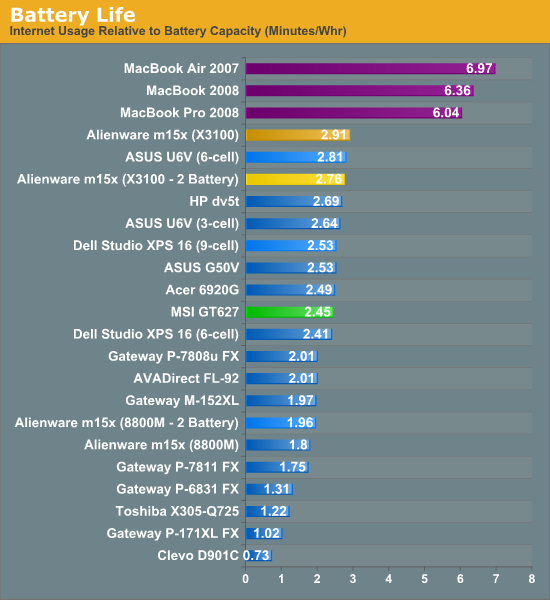 In our apples-to-apples - or Apples-to-PCs - comparison, where we look at battery life relative to battery capacity, we continue to see the tremendous advantage Apple enjoys by controlling both the hardware and operating system. Hopefully things will improve once Windows 7 starts shipping, though we're definitely not holding our breath. We think it's far more likely that notebook manufacturers just need to spend more time optimizing for battery life, as windows XP wasn't noticeably better than Windows Vista in this area.