A Tale of Beauty and the Beast
Our first impression of the MSI GT627 is quite favorable. We have seen many notebooks that come with plastic casings, and they always feel cheap in comparison to an aluminum chassis. MSI uses a brushed aluminum cover on the top panel, as well as the keyboard palm rest, and it definitely makes a difference. The laptop feels more durable and looks nicer in our opinion.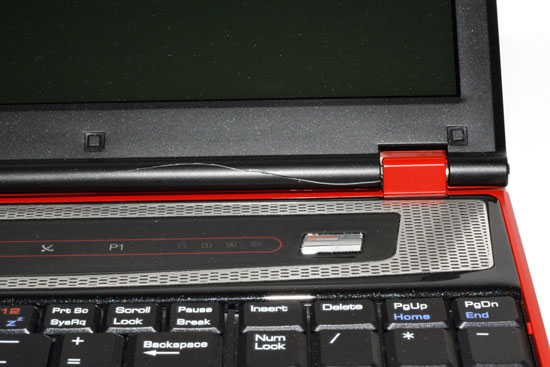 Except, there's still plenty of plastic to go around, and some of this plastic is quite thin. We don't tend to treat our test systems very hard - there's no torture-testing going on here - and yet during the past month or so of use we managed to crack the plastic bezel below the LCD panel. Note that this didn't occur during disassembly; sometime while we were carrying our notebook around in a standard notebook bag on a trip, pressure on the chassis apparently cracked the plastic. It's ironic that this occurred with a seemingly more durable aluminum casing, which just goes to show that looks aren't everything.
There are a few other interesting aspects of the overall design and construction. A noteworthy inclusion is the complete 104-key keyboard with a dedicated number keypad. Many of us still have issues with the placement of the Fn key and would prefer to swap its location with the control key. Eventually, though, you can adapt to the keyboard layout. A far bigger concern is that the keyboard has a lot of flex - in fact, this is the flimsiest keyboard we've ever encountered on a laptop. We've only used one other laptop during the past several years that had such a cheap feeling keyboard... and that laptop also came from MSI (the S271). We've seen plenty of user posts complaining about this issue (i.e. in Newegg's comments), so we are definitely not the only ones who feel MSI needs to improve this area. This should literally be a 50 cent fix: use a stiffer back plate on the keyboard. Maybe there are people out there that like a "springy" keyboard, but it bothered me every time I used the laptop.
In terms of appearance, the other big concern is the LCD. You'll see the results later, but once again we have an LCD panel that has a terrible contrast ratio - you notice it the first time you power on the system. The $1100 price goes a long way towards helping us overlook that problem, but we would be much happier paying $1200 and getting a higher contrast ratio, along with a higher resolution like WSXGA (1440x900) or WSXGA+ (1680x1050). This isn't the worst laptop LCD we've ever tested by any means, but for a 2009 notebook it definitely leaves us wanting. 200:1 contrast ratios in 1280x800 displays were standard back in 2006, and LCD technology has improved quite a bit since then. It should come as little surprise that the manufacturing date of the Samsung LCD panel is reported as January 2007. A lot of users won't be bothered by the display, but anyone that does photo editing will see the problem immediately.
Overall, we have mixed feelings about the design. It looks great, and we love the aluminum cover on the top panel, but the cheap plastic parts in other areas and the flimsy keyboard totally counteract that. We would rather have a plastic chassis that doesn't crack easily and a keyboard that doesn't flex while we type. Component wise, the GT627 is nicely balanced, but the design of the chassis is lopsided with high-end options in some places and corner cutting elsewhere.
As far as displays go, I can pretty much guarantee that I will give a Gold Editors' Choice Award to the first laptop shipped my way that doesn't include a TN panel. Yes, manufacturers, it really is that important! Talk to your suppliers, convince even one of them to make a modern IPS, PVA, or MVA laptop panel, and as long as the rest of the laptop doesn't fall on its face you will have my full support. $200 extra for such a display? Yes, I would be willing to pay that much, and plenty of others would as well.