Introduction
As discussed in yesterday's AMD Phenom II 955 launch article, the new 3.2GHz 955 is now the king of the midrange. Intel Core i7 still owns the very top of the performance pyramid, but the 45nm Phenom II is now our CPU of choice for buyers that can't (or won't) move to Intel's LGA-1366. The Phenom II 955 beat the more expensive Intel Q9550 in application performance and in overclocking performance. Today at least the best processor choice for an upper entry to midrange PC is the Phenom II.
That could change with deep Intel price reductions on Core 2 Quad and Duo processors or possibly the coming introduction of Core i5 processors, but AMD's long catch-up strategy is finally starting to pay off in the latest 45nm Phenom II offerings. With the new 955 and 945, and with Phenom II now the CPU of choice where it competes, it is time to revisit Phenom II system components in an update to our last Phenom II System Buyers' Guide.
In January AMD launched their new quad-core Phenom II processors that were compatible with existing AM2+ motherboards and DDR2 memory. The new Phenom II processors were the first truly competitive CPUs since Intel's introduction of Core 2. The Phenom II 940 and 920, then priced at $275 and $235, performed better than the equivalently priced Intel Q9400 and Q8200. However, the first Phenom II processors support only DDR2 memory and can only be mounted on an AM2+ motherboard. A few weeks later AMD filled out the Phenom II line downward with five new models with integrated DDR3 and DDR2 support. These new AM3 processors could mount in socket AM3 and support DDR3 memory or mount in AM2+ and support DDR2 memory.
As is generally the case, Intel responded quickly with Core 2 price cuts, which we discussed in our Phenom II X4 810 and X3 720 article. AMD followed suit with price adjustments that placed the Phenom II processors at price points where they compete very well with similarly priced Intel Core 2 processors.
Yesterday AMD filled in the top of the Phenom II line. In just three months, Phenom II has gone from introduction to a new socket and expanded socket compatibility. It now provides a complete processor lineup covering the price range from $125 to $245, with stock processor speeds from 2.5GHz quad to 3.2GHz quad. Here's a quick rundown on the Phenom II parts, including the original Phenom 9950.
AMD Phenom Processors
Processor
Clock Speed
Un-Core Clock
L2 Cache
L3 Cache
TDP
Price
AMD Phenom II X4 955 BE
3.2GHz
2.0GHz
2MB
6MB
125W
$245
AMD Phenom II X4 945
3.0GHz
2.0GHz
2MB
6MB
125W
$225
AMD Phenom II X4 940 BE
(DDR2 Memory ONLY)
3.0GHz
1.8GHz
2MB
6MB
125W
$225
AMD Phenom II X4 920
(DDR2 Memory ONLY)
2.8GHz
1.8GHz
2MB
6MB
125W
$195
AMD Phenom II X4 910
2.6GHz
2.0GHz
2MB
6MB
95W
OEM
AMD Phenom II X4 810
2.6GHz
2.0GHz
2MB
4MB
95W
$175
AMD Phenom II X4 805
2.5GHz
2.0GHz
2MB
4MB
95W
?
AMD Phenom II X3 720 BE
2.8GHz
2.0GHz
1.5MB
6MB
95W
$145
AMD Phenom II X3 710
2.6GHz
2.0GHz
1.5MB
6MB
95W
$125
AMD Phenom 9950
2.6GHz
2.0GHz
2MB
2MB
140W
$150
With the latest additions to the Phenom II line, the processors are now achieving what AMD hoped for with their introduction. In testing the new 45nm CPUs are at the worst competitive with the latest Intel Core 2 Quad (Penryn) processors. However, in most cases the Phenom II processors are the top performer at each price point, making the Phenom II the current midrange processor of choice. They are also the first AMD processors in over two years that can also compete with Intel processors in overclocking. In our own tests we were able to overclock to the 3.8GHz range at stock voltage with some Phenom II samples, and we reached 4.2GHz with voltage increases and beefed up cooling. The new Phenom II does exactly what AMD needs it to do to compete and win through the midrange.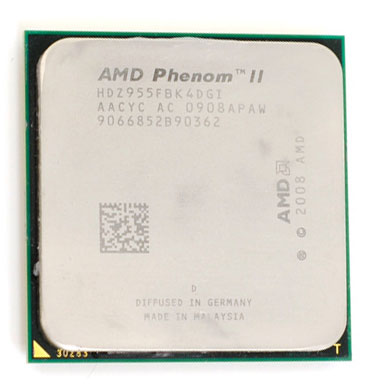 The first Phenom II processors, the 940 and 920, feature a DDR2 only controller and an un-core bus speed of 1.8GHz. These two models will be phased out over time. The rest of the Phenom II line is designed for socket AM3 or AM2+ and feature a dual mode DDR3/DDR2 memory controller. Yesterday's 955BE and 945 include an updated core and new stepping, and the new core will eventually find its way into the entire Phenom II line. The new 955/945 are the best overclockers ever from AMD and they reflect a more mature 45nm core that will likely benefit other Phenom II models as well.
Keep in mind that Intel's latest Core i7 is still as much as 30% faster in some applications than the Core2/Phenom II processors, so AMD did not reclaim the ultimate performance crown. However, Core i7 is at present a high-end CPU, with prices starting at $300 and extending to over $1000 just for the CPU. If you're not concerned with overclocking, one alternative for a complete Core i7 system is to just pick up something like the Dell studio XPS. Or if you prefer a bit more flexibility, you might want to look at our last Buyers' Guide. As you approach the upper range of Phenom II performance, we would certainly suggest looking at Core i7, but for now let's return to the midrange.
With AMD now the best performer through the midrange of CPU space, it is time to take a closer look at putting together systems with the latest Phenom II processors. With a broad CPU price range of around $120 to around $245 there are quite a few choices in processors for a Phenom II system. This Phenom II Buyers' Guide looks at three different builds that you might be considering. For builders who want a Phenom II system for as little money as possible we put together a Phenom II budget system. The goal is simple: build a competent and balanced Phenom II system for as little money as possible.
Another typical buyer is attracted to the Phenom II because they want the best bang-for-the-buck. For these buyers we have put together two value systems, one based on the socket AM3 DDR3 standard and another based on the AM2+ DDR2 platform. Value for some means bringing over as many of their current components as possible, and that often means reusing DDR2 memory. With two options buyers can mix and match what they have, go for a new DDR2 720BE system overclocked to the hilt, or go somewhere in between.
Finally, there is the full-blown performance Phenom II system. We hesitate to call this a high-end system, since the most expensive Phenom II is just $245. This is an upper midrange CPU price. Performance, however, is the best you will find with any CPU south of the Intel Core i7. Going along with the CPU, our system components for the performance system are more upper midrange than high-end. That means we will not be pairing the Phenom II with a $1200 30" LCD monitor for 2560x1600 gaming. However, the CPU power is there if you aspire for more. You could definitely use a high-end graphics card and 30" monitor on a Phenom II 955 or 945 or 940 if you choose, and you would achieve superb performance.