AMD Black Edition Memory Profiles: One Click Memory Overclocking
There's another little overclocking improvement that AMD implemented in software: Black Edition Memory Profiles (BEMP).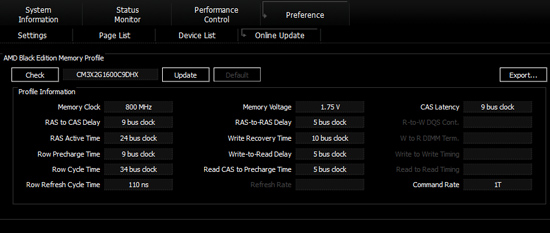 My Corsair memory can run at DDR3-1600 9-9-9-24, AMD's database knows this
If you have a motherboard with an AOD3 compatible BIOS (yes, there is such a thing) and you have a DDR3 memory module that has an AMD Black Edition Memory Profile, you can click one button and your system will overclock its memory to the settings that AMD and the memory vendor guarantee their platform at.
The memory/participating vendors list is as follows:
Manufacturer
Memory Module(s)
Corsair
CM3X2G1600C9DHX
Kingston
KHX11000D3LLK2/2G
KHX12800D3K2/2G

Mushkin
991629
OCZ
OCZ3AMD18002G
Yep, it's not very long. But the effect is pretty neat. The AOD3 utility connects to AMD's online database and finds your memory. It retrieves what settings AMD and the memory vendor agree will work and then applies them to your system. A simple reboot later and you have an overclocked un-core and DDR3 memory. The table below shows you what will happen:
| | | |
| --- | --- | --- |
| Rated DDR3 Speed | 1333MHz | 1600MHz |
| NB Frequency | 2200MHz | 2400MHz |
| NB Voltage | 1.200V | 1.300V |
The memory timings and voltages are also properly set. Unfortunately with my Gigabyte 790FX board there's a bug where instead of setting the BEMP compliant Corsair memory to 1.75V it sets it to 1.70V which isn't stable. AMD is clearly still working out bugs in the system, but thankfully it's software so those bugs can be worked out.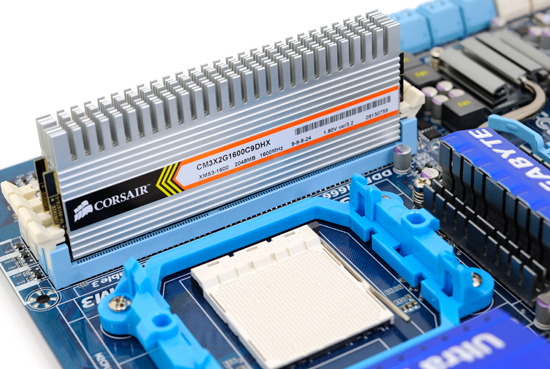 These Corsair modules support BEMP
Additionally, you can always create your own profiles to avoid mishaps like this one. What sort of performance boost can a single click yield? The graph below shows you: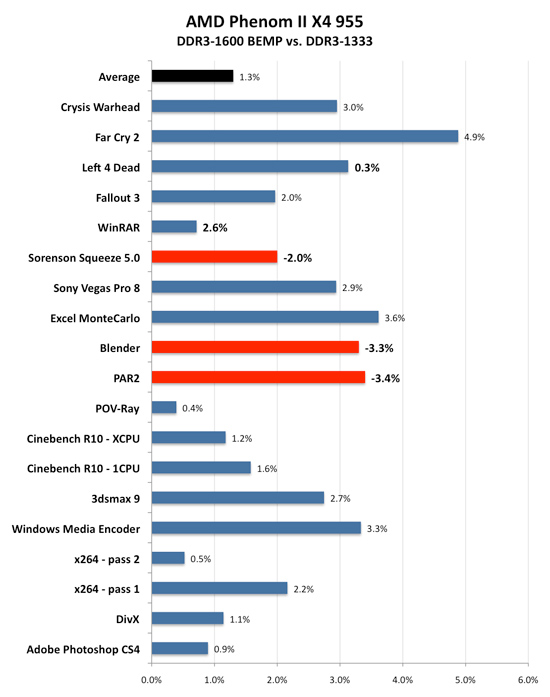 The average increase in performance was only 1.3%, mostly due to the fact that some numbers went down. The problem is that DDR3-1333 (my default speed) at CL7 is lower latency than DDR3-1600 at CL9; applications that can't use the added bandwidth are penalized by the longer memory access latency. That being said, some applications did show performance boosts from 1 - 5%. Is it enough for me to specifically buy memory that has a Black Edition Memory Profile? No, but it's a nice convenience if you happen to have some.