Intel Value Midrange
Intel owns the very top in CPU performance with their Core i7, but the Phenom II has made AMD competitive through the upper midrange. That means that midrange is an area where you can now choose Intel or AMD based on the unique features of each platform or expansion capabilities, rather than one brand dominating performance. Since Phenom II is built on a 45nm process, even overclocking capabilities are now competitive with Intel with Phenom II.
The Intel value midrange system builds around a fast Intel Core 2 Duo CPU. For most applications and gaming a faster dual-core CPU is normally a better performance choice that a slower quad-core. CPU intensive applications like video manipulation do benefit from a quad-core CPU, which should be your choice if those applications are important to you. A few recent games are finally taking advantage of quad-core as well, but those are the exception rather than the rule.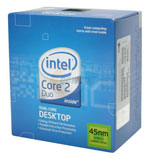 The CPU choice is one of the fastest Core 2 Duo chips with 6MB of L2 cache on the market. The E8400 at 3.00GHz is just two steps below the fastest Core 2 E8600, which clocks at 3.33GHz. It also overclocks exceptionally well, reaching 4GHz and even higher with relative ease. Because of this OC ability, and the value goal of this system build, The E8400 has been matched with components that are also excellent choices for overclocking. The E8400 is plenty fast on its own, but if overclocking interests you this Intel setup will be ready for action - and ready to overclock to wherever your particular E8400 can go.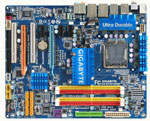 The big brother to the UD3R selected in our under $800 guide is the $135 Gigabyte GA-EP45-UD3P that has a similar feature set but adds a second x16 slot (in place of a PCI slot) for dual x8 CrossFire operation. You can currently save a few bucks with a $20 mail-in rebate. The board provides an excellent overclocking platform along with great stability. If the second x16 slot is not important to you, we suggest sticking with the UD3R. This P45 chipset motherboard has earned its reputation as a sterling overclocker, while also maintaining excellent stability. It is a good match to the selected Core 2 Duo E8400 or an alternate quad-core Q8200 (2.33GHz 2x3MB L2).
The stock Intel cooler is adequate for modestly overclocking a Core 2 Duo. Better cooling is needed to push the CPU to its capabilities, or if your CPU choice is an Intel quad-core you plan to overclock. The Xigmatek HDT-D1283 120mm Rifle Cooler did very well in our cooling tests and it is a good match to the E8500. OCZ also markets a similar 120 Rifle cooler and either should work well in this system.
For this value midrange system, faster memory with more overclocking head-room was chosen. With the current Corsair rebates some of their best memory is available at truly bargain prices. The choice for the Intel system is a Corsair 4GB DDR2-1066 (PC2-8500) kit. The Corsair Twin X kit specifies fast 5-5-5 timings at DDR2-1066, which is an impressive spec even if you never overclock. Value is good at the normal $59, but with the current $20 rebate the price is a very easy-on-the-budget $39.