The Two Most Hilarious Miyamoto Pictures
Before I get off the Miyamoto topic entirely I want to share two things that transpired during the keynote. First, Nintendo's president talked about how Miyamoto engages in random employee kidnapping. He grabs an employee at random from the halls of Nintendo and makes him/her play one of these games in production. The employee doesn't give any feedback; there are no forms or anything else formal, he/she just has to play the game and have fun - if that's possible. It's a very back-to-basics approach to game development that I believe is sometimes lost among everything that a developer needs to worry about.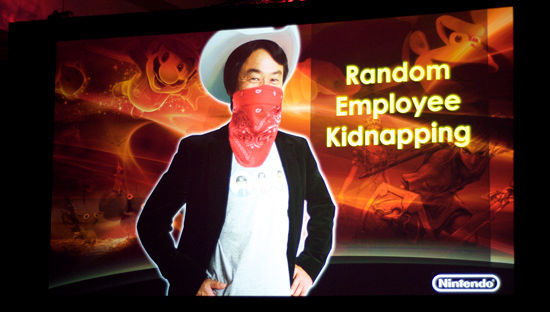 Awesome?
How does Miyamoto get feedback on the user's experience with the game? Well he uses a over-the-shoulder approach to watching the user of course: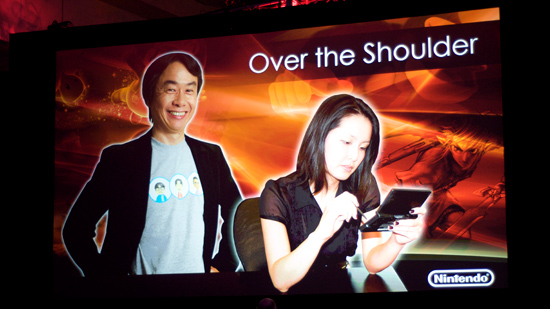 He made Mario
Yep.
Wii System Menu 4.0
While I don't want my first article about GDC to be a complete Nintendofest, it's worth talking about some of the improvements that Nintendo announced at the show. There were no major game releases and no real hardware improvements, just minor evolutionary enhancements to the Wii's OS.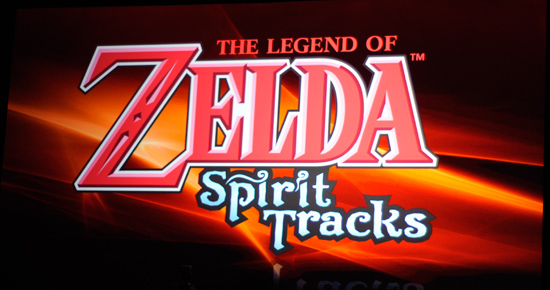 We did get word of a new Zelda title for the DS in 2009
The Wii System Menu 4.0 adds support for SD-HC cards (2GB - 32GB in size) - thus allowing you to store more game data on a single SD card in your Wii. You can also store entire WiiWare games (downloadable Wii titles) on your SD card. Previously you could only store downloadable games and content on the Wii's internal flash, which is only 512MB in size.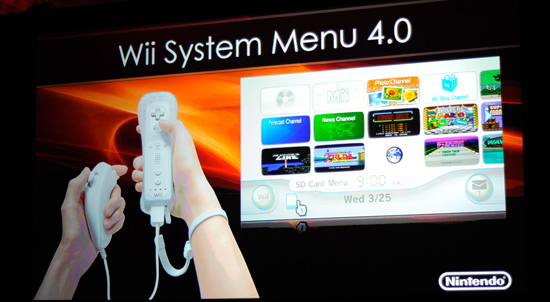 You can launch games directly from the SD card now too, and the system update is available today.
Third Party Development Doesn't Suck on the Wii, I Swear!
Despite his comforting demeanor, Iwata's keynote was a bit self serving. He very much wanted to convey the message that the Wii is good for 3rd party game developers, and that it's not simply a cash cow for Nintendo.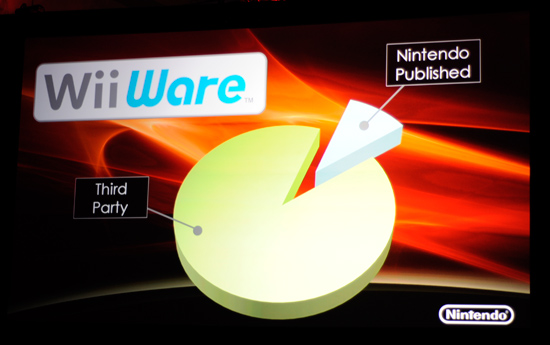 Look! The majority of WiiWare games are 3rd party titles.
That's what the whole spiel about the Wii having such a large installed user base was designed to do. Iwata said that Nintendo had to work hard to build such a large user base and that now 3rd party developers can benefit from so many existing Wii systems in the market.
The reality of the matter is that installed user base doesn't necessarily translate into very high game sales numbers, especially if you're not Nintendo. There are tons of problems and lots of blame to pass around when it comes to developing on the Wii. It's difficult to compete with Nintendo and the Wii doesn't have powerful enough hardware to just port your Xbox 360/PS3 games over. On the flip side, there are more Wii consoles in the market than Xbox 360s or PS3s so it makes sense to put in some extra effort into making a Wii-specific game.
Nintendo says that 3rd party developers can succeed on the Wii. Some developers disagree. I figure the reality of the situation is somewhere in between there.