The OCZ Summit: First with Samsung's New Controller
Well before Intel ever introduced the X25-M, there was one chip company who had already been making well behaved SSD controllers: Samsung.
The fit just made sense; Samsung makes NAND flash, Samsung makes microprocessors, thus Samsung should make SSDs.
Samsung is a unique company in that it is very well known in both the OEM and consumer spaces. You'll find Samsung ICs in nearly everything; DRAM, smartphones, even the flash on the JMicron drives I'm always complaining about - Samsung makes it. With strong OEM ties as well as a good-sized HDD business, it didn't take long for Samsung to get into the SSD market.
Because it was primarily selling SSDs to OEMs like Apple and Dell, the controller had to be perfect. Stuttering, pausing and strange reliability problems wouldn't cut it. Apple wouldn't dare ship a MacBook Air with a SSD that would deliver anything less than a flawless usage experience.
With that sort of pressure, Samsung's SSDs and its controllers always just worked. Even before the JMF602A ever shipped, Samsung's controllers were doing just fine. They had to. Their customers were Apple and Lenovo, there's no room for silliness.
There were two problems with Samsung's controllers: 1) they were expensive, and 2) they weren't very fast.
The cost drove SSD makers to companies like JMicron, to drive SSD prices down faster than Samsung would allow. The performance made it so that the very first SSDs weren't much faster than the fastest hard drives, and in some cases they were slower.
Late last year Samsung announced a new version of its MLC controller that would slowly replace all of the existing Samsung MLC drives in the market. OCZ was the first to get us a sample based on this new controller, even faster than Samsung and the drive is called the Summit.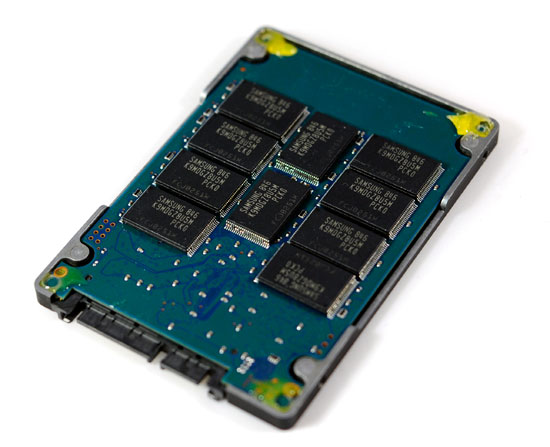 OCZ's Summit, it's an early sample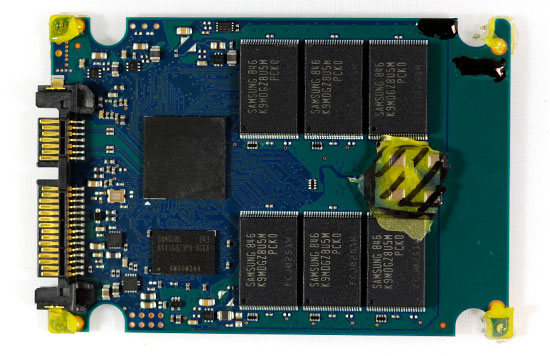 Lots of glue and no screws on the pre-release Summit. The final drive should be ready soon.
I'll save a detailed investigation into the Summit and Samsung's controller for another article, this one is already long enough. The Summit should be priced similarly to the Intel drive, although OCZ is trying to make it cheaper. The performance level is designed to be greater than the Vertex and competitive with the Intel X25-M. We'll see about that shortly.