As·sump·tion - an assuming that something is true; a fact or statement (as a proposition, axiom, postulate, or notion) taken for granted. A very powerful word if we might say so and one that can generally get us in trouble while reviewing hardware. During the course of testing for our upcoming DDR3 roundup, we assumed a few items to be true about the memory we were reviewing. Turns out, our assumptions were off the mark, but for good reason.
Our first assumption is that we should concentrate on the DDR3-1600 kits as they provided a wide range of flexibility for most users. Most of the performance oriented kits would easily hit DDR3-1800+ at decent timings and voltages, satisfying the overclocking needs of all but the hardcore enthusiasts while at the same time allowing very tight timings at lower clock speeds for applications that responded best to a combination of bandwidth and low latencies.
The reason for choosing DDR3-1600 first is that the initial DDR3-1066 and DDR3-1333 6GB kits we received generally clocked about 100MHz~200MHz above their rated speeds and latency improvements required voltages above 1.65V in most cases on our i7 platform. In addition, pricing was not that much less on a per Gigabyte basis, which certainly justified our higher performing selections at the time. By chance, we were looking at 6GB kit prices on Newegg and NCIX last month and noticed a couple of DDR3-1333 6GB kits had dropped below the $100 mark (a virtual flood of 6GB kits are now hitting the $100 mark).
These kits were not available when we started collecting review samples a few weeks ago so we ordered a new Patriot Viper DDR3-1333 (PVT36G1333ELK) 6GB kit for a very reasonable price of $93.99 plus free shipping. Our reason was simple, we just wanted to see how well the latest "budget" DDR3 product on the market clocked and if our assumptions were still correct about the first 1066/1333 kits we received. Considering our test results with the Patriot kit, we checked the credit line and ordered several "budget" 6GB kits from GSkill, Mushkin, Crucial, OCZ, Corsair, and others to feature in our roundup.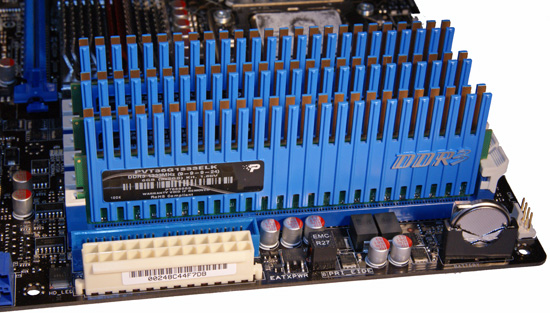 We based our second assumption on test results with our DDR3-1600 to DDR3-2000 kits providing the best possible performance on the i7 platform, especially for those overclocking the 920 processors. Our reasoning for sticking with the higher end kits was sound until recent events. The i7 platform was an expensive proposition for most users who wanted to upgrade with decent motherboards costing $300, the "budget" 920 processor going for nearly $300, and 6GB low voltage DDR3 kits costing a good $225 or higher for products that could keep up with the 920 overclocks. This resulted in a very niche market condition and one that if you had to ask the price then you probably were not going to be able to afford it.
A few weeks later, we have X58 motherboards selling for $170 with rebates, a new i7 processor stepping (D0) coming from Intel that promises a little extra headroom in clock rates, and 6GB DDR3 kits selling for around $90. The entry cost to get into an i7 platform has dropped about 34% in the last six weeks if you are pinching pennies like most of us. Guess what, the performance difference in platform selections then and now is less than 2% at best. Only those who plan on serious overclocking need to worry about spending more, but that is always the case.
Another factor in dropping prices is the rise from ashes act that AMD has accomplished with the Phenom II product line. True, it is not in the same performance category as the i7 when it comes to crunching numbers or heavy manipulation of digital content, but the Phenom II is extremely competitive on a price/performance basis when looking at the big picture. Pairing up the current Phenom II X3 720BE with either a DDR2/DDR3 based 790FX/GX motherboard results in some of the best bang for the buck performance you are likely to experience this year, at least until the new X4 95x series comes out.
Of course, Intel has the P55 platform launching later this year and we mention that because DDR3 will soon become the memory of choice for anyone upgrading to a new platform. The Phenom II platform lets you retain your current DDR2 based AM2+ setup until you decide to make the switch and we will soon see that is not a bad option from an everyday performance or cost viewpoint. However, those who need the absolute best performance from the Phenom II should go the DDR3 route at this point.
All that said, we are here today to take a first look at the Patriot Viper Series (PVT36G1333ELK) DDR3-1333 CAS9 6GB memory kit. Heresy, one might claim looking at the specs but this kit delivers the flexibility we have been seeking, only at a lower price point. Until we finish testing our recent "budget" arrivals, we thought it prudent to provide a quick look at how well this particular memory kit clocks and if it higher memory speeds actually matter at stock processor speeds or mild overclocks.