FarCry 2 Performance
While the 4850 does lead the GTS 250 by a significant margine, the GTS 250 1GB edges out the 4850. As on board RAM seems to make a difference here, we'd like to see what happens with the 4850 1GB. This one again would be better suited to 1280x1024 or slightly reduced settings.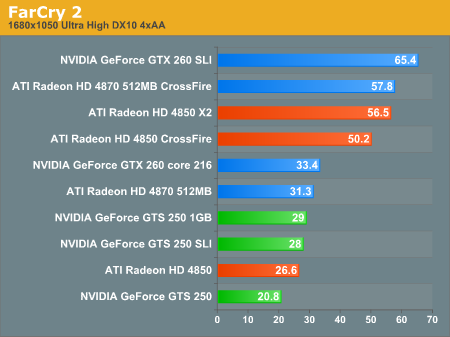 1680x1050
1920x1200
2560x1600
Left 4 Dead Performance
The Radeon 4850 leads the GTS 250 in this benchmark, and it even edges out the 1GB variant at and below 1920x1200. Interestingly, all these cards remain playable at 2560x1600, but the Radeon 4850 drops to the bottom in performance at this resolution. With the minimal difference we see other variations in RAM make, it doesn't seem like the 1GB 4850 would fare any better. Of course, you never know until you try, so we won't make any definitive statements here.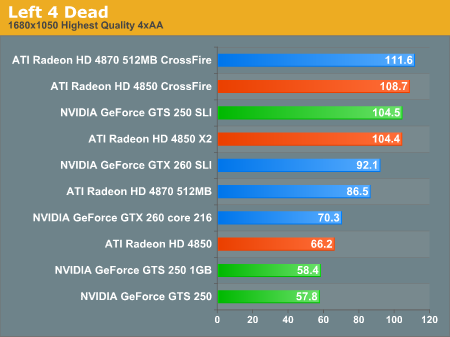 1680x1050
1920x1200
2560x1600
Race Driver GRID Performance
Across the board in this benchmark the Radeon 4850 leads both the GTS 250. The GTS 250 1GB catches up at 2560x1600 though. It does seem, however, that SLI scales better in this benchmark, and the GTS 250 1GB in SLI might post some decent numbers at 2560x1600 as well.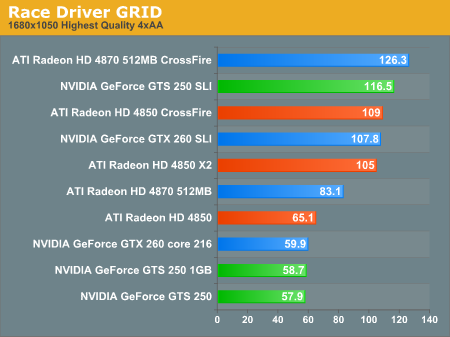 1680x1050
1920x1200
2560x1600