Why Intel is Doing this
There are two motivating factors behind today's announcement and both of them serve Intel's interests.
First is capacity. While Intel processors normally go into PCs, Atom based designs go into netbooks today and smart phones and other CE devices in the future. Remember that by 2012 Intel plans to be shipping 200M Atom processors per year. Note that today Intel ships around 200M desktop x86 CPUs per year.
Atom will continue to grow but, especially in price sensitive applications, if it starts requiring the creation of new fabs just to meet demand for Atom then you start to eat into the profitability of the chip. Growing far beyond 200M Atom processors per year either requires additional fab investment or making the CPUs elsewhere. TSMC appears to be that elsewhere.
The other thing to keep in mind is that Moorestown, the first Atom SoC, will be built at 45nm while the first 32nm CPUs are shipping from Intel. Another way of putting it is that Atom processors don't appear to need the latest manufacturing process, just one that's mature and good enough. TSMC is transitioning to 40nm now, so Atom SoCs that are made there won't really be that far behind those made at Intel, if at all.
The second driving force behind today's announcement is the more vague one: IP. Let's look at the Moorestown block diagram again: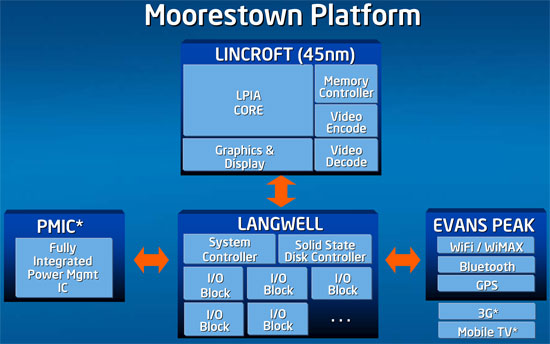 The Lincroft and Langwell blocks are done by Intel. The PMIC and Evans Peak blocks are partly Intel and partly 3rd party IP that are intermixed. Evans Peak in particular looks like it's going to be home to all sorts of IP depending on the application. A smart phone Atom SoC design might integrate a 3G modem here, while an iPod would opt for something else.
The move to TSMC would allow existing TSMC customers to potentially merge their designs with an Atom SoC. Intel mentioned that it would retain complete control of what Atom SoC products are built, so this isn't quite ARM-like in that you can't just go an license the core, but it's definitely a step in that direction.
Intel also made it very clear that any chip to come out of TSMC, regardless of whose IP it uses, will be an Intel branded chip sold by Intel. It's the IP angle of the deal that Intel is confident will allow Atom SoCs to be used in new markets and new devices that Intel would not have been able to otherwise target.
Final Words
Intel and TSMC have apparently been working on this for the past 2 - 3 years. It makes sense when you recall how Intel's Atom team worked; not as a conventional arm of the chip maker, but almost like a startup. The Atom group is simply trying to grow its share of the business as quickly and as well as possible.
The timing of the announcement is interesting, because there's nothing to actually announce. The two companies are saying that they are working on eventually working together. Intel avoided answering when we'd see products but I'd suspect it would have to be sometime after Moorestown. The move does require additional design resources; Intel can't simply take its Atom SoC designs and hand them to TSMC to manufacture, the chip must be designed specifically for TSMC's processes. It's not as much effort as building a new chip but it is far from a trivial change. Clearly Intel has invested time in this and from the end user perspective, business should be as usual.
Intel will continue to make standalone Atom processors and SoCs at its own fabs; the roadmap hasn't changed. What has changed is that now some additional designs, or additional points of interest on the roadmap, will now come from TSMC.
Remember the goal behind Atom and Larrabee and all of Intel's recent non-desktop-CPU projects: x86 everywhere. More than anything that's what this boils down to. The TSMC agreement aids Intel in its quest to bring x86 processors to more corners of the computing universe.
Skynet here we come.