Fallout 3 Analysis
Try as we might, Fallout 3 performance is very limited by LOD optimizations. We tweaked the .ini files as much as we could to make performance GPU limited, but we just shifted maximum performance down across the board. This is similar to how Oblivion behaved with single card solutions, but this time even multiGPU solutions are affected. It's not a failing of the game, as we do recommend turning on vsync and (if possible) triple buffering when gaming; it just makes testing "goodness" of a graphics card more difficult.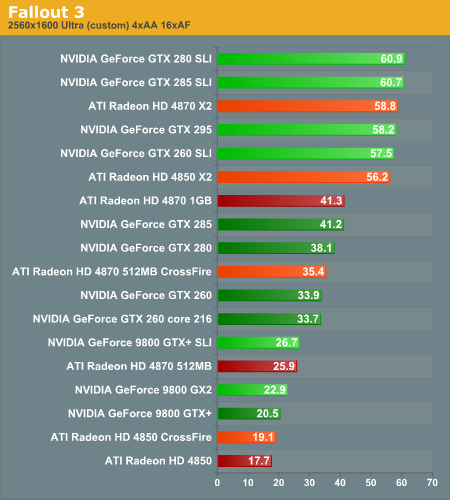 1680x1050
1920x1200
2560x1600
None of our single GPU options hits the frame limit, which does help. Everything runs fine at 1680x1050 and all the multiGPU options are essentially equivalent in performance at this resolution. Moving up to 1920x1200, we see a similar situation, but the 9800 GX2 starts to fall off a bit. Luckily 2560x1600 offers us a better look at what cards stand up when really pushed by Bethesda's modified Gamebryo engine.
Graphics memory becomes a factor at high resolution, and the multiGPU options with only 512MB per card tank in performance. Both 9800 series options and the 4870 512MB / 4850 CrossFire options drop off sharply in performance. This leaves the 4870 X2 and 4850 X2 solutions in competition with the latest and greatest from NVIDIA at the top of the heap. It's clear that the highest end NVIDIA parts have more headroom still, but unfortunately this test won't reveal everything they can do. The 4850 X2 2GB and GTX 260 SLI do drop a little off the frame limit, but the drop isn't hugely consequential.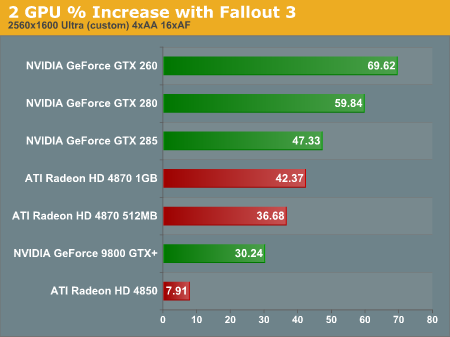 1680x1050
1920x1200
2560x1600
Scaling data is horrible here because of the limited framerate. Basically, rather than looking at how much better two cards perform, the metric is how slow the single card is. Thus the best scaling we see in this game comes from the 9800 GTX+ and the 4850 until we hit 2560x1600. When we start to finally get a glimpse of real scaling in Fallout 3, the GT200 based NVIDIA cards definitely take the cake.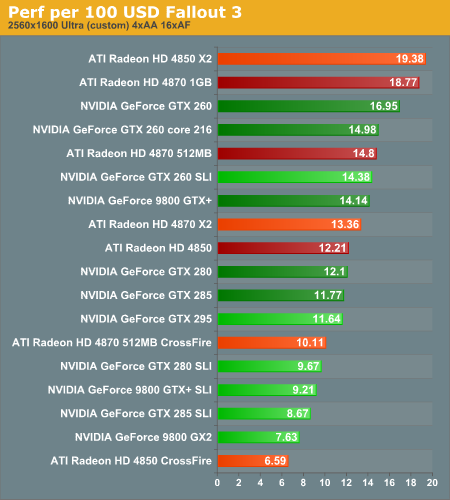 1680x1050
1920x1200
2560x1600
In terms of value, the frame limit also hurts multiGPU solutions because despite the increased cost, you can only squeeze so much performance out of the hardware. Once again, we note though that the 4850 X2 has very good value and good performance especially compared to the single GTX 280 and 285.