Call of Duty World at War Analysis
This game, as with previous CoD installments, tends to favor NVIDIA hardware. The updated graphics engine of World at War, while looking pretty good, still offers good performance and good scalability.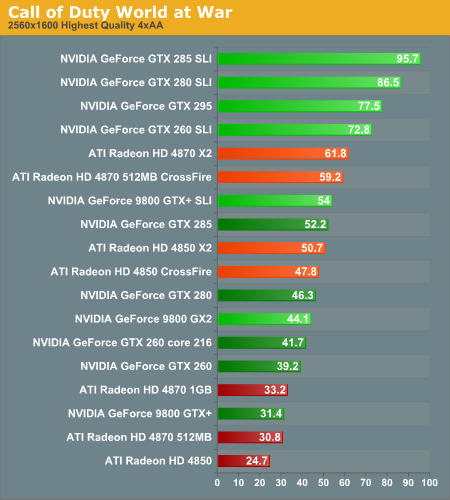 1680x1050
1920x1200
2560x1600
In this test, even though we disabled the frame rate limit and vsync, single GPU solutions seem limited to around 60 frames per second. This is part of why we see beyond linear scaling with more than one GPU in some cases: it's not magic, it's that single card performance isn't as high as it should be. We don't stop seeing artificial limits on single GPU performance until 2560x1600.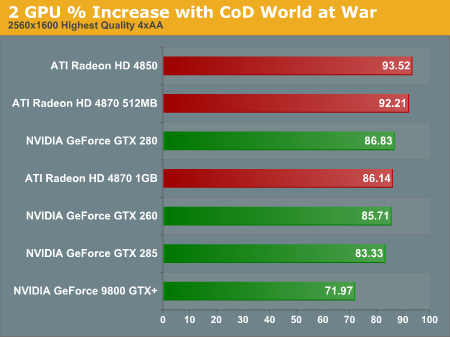 1680x1050
1920x1200
2560x1600
SLI rules this benchmark with GT 200 based parts coming out on top across the board. This game does scale very well with multiple GPUs, most of the time coming in over 80% (the exception is the 9800 GTX+ at 2560x1600). At higher resolutions, the AMD multiGPU options do scale better than their SLI counter parts, but the baseline NVIDIA performance is so much higher that it really doesn't make a big practical difference.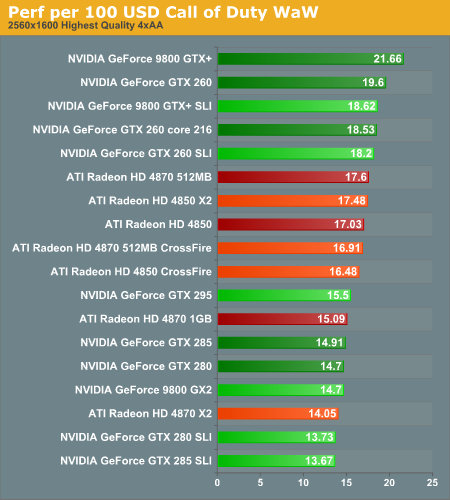 1680x1050
1920x1200
2560x1600
In terms of value, the 9800 GTX+ (at today's prices), leads the way in CoD. Of course, though it offers the most frames per second per dollar, it is a good example of the need to account for both absolute performance and value: it only barely squeaks by as playable at 2560x1600.
Because we see very good performance across the board, multiple GPUs are not required even for the highest settings at the highest resolution. The only card that isn't quite up to the task at 2560x1600 is the Radeon HD 4850 (though the 4870 512MB and 9800 GTX+ are both borderline).