Arctic Cooling Fusion 550R - Overview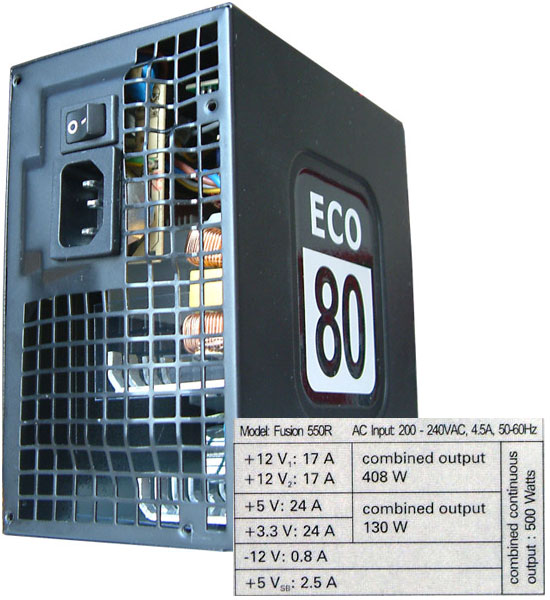 Arctic Cooling is famous for their CPU coolers, which were very popular in the late 90s and early 2000s. With prices of around $20-$25 and very good performance, they sold a ton of these coolers. Eventually, Arctic Cooling started selling cases with power supplies made by Seasonic. That leads into today's review, with Arctic Cooling now selling power supplies under their own brand -- a potentially lucrative proposition, provided you have a product that can stand out from the competition.
The Fusion 550 is the first power supply from Arctic Cooling, and given their previous use of Seasonic power supplies in their cases, it should come as no surprise that the Fusion is manufactured by Seasonic. The difference is that Arctic Cooling uses their own fans, which are supposed to be nearly silent while still providing good performance. Arctic Cooling mounts one of these fans on the front of the PSU, with the fan actually located outside of the casing. This fan will funnel air into the PSU, and possibly do so with less acoustic noise than the competition.
In a case of interesting marketing, don't be fooled by the Eco 80 emblem on the top of the power supply. This sticker has nothing to do with the 80 Plus certification from 80Plus.org, despite some striking similarities. We will see later that the Fusion 550 does manage to achieve 80% or higher efficiency, but since this power supply did only come with 230VAC it was not able to be certified by the 80 Plus programme. Arctic Cooling does however have a multiple input version now that comes with the real certification.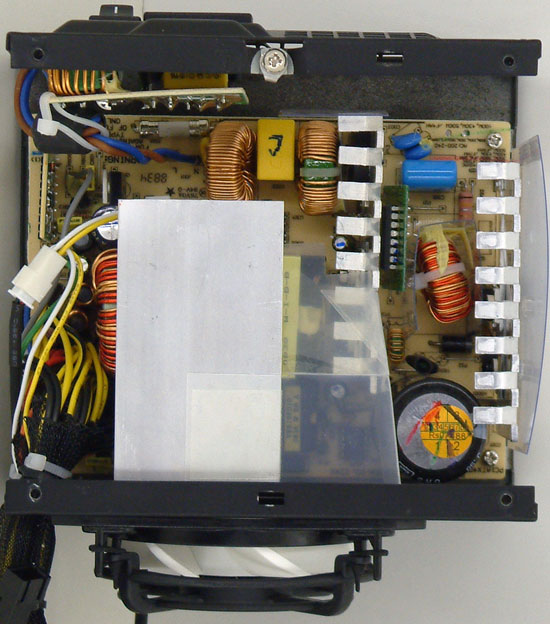 When we open the casing, we find a standard Seasonic layout. Right in front of the fan is a large heatsink that will get plenty of airflow for cooling. A plastic shroud is also present to help channel airflow into the optimal locations, further helping control heat. A heatsink on the side won't get much airflow, but since there aren't many components attached to that heatsink it shouldn't be a problem. A Nippon Chemi-Con capacitor fills the primary role, with Ostor capacitors in the secondary. Ostor might be one of the cheaper capacitor options, but we didn't encounter any problems with these components.