Corsair CMPSU-520HX - Overview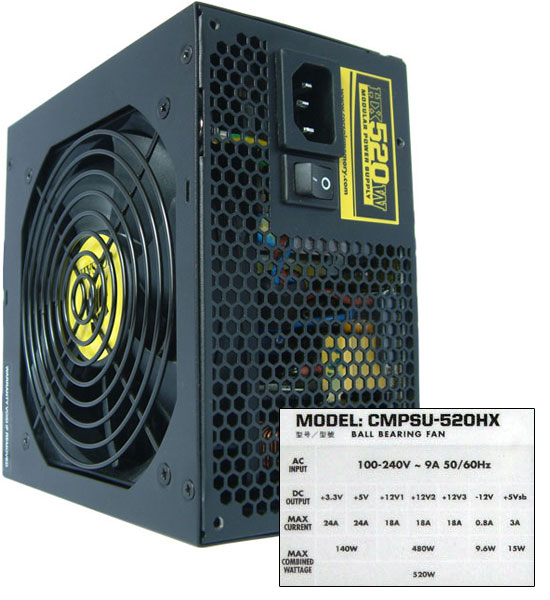 We never had the opportunity to review Corsair's renowned 520W HX series, so we asked Corsair to send us a sample. The 520HX was one of the first power supplies to come out of Corsair, and it paved the way for what we see today. At the time, Corsair was only using Seasonic units, but many of their recent offerings are now manufactured by CWT.
The 520HX comes in the ubiquitous black color scheme, with distinctive yellow stickers on most of the sides. Each Corsair power supply model has a distinctive color, which allows you to easily distinguish between the various units and wattages. Since this is an older Seasonic design, the housing is typical of Seasonic units from a couple years ago. The cable harnesses are flat, which is actually pretty cool since you can fold them up and talk them into various nooks and crannies and avoid impeding airflow.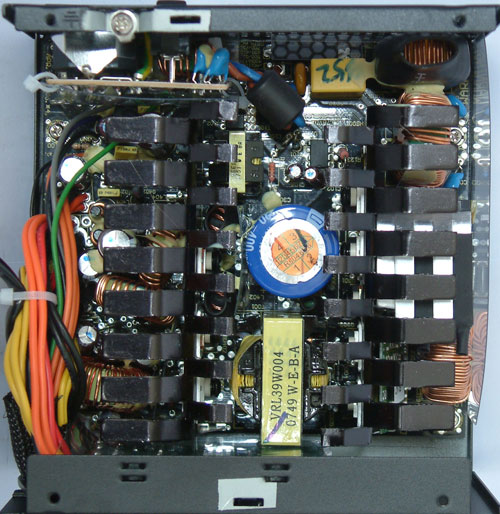 Seasonic offers their Energy+ series utilizing the same design, and those are some of the better performing Seasonic models. The design is very solid but does have a few minor problems with voltage regulation. A Hitachi capacitor is used in the primary, which is somewhat unusual -- most companies use Nippon Chemi-Con now for whatever reason. The secondary is full of Nippon Chemi-Con capacitors, which is nice to see since Seasonic manufactured power supplies frequently used Ostor or other inexpensive capacitors instead.