Appearance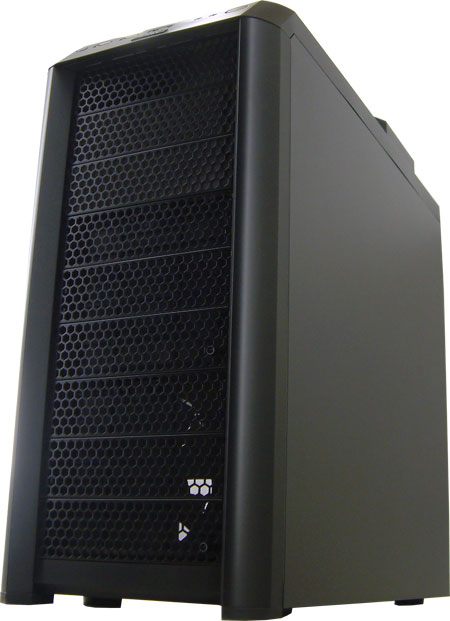 The Nine Hundred Two case is completely black -- inside and out. The main structure of the case is composed of steel, with plastic parts for portions of the top and front. As with its predecessor, there are nine 5.25" drive bays with perforated covers on the front to allow air to pass into the chassis. Like most other cases that have a bunch of 5.25" drive bays, Antec uses hard drive cages placed behind some of the 5.25" covers. Two cages are included, with each cage occupying three 5.25" bays and supporting up to three 3.5" hard drives. If you want to forego using any optical drives, you could purchase a third hard drive cage separately.
There are power and reset buttons at the top, along with audio, USB, and eSATA ports. The top panel looks similar to the Twelve Hundred, with a large 200mm fan serving as an exhaust. The top panel is largely composed of plastic, which does make the case feel a little "cheap" -- or at least not as nice as the expensive aluminum cases -- but it's thick enough that you won't worry about accidentally breaking it. The combination of steel and plastic does help keep costs down somewhat, although at ~$160 this certainly isn't an entry-level or even midrange case.
The left side panel has a large window that extends from top to bottom, allowing you to see all of your internal components including the power supply and the back of any hard drives. You will want to take some time to make sure your cabling is clean, which is one of the drawbacks of such a large window. The rear portion of the left side panel has a cutout where you can install a 120mm fan, which would blow air directly at any expansion cards -- great for keeping GPUs cool.
Antec includes eight expansion slot covers on the back of the case, which is one more than most computer cases provide. Thumbscrews are provided to secure any components installed in the expansion slots, and most people will end up with an extra expansion slot or two that their motherboard doesn't use, which would be a perfect spot to install additional USB, FireWire, or eSATA ports.
Antec is one of the few companies to include fan speed controls on many of their cases, and the Nine Hundred Two continues that trend. There are two small potentiometers that control the case fans on the two included hard drive cages. In addition, there are three-way switches on the rear where you can select low/medium/high fan speeds for the top and rear case fans. Another switch allows you to turn the LED on the top fan on or off.