Westmere's New Instructions
Much like Penryn and its new SSE4.1 instructions, Westmere comes with 7 new instructions added to those already in Core i7. These instructions are specifically focused on accelerating encryption/decryption algorithms. There's a single carryless multiply instruction (PCLMULQDQ...I love typing that) and 6 instructions of AES.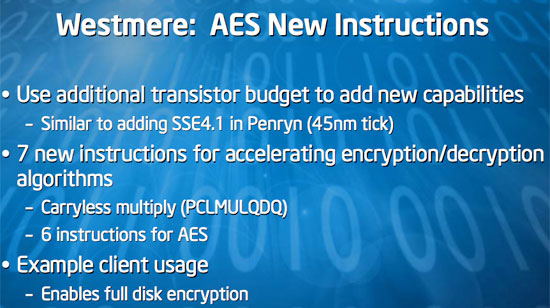 Intel gives the example of hardware accelerated full disk encryption as a need for these instructions. With the new instructions being driven into the mainstream first, we'll probably see quicker than usual software adoption.
Final Words
What is there to say other than: it's a healthy roadmap. The only casualty I've seen is Havendale but I'd gladly trade Havendale for a 32nm version. But let's get down to what this means for what you should buy and when.
At the very high end, Core i7 users have little reason to worry. While Intel is expected to bump i7 up to 3.33GHz in the near future, nothing below i7 looks threatening in 2009. Moving into 2010, the 6-core 32nm i7 successor should be extremely powerful. Intel's strategy with LGA-1366 makes a lot of sense: if you want more cores, this is the platform you're going to have to be on.
Now although I said that nothing will threaten Core i7 this year, you may be able to get i7-like performance out of Lynnfield in the second half. A quad-core Lynnfield running near 3GHz, should offer much of the performance of an i7 with a lower platform cost. Remember back to our original i7 review; we didn't find a big performance benefit from three channels of DDR3 versus two.
Lynnfield is on track for a 2H 2009 introduction and if you're unable to make the jump to i7 now, you'll probably be able to get i7-like performance out of Lynnfield in about 6 months. Intel did mention that the most overclockable processors would go into the LGA-1366 socket. Combine better overclockability with the promise of 6 cores in the future and it seems like LGA-1366 is shaping up to be a platform that's going to stick around despite cheaper alternatives.
The 32nm Clarkdale/Arrandale parts arriving by the end of this year really means one very important thing: the time to buy a new notebook will be either in Q4 2009 or Q1 2010. A 2-core, 4-thread 32nm Westmere derivative is not only going to put current Penryn cores to shame, it's going to be extremely power efficient. In its briefing yesterday, Intel mentioned that while Clarkdale/Arrandale clock speeds and TDPs would be similar to what we have today, you'll be getting much more performance. Seeing what we've seen thus far with Nehalem, I'd say a 2-core, 32nm version in a notebook is going to be reason enough for you to want to upgrade.
If I had to build a new desktop today I'd go Core i7 and think about upgrading to a 6-core version sometime next year. If I couldn't or didn't need to build today, then the thing to wait for is Lynnfield. Four cores that should deliver i7-like performance just can't be beat, and platform costs will be much cheaper by then (expect ~$100 motherboards and near price parity between DDR3 and DDR2).
On the mainstream quad-core side, it may not make sense to try to upgrade to 32nm quad-core until Sandy Bridge at the end of 2010. If you buy Lynnfield this year, chances are that you won't feel a need to upgrade until late 2010/2011.
On the notebook side, if I needed one today I'd buy whatever I could keeping in mind that within a year I'm going to want to upgrade. I mentioned this in much of my recent Mac coverage; if you bought a new MacBook, it looks great, but the one you're going to really want will be here in about a year.
We owe Intel a huge thanks for being so forthcoming with its roadmaps. It's going to be a good couple of years for performance.