The Server Roadmap
Intel's 32nm server roadmap is notably different from the desktop roadmap. Nehalem-EX will ship into the Xeon 7000 series as an 8-core, 16-thread part. It will eventually get replaced sometime in 2010 with a 32nm Westmere derivative.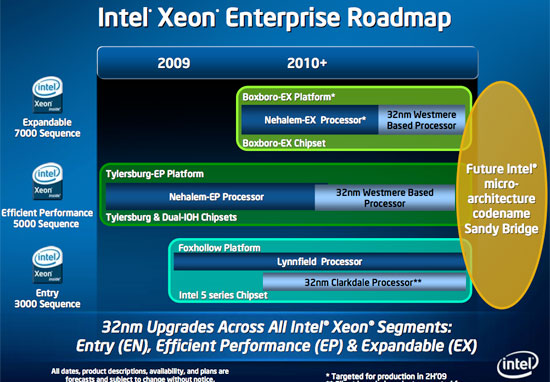 We'll see a 32nm six-core Westmere based processor in the Xeon 5000 series in 2010.
Finally Lynnfield and Clarkdale will be carried over to the entry level Xeon platforms at the end of this year and into 2010.
What About Chipsets?
Intel's X58 chipset will remain the top dog through 2010. Chances are that we won't see it replaced until the next tock with Sandy Bridge. Now that isn't to say that the six-core 32nm Gulftown will work in existing X58 motherboards; while that would be nice, Intel does have a habit of forcing motherboard upgrades, we'll have to wait and see.
The rest of the Nehalem/Westmere family will rely on Intel's upcoming P55 chipset: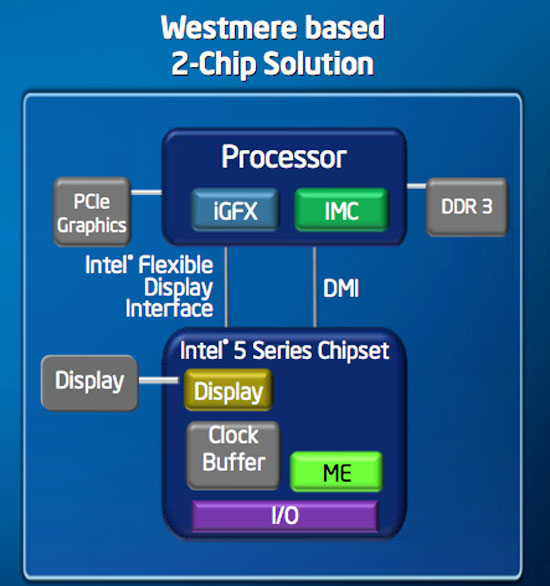 Originally both Lynnfield and Havendale were to have an on-package PCIe controller, I'm not sure if that has changed with the Havendale cancellation but I see no reason for it to have. In which case a Lynnfield system will still look like this: