Adobe Photoshop CS4 Performance
To measure performance under Photoshop CS4 we turn to the Retouch Artists' Speed Test. The test does basic photo editing; there are a couple of color space conversions, many layer creations, color curve adjustment, image and canvas size adjustment, unsharp mask, and finally a gaussian blur performed on the entire image.
The whole process is timed and thanks to the use of Intel's X25-M SSD as our test bed hard drive, performance is far more predictable than back when we used to test on mechanical disks.
Time is reported in seconds and the lower numbers mean better performance. The test is multithreaded and can hit all four cores in a quad-core machine.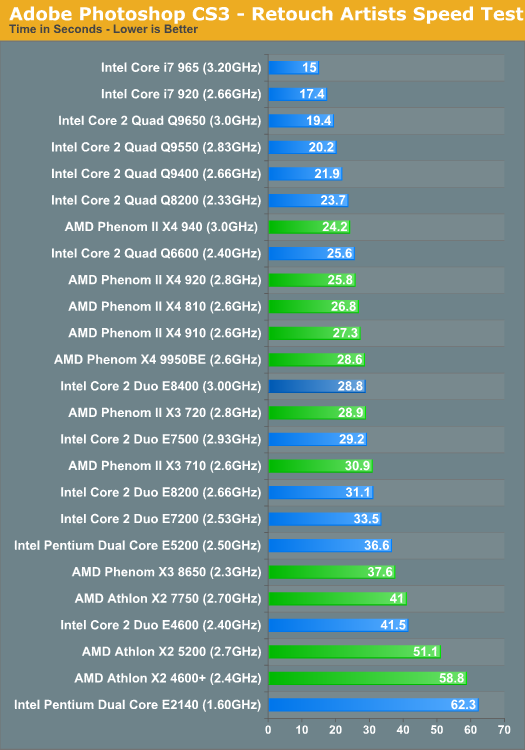 While our Photoshop CS4 benchmark clearly prefers Intel's CPUs, the results aren't so clean cut. The entire Phenom II 800 and 900 lineup falls short of their competitors, but the Phenom II X3 720 can equal its rival: the Core 2 Duo E7500. It's slower than the more expensive E8400, but it's at least competitive.
This is where AMD has some potential to do well. As a result of its larger die, the 720 has one more core than Intel's svelte Core 2 Duos. In well threaded applications, the X3 could come out ahead.
DivX 8.5.3 with Xmpeg 5.0.3
Our DivX test is the same DivX / XMpeg 5.03 test we've run for the past few years now, the 1080p source file is encoded using the unconstrained DivX profile, quality/performance is set balanced at 5 and enhanced multithreading is enabled: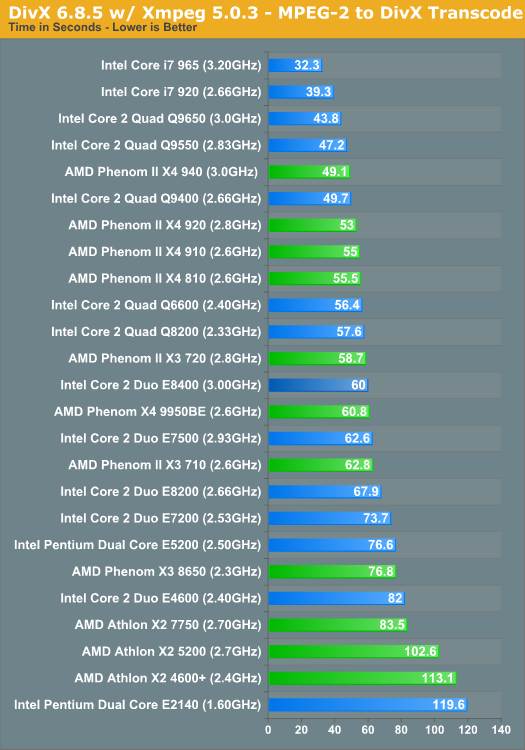 Both the Phenom II 900 and 800 series parts are competitive here. The Phenom II X3 720 actually beats out both competitors here, the E7500 and E8400 are close but no faster than the 720. Here's a benefit of that extra core at work.
x264 HD Video Encoding Performance
Graysky's x264 HD test uses the publicly available x264 codec (open source alternative to H.264) to encode a 4Mbps 720p MPEG-2 source. The focus here is on quality rather than speed, thus the benchmark uses a 2-pass encode and reports the average frame rate in each pass.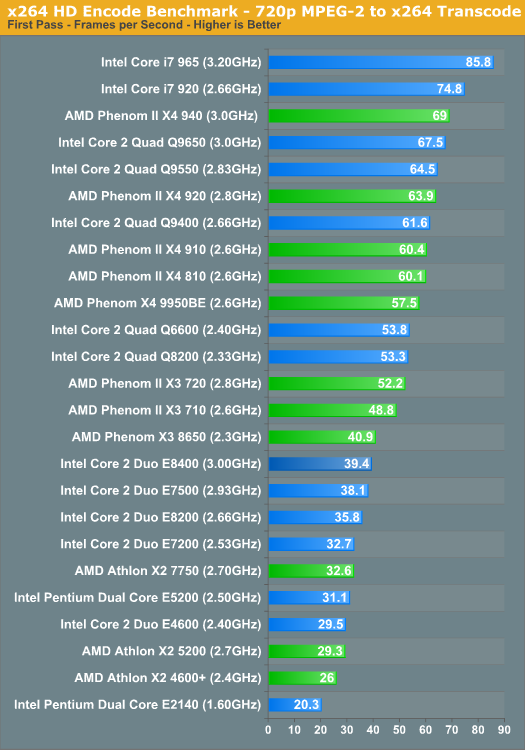 The first pass of the x264 benchmark is actually an analysis pass, the real encoding is done in the second pass. There are apparently quite a few unaligned cache accesses in this test which severely penalize the Core 2 processors; Core i7 is unaffected. Because of the unaligned cache access performance penalty, AMD owns the price/performance comparison here.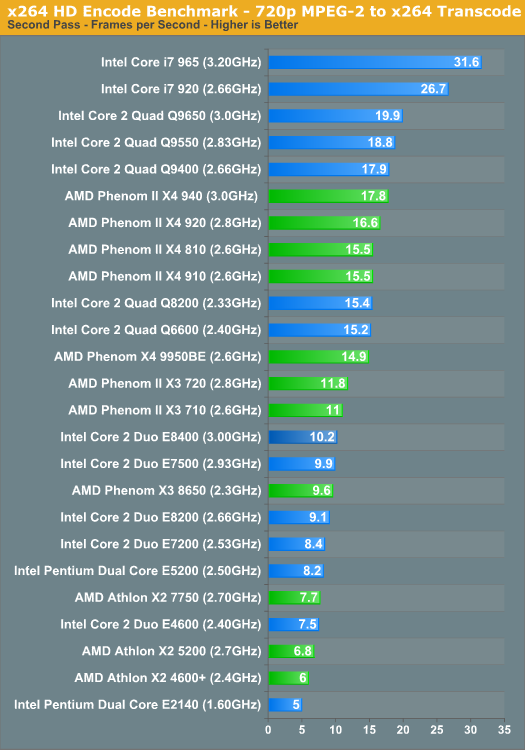 The actual encode workload is much more competitive. The Phenom II 800 and 900 series chips cluster around each other, remaining competitive but not really any faster than the equivalently priced Core 2 Quads. The Phenom II X3 720 continues to be faster than its competitor thanks to its core count advantage.
Windows Media Encoder 9 x64 Advanced Profile
In order to be codec agnostic we've got a Windows Media Encoder benchmark looking at the same sort of thing we've been doing in the DivX and x264 tests, but using WME instead.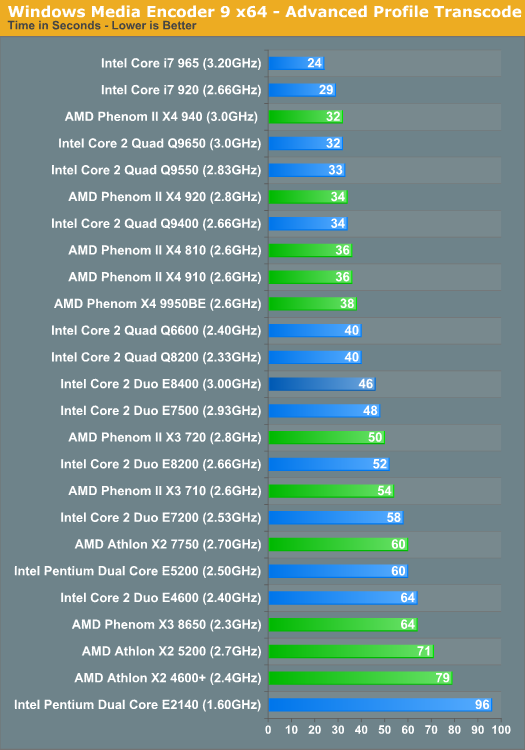 Here we've got, once again, a competitive AMD but there's something very interesting going on with the triple core 720. WME9 doesn't make use of the third core as it is hard coded to use powers of 2 for the number of processor cores. There are some applications that will exhibit this sort of behavior, although in our testing the numbers are limited. With its third core out of the picture, the 720 is slower than Intel's Core 2 Duo E7500.