Core i7 Dream System
We're calling the Core i7 High-End system our "Dream" system - and for many in the current economic times, that's exactly what this is: a dream. Components were selected because they represent the highest end of the performance curve with some tilt toward value. That does not mean the components of the Core i7 Dream System are the best value or the best bang for the buck, as in most cases you pay a lot at the top for a fairly small increase in performance. However, in most cases the component selected is a top performer.
This is not no-holds-barred, as we could easily have chosen a RAID 5 storage setup with 1TB to 2TB enterprise drives and an SSD RAID boot array. We stopped short of choosing that option, but some will be interested in going that direction. As the dollars added up quickly the final decision was to limit the high-end to somewhere around $5000. More can be spent, and if you're looking at the deficiencies in this $5000 Core i7 system you certainly know where you would like to spend the extra dollars. In the end the i7 Dream is a heck of a system, as we hope you will agree.
Intel i7 Dream System
Hardware
Component
Price
Processor
Intel Core i7 965 Socket 1366
(3.2GHz Quad-core, 4x256KB L2, 8MB L3 Cache)
$1010
Cooling
Vigor Monsoon III LT for Socket 1366
$60
Video
EVGA 017-P3-1291-AR GeForce GTX 295 2.0 x16
$505
Motherboard
ASUS P6T6 WS Revolution X58
$370
Memory
Mushkin 6GB (3x2GB) DDR3-1600 (PC3-12800) 7-8-7-20 Kit 998679
$205
SSD
Intel X-25M SSDSA2MH160G1C5 160GB
($729)
Hard Drive
Western Digital Caviar Black WD1001FALS 1TB 7200 RPM 32MB Cache SATA 3.0Gb/s
$120
Optical Drive
LG 6X BD-R 2X BD-RE 16X DVD+R 6X Blu-ray SATA Blu-ray Burner GGW-H20LK
$190
Optical Drive
LG BD/HD DVD / 16x DVD+/- RW GGC-H20LK
$110
Audio
ASUS Xonar DX 7.1
$90
Case
Silversone FT01-BW Aluminum ATX Mid-Tower Unibody
$230
Power Supply
CORSAIR CMPSU-1000HX 1000W SLI Ready CrossFire Ready 80 PLUS Certified Modular
$210
Display
LG W3000H-Bn 30" 2560x1600 5ms S-IPS LCD
$1100
Speakers
Logitech Z-5500 505W 5.1 Speakers
$303
Keyboard
Logitech G15
$90
Mouse
Logitech G5 7 Buttons/1 Wheel USB Laser Mouse
$50
Operating System
Microsoft Vista Ultimate OEM
$180
Bottom Line
$4823
($5552)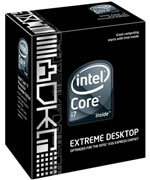 The i7 965 is the top of the Intel Core i7 line. It runs at the highest 3.2GHz available in a stock i7 and it is the only Core i7 with an unlocked multiplier. This makes the Core i7 965 an extremely flexible CPU for overclocking. In fairness, top-of-the-line processors rarely give the highest percentage overclocks. However, they perform the best at stock speeds and they are the easiest to overclock should you choose to do that. Components do not need to be pushed as far to reach the higher overclocks, which makes it less likely that peripheral limitations will hold back overall OC performance.
Some will ask why in the world we even think of recommending a $1000 CPU. Our answer would be that this is a dream system and price is not an overriding consideration. We also would be willing to bet that if you were offered a $295 i7 920 or an i7 965 at the same price you would choose the 3.2GHz unlocked 965. If the price is too rich you can always choose the lower priced 920 or 940 in the $295 to $595 price range.
The ASUS P6T6 WS Revolution X58 is a workstation board with a very flexible design. It features three x16 PCI-E slots that are truly x16 in operation. That makes the ASUS P6T6 Revolution capable of supporting the fastest triple-SLI setup possible if you are inclined to go in that direction. A dream system should support all the high-end possibilities imaginable and the P6T6 WS will not disappoint. Our motherboard editor, Gary Key, has said he would choose this motherboard for his own personal dream system.
The i7 Dream System needs at least 6GB of triple-channel memory, and there is nothing better on the market right now than the Mushkin 6GB (3x2GB) DDR3-1600 (PC3-12800) 7-8-7-20 kit. The attraction of this Mushkin 6GB package is the aggressive 7-8-7 timings it supports. This memory meets its specs, and it is blazingly fast in a Core i7 system.
Several well-known coolers offer optional adapters for socket 1366, but the cooler choice mated with the ASUS P6T7 WS Revolution is the Vigor Monsoon III LT. Naturally, the Monsoon III LT cools better than the Intel stock cooler and it is a good match to the capabilities of the i7 965 CPU. If you want even better cooling, you will need to go to a large radiator water system or phase-change cooling.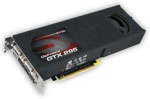 Since a dream system is about best performance, the choice for GPU is the new NVIDIA GTX 295. The hybrid design of the GTX 295 GPUs provides lots of shader horsepower with less RAM and pixel power than the GTX 280. This means the GTX 295 should perform better than two GTX 260 cards in SLI mode, but a bit less than two GTX 280s in SLI. In our game testing the GTX 295 beat the 4870X2 in some games and lost to it in others. Overall, it is certainly the equal of the 4870X2 in performance at about the same $500 price. NVIDIA drivers work very well on the i7 and the GTX 295 will be a fast and reliable performer in the i7 Dream System. A second GTX 295 would even provide quad-SLI if you are looking for bragging rights.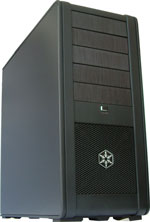 The Silverstone case was a top choice in the Holiday Case and Power Supply Guide. Silverstone's tower uses two large fans in a full aluminum case to create "positive air-pressure". The technique pumps more air inside of the case than fans are exhausting. The positive pressure then pushes the hot air out of every hole in the case. When we changed the direction of the fan from stock, we immediately saw higher temperatures and poorer cooling results, so you might consider a similar approach on your own system. The stock positive pressure design really did cool better in our testing. You can read our full review of the FT01 for more details. The overall quality of the Silverstone FT01 chassis is unmatched today, and those with enough money will not be disappointed. It is not cheap with a price of $210 to $250 without a power supply, but the FT01 remains an exceptional value in a high-end case. The FT01 is a mid-tower case as the best is not always the largest. If you want a larger case than the Silverstone FT01 the Silverstone Full Tower TJ07 series provides the same "positive pressure" design in a full tower case at around $370.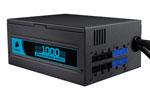 The Corsair 1000W power supply is our choice to power the Core i7 Dream System. The largest power supply that can be driven by a US plug is around 1200W, though EU readers could select even larger power supplies with the higher voltages in use in Europe. However, the Corsair CMPSU-1000HX should handle anything you can install in the Core i7 Dream System. The PSU is SLI Ready, CrossFire Ready, and 80 Plus Certified. This is also a modular design, so it is easy to update power connectors whenever the GPU industry or Intel introduce a new and unique power connector. Corsair has also been very good at keeping up with modular cords when new connectors are introduced.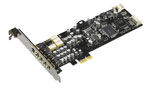 The ASUS Xonar DX 7.1 is one of the top-performing audio cards on the market today. It is a great upgrade to the onboard sound if you want better sound quality. Game compatibility is excellent, but most game creators assume everyone has a Creative Labs sound card. If your main reason for having a powerful i7 computer is gaming, you may prefer the Creative 7.1 Sound Blaster X-Fi Titanium at the same $90 price. In our opinion, the sound quality is better on the ASUS sound card, but compatibility will never be a question with a Creative Labs sound card.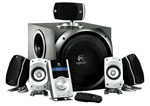 In a dream system, one speaker option is a top-of-the-line powered speaker system. That is why speakers have been upgraded to the Logitech Z-5500 550W 5.1 surround sound speakers. At $303 this is certainly not a low-priced option, but it is actually quite cheap compared to option #2, which is regular audio components powering normal audio system speakers. Everyone who has purchased the Z-5500 seems very pleased with the performance, so this was an easy recommendation. That said, some AT Editors have patched their computers into their high-end audio systems, but audio components are a topic for another guide. The Z-5500 delivers great performance for the price and will not likely disappoint you in your dream Core i7 build.
You may need to reread our Holiday 2008 Display Guide to fully appreciate our monitor selection for the Core i7 Dream System. You definitely need a 30" monitor with 2560x1600 resolution to fully utilize the NVIDIA GTX 295 GPU. Fortunately 30" monitors have dropped in price and you can now buy a 30" display for around $1000. On the surface that seems like a good thing, but things are not always what they appear.
The bad thing about the price drop in 30" monitors is that most of the choices have been reworked and now use a TFT display panel. That is OK, but the IPS panel that used to be common in the 30" display is a much better panel. Color fidelity is better and IPS looks much better - especially for photo editing and graphics creation where color accuracy is most important.
Fortunately LG still makes an S-IPS 30" display for just a little more than the typical $1000 TFT 30" display, and the Core i7 Dream System features the 30" LG W3000H-Bn 30" 5ms with the S-IPS Panel at $1100. We don't have the LG IPS panel in house, but we have seen the difference an IPS panel makes in other monitor sizes. Those in the know also report the picture quality of the LG W3000H-Bn is truly stunning, and a fitting match to the Core i7 Dream System.
The dream system deserves an SSD as a boot/game drive but we are in the process of testing the more recent drives to see if the new SATA II SSDs finally correct the corruption and pause issues seen in past testing. In the meantime, if you need a reliable choice for an SSD today we can recommend the Intel X-25M SSDSA2MH160G1C5 160GB. It is very expensive compared to the most recent SSD introductions, but it does deliver performance as promised. As soon as testing of the current crop of SSD drives is complete we will revisit potential SSD recommendations.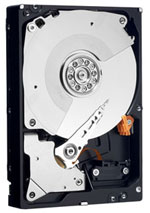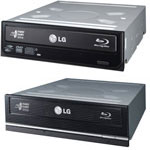 The remaining components are similar to the i7 OC choices. The storage hard drive remains 1TB but the Western Digital was chosen for the dream system at a slightly higher price. For optical drives, two Blu-ray drives were chosen for more flexible backup and disc copying. One is the LG Blu-ray reader featured in the Core i7 Entry and the second is the LG Blu-ray writer that was used in the Core i7 OC system. With both a Blu-ray reader and a writer for the 25GB/50GB Blu-ray disks you have a very flexible system for handling Blu-ray, which makes sense in a Dream system.
We also upgraded to Windows Vista Ultimate. Frankly, it adds nothing we need in our dream system that could not be provided by Vista Home Premium, but a dream system deserves Vista Ultimate. Alternately, if you are the self-assured type, use Vista Home Premium and slam your friends who chose Ultimate. Ask them why and then explain why not.
The last area to discuss is input devices, where we went with gamer favorites in the Logitech G15 gaming keyboard and the G5 gaming laser mouse. Both are very well regarded devices that fit well with the capabilities and concept of the Core i7 Dream system. If you covet the dream system for graphics and photo editing but not gaming, you can easily drop the G15/G5 and select precision input devices that better fit your needs.