Test Setup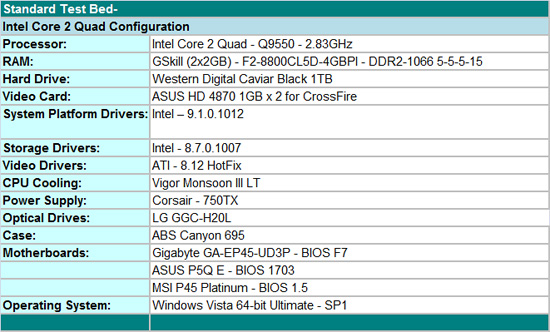 We selected the ASUS EAH4870 DK/HTDI/1GD5 video card for GPU duties. It is a non-reference design that offers improved thermals and acoustics over the standard HD4870 1GB cards on our board choices. We think if a user is going to run CrossFireX on one of these platforms, then the best possible performance choice is the HD4870 1GB. Depending on pricing of the HD 4870 1GB cards, a 4870X2 might be a better choice for most users.
The WD Caviar Black 1TB is our hard drive of choice for storage purposes. LG's GGC-H20L Blu-ray playback capable drive fills in for optical duties. We purchased two of G.Skill's impressive DDR2-1100 4GB kits that operate at DDR2-1100 on our boards with about 2.04V. We used 4GB in our standard benchmarks with memory set at DDR2-1066 with 5-5-5-15 timings at 1.8V. Vigor Gaming provided their Monsoon III LT CPU cooler that offers mounting kits for sockets 1366, 775, and AM2+ processors. ABS provided their Canyon 695 case and it has proved to be exemplary during testing.
We are providing Phenom II X4 940 and Intel Core i7 920 results as a reference point only. For further information on the setups we utilized please visit our article detailing these two platforms.