Software
GIGABYTE provides several software applications with the GA-EP45-UD3P, EasyTune6 and D.E.S Advanced being the two main ones.
EasyTune6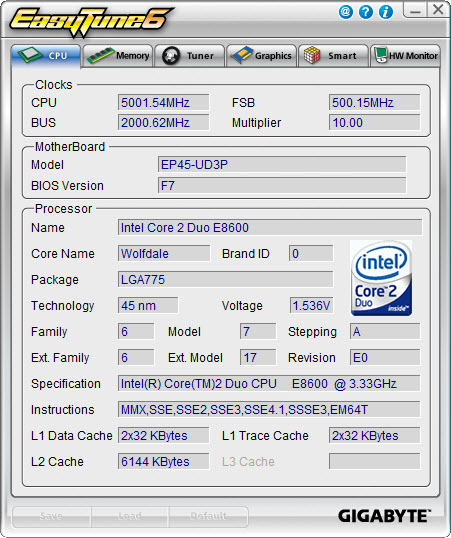 GIGABYTE's EasyTune6 application provides monitoring, system information, and overclocking capabilities. This is one of the best applications provided by the various motherboard suppliers for tuning a system within Windows. We would still like to see additional voltage readings and the ability to save the settings to the BIOS - or at least a BIOS profile. Other than that, this application is useful for extracting a decent amount of performance improvement out of the system after booting Windows. One benefit of such an approach is that you can reduce performance - along with power requirements and the stress on a system - without rebooting.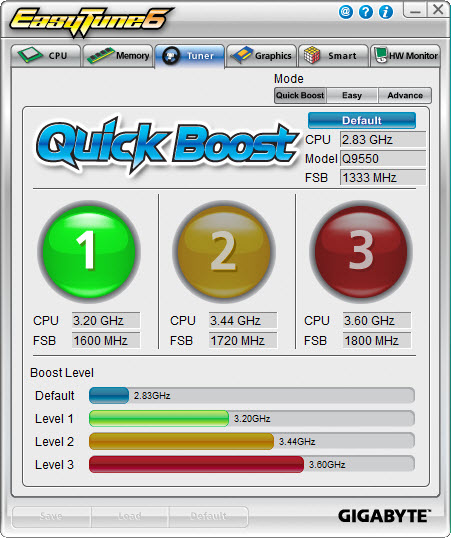 Quick Boost mode is a new feature that GIGABYTE introduced along with Ultra Durable 3 on their motherboards. It is a simple way for novice users to quickly overclock their systems without entering the BIOS. Once you click on one of the three boost levels, the utility will automatically optimize system settings according to your specific hardware combination. The program is based on algorithms of hardware that has been pre-tested by GIGABYTE engineers.
We tried about twenty-five different hardware combinations and 24 out of the 25 worked correctly. While not perfect, it was commendable that a majority of hardware combinations worked as advertised. GIGABYTE is constantly updating the application for product compatibility. Our testing indicates that users with recently purchased hardware will not have any trouble with Quick Boost.
The combination that did not work properly happened to be with our standard test setup today. On the first setting, we wanted to take our 2.83GHz Q9550 to 3.2GHz. Sounds simple right? We hit the first boost level, rebooted, and Vista loaded without a problem. We checked our settings and sure enough, the system was operating at 3.2GHz with an 8x CPU multiplier, 400FSB, memory set to DDR2-1066 at 5-5-5-15. Voltages were all set to stock except VDimm was increased to 1.9V per the SPD. We started our first benchmarks and the system crashed. It crashed repeatedly as a matter of fact. The problem is that Quick Boost set the FSB strap (MCH Latch) from 333 to 200 in order to run the memory at 1066. However, it did not raise the MCH voltages to compensate for the additional load on the memory controller.
We sent in a trouble ticket to GIGABYTE Technical Support. We received a standard reply that overclocking is not guaranteed even though we more or less laid out the problem for them. This was the one time we had a problem with technical support. Our other technical support tests ranging from flashing the BIOS to enabling SpeedStep were answered correctly. We ended up escalating this problem to the Technical Marketing Group and within 24 hours we had a new BIOS delivered to our in-box that fixed the problem. Our FSB strap stayed at 333 and the memory was set to DDR2-800 on the 1:1 ratio with 4-4-4-12 timings per the SPD.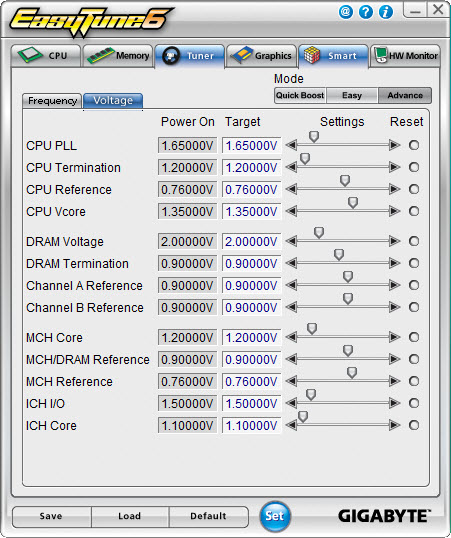 For those who appreciate and want a manual approach to overclocking, the Tuner tab has two different options. Easy mode allows control over the front side bus, but it is Advance mode that opens a slew of on-the-fly tweaking options that actually work. You can adjust the front side bus, processor multiplier, memory multiplier, PCI-E frequency, and numerous voltage options.
We have to say that using EasyTune6 was a pleasure. We repeatedly loaded this application first after getting the OS installation up and running. ET6 is definitely a huge help in tweaking those final settings to find a motherboard's overclocking limits.
DES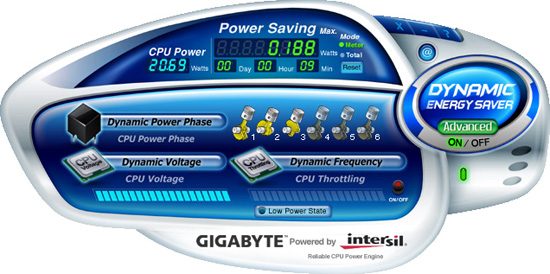 One of the most highly touted features from GIGABYTE is their Dynamic Energy Saver (DES) advanced power management solution. GIGABYTE provides a Windows-based software application to control DES. After installing the software (we highly suggest downloading the latest version) and a quick reboot, the application is ready for use. The control panel is powered down by default and it is up to the user to turn it on with a simple click of the DES button.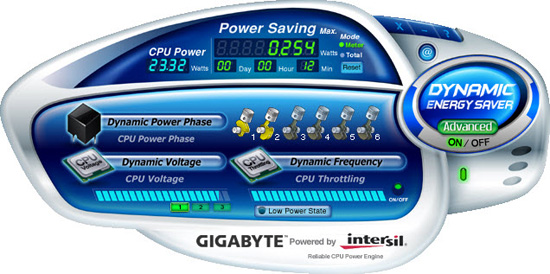 The DES software is simple to use and easy to understand. GIGABYTE provides a power savings meter in the top portion providing us with power savings information that can be reset at startup; otherwise it will track the power savings since the installation of the product. Real-time CPU power usage is available along with a graphic representation of the phases in use. You can also enable CPU throttling to save additional power during operation. GIGABYTE also includes an onboard LED system that indicates the number of phases in use. These LEDs can be turned on and off from the control panel. The user can also utilize DES while the system is overclocked, something most power saving programs do not allow.