Gigabyte GA-EP45-UD3P
Feature Set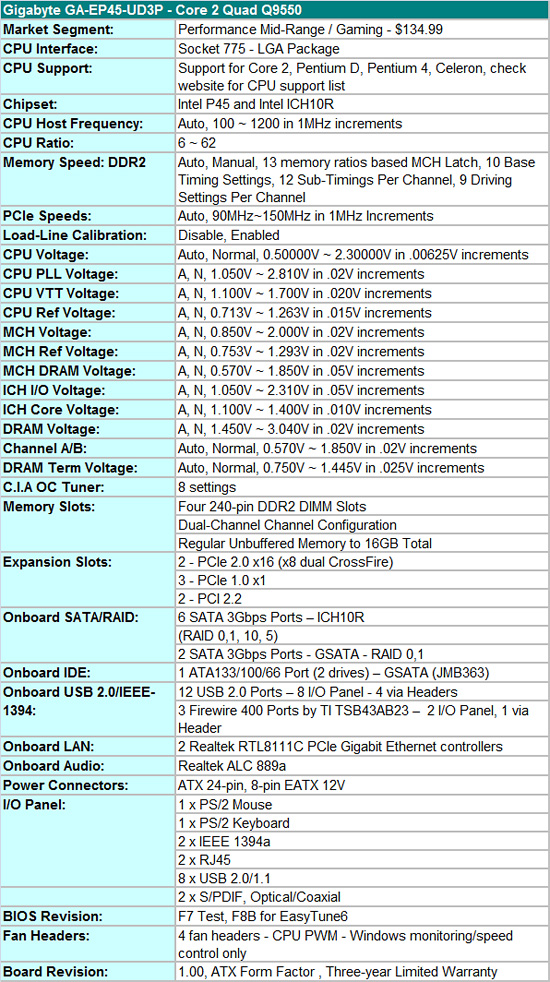 Gigabyte includes the standard array of components like the Realtek ALC889A HD audio codec with Dolby Home Theater support, dual Realtek RTL8111C Gigabit LAN chips with teaming support, T.I. TSB43AB23 IEEE 1394a chipset, GSATA2 (JMB363) chipset, Intel ICH10R, and full support for the Core 2 processor series, Pentium D, Pentium 4, and Celeron processors. Be sure to double check Gigabyte's CPU support list to ensure full support for your processor.
Gigabyte also includes a rather generous accessories bundle for a motherboard in this price point. You get the standard rear I/O panel cover along with 1 x floppy cable, 1 x IDE cable, 4 x SATA cables, 1 x dual eSATA PCI expansion bracket with an eSATA cable and external molex connection, well-written and informative manual, software CD, and an illustrative installation guide.
BIOS
Gigabyte also includes one of the most extensive BIOS designs in a midrange motherboard that we have seen recently. The BIOS is setup for the serious overclocker and includes all the basic settings: CPU multiplier, PCI-E bus, Northbridge latch (FSB Strap), FSB frequency, memory multipliers, and nearly every voltage setting you will need. Gigabyte finally includes Load Load-Line Calibration (LLC) and ICH Core (Southbridge) voltage settings. LLC will help to eliminate line droop on the VCore line. We still recommend having LLC disabled in most situations, but if you have to reach a certain overclock for benchmarking, then you should probably enable it. Generally, we do not need ICH voltages in our experience but it is nice to have the feature.
Two strengths of the BIOS are the abundant voltage settings and extensive memory timing options. Gigabyte allows you to tweak tRD phase adjustments, DIMM clock skews, and memory driving strengths. For those who do not wish to tinker that much, Gigabyte provides Drive Strength Profiles (667/800/1066/OC-1200/OC-1333), which can take the guess work out of overclocking your memory. We found that these settings will get you about 98% of the way there when trying to get that last few ns in latency removed or ensuring memory stability when overclocking.
One last feature we would like to mention is the updated Q-Flash utility that is accessed via the F8 key. Q-Flash can read files directly from a USB flash drive making BIOS updating a simple and safe procedure. We tried this feature 100 times as part of our testing routine and it never failed.
We did have a couple of slight disappointments with the BIOS. In the voltage setting options, Gigabyte does not provide the base voltages that the board defaults to at startup. Our other complaint has to do with the PC Health section, as there is a lack of voltage and temperature readouts. Other than that, we were very impressed with the BIOS.
Tech
One of the most important features that Gigabyte implemented in the GA-EP45-UD3P motherboard is the Ultra Durable 3 technology. As a follow up to UD2, Gigabyte improved their component selections and electrical layout to optimize the board. Ultra Durable 3 features lower ESR solid capacitors, lower RDS(on) MOSFETs, and ferrite core chokes. Gigabyte now rates the longevity of the solid capacitors at 50,000 hours or approximately 6 years of continuous use.
The second major improvement cited by Gigabyte in their Ultra Durable 3 design is the introduction of a 2-ounce copper PCB for both the Power and Ground layers compared to the typical 1-ounce layers found in most consumer boards. Gigabyte claims this new motherboard design offers substantially lower system temperatures, superior energy efficiency, and improved overclocking. We are working on verifying the temperature and energy efficiency claims; both are certainly improved over the previous design but we need to understand if that comes from the BIOS, new heatsink design, and improved DES or if there really is something to UD3.
We have asked Gigabyte for their internal test results when it comes to board thermals and longevity of the capacitors. We would agree that overclocking is improved compared to the previous generation board. Whether that is BIOS or board design is up for debate, but considering our overclocking experiences, we think it is mostly board design. We will provide a follow-up shortly on DES and UD3; in the meantime, our simple comment is that this board is loaded and well built.
DPC Latency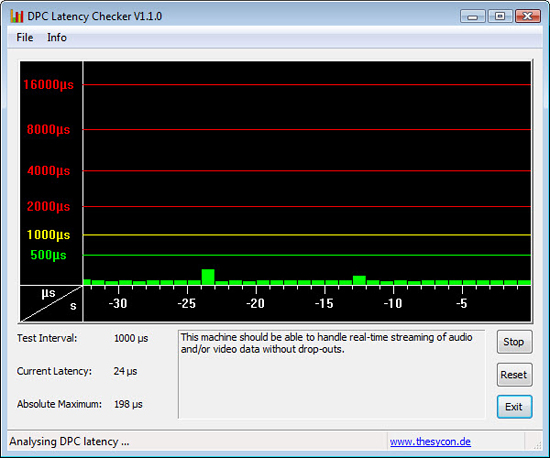 We get a lot of requests for DPC latency results on each board we test. The latency variations between manufacturers utilizing the same chipset varies more than one might imagine. In the past, Gigabyte has had problems in this area. We are happy to report that it appears those problems are thing of the past, at least on this board. Our test used the E8600 at stock settings with 8GB of memory installed with timings set to 5-5-5-15 at DDR2-1066.