One Last Thing and Closing Thoughts
The final bit of DX11 we'll touch on is the update to HLSL (MS's High Level Shader Language) in version 5.0 which brings some very developer friendly adjustments. While HLSL has always been similar in syntax to C, 5.0 adds support for classes and interfaces. We still don't get to use pointers though.
These changes are being made because of the sheer size of shader code. Programmers and artists need to build or generate either a single massive shader or tons of smaller shader programs for any given game. These code resources are huge and can be hard to manage without OOP (Object Oriented Programming) constructs. But there are some differences to how things work in other OOP languages. For instance, there is no need for memory management (because there are no pointers) or constructors / destructors in HLSL. Tasks like initialization are handled through updates to constant buffers, which generally reflect member data.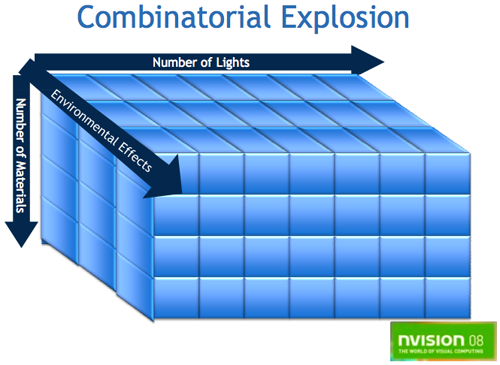 Aside from the programmability aspect, classes and interfaces were added to support dynamic shader linkage to combat the intricacy of developing with huge numbers of resources and effects. Dynamic linking allows the application to decide at runtime what shaders to compile and link and enables interfaces to be left ambiguous until runtime. At runtime, shaders are dynamically linked and based on what is linked all possible function bodies are then compiled and optimized. Compiled hardware-native code isn't inlined until the appropriate SetShader function is called.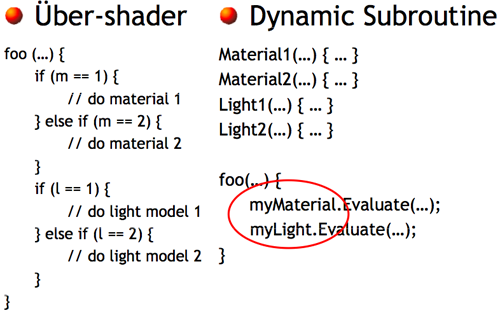 The flexibility this provides will enable development of much more complex and dynamic shader code, as it won't all need to be in one giant block with lots of "ifs", nor will there need to be thousands of smaller shaders cluttering up the developers mind. Performance of the shaders will still limit what can be done, but with this step DirectX helps reduce code complexity as a limiting factor in development.
With all of this - the ability to perform unordered memory accesses, multi-threading, tessellation, and the Compute Shader - DX11 is pretty aggressive. The complexity of the upgrade, however, is mitigated by the fact that this is nothing like the wholesale changes made in the move from DX9 to DX10: DX11 is really just a superset of DX10 in terms of features. This enables the ability for DX11 to run on down-level hardware (where DX11 specific features are not used), which when combined with the enhancements to HLSL with OOP and dynamic shader linking mean that developers should really have fewer qualms about moving from DX10 to DX11 than we saw with the transition from DX9. (Of course, that's nothing new: the first DX8 games shipped when DX9 was out, and it wasn't until DX10 that we saw a reasonable number of DX9 titles.)

To be fair, the OS upgrade requirement also threw a wrench in the gears. That won't be a problem this time, as Vista still sucks but will be getting DX11 support and Windows 7 looks like a better upgrade option for XP users than Vista. Developers who haven't already moved from DX9 may well skip DX10 altogether in favor of DX11 depending on the predicted ship dates of their titles; all signs point to DX11 as setting the time frame when we start to see the revolution promised with the move to DX10 take place. Developers have had time to familiarize themselves with the extended advantages of programmability offered by DX10, coding for DX11 will be much easier though OOP constructs and multi-threaded support, and if the features don't entice them, the ability to run on down-level hardware with a better coding environment might just seal the deal.
I'm still an OpenGL developer at this point, and I've dabbled a bit with DirectX at times. But DirectX 11 (and my disappointment with OpenGL 3.0) mark the first time I think I might actually make the switch. The first preview of DX11 is already available in the latest DX SDK. When I've got time I'll have to download it and get started. Hopefully the implementation is as attractive as the pitch. Wish me luck.