Smaller Die + More Performance = More Power
Power isn't going to be straight forward here, as this is both a die shrink and an overclock. If all other things were equal, the die shrink would have enabled a some power savings, but increasing the clock speeds (and likely voltages) means that we have factors at work that will push against each other. As for which will win, let's take a look at the data and find out.
Since we didn't take a look at power in our GeForce GTX 295 article, we'll keep an eye on that card as well. Also, keep in mind that there have been 55nm GTX 260s being slowly phased in but that our GTX 260 parts are 65nm. The 55nm GTX 260s will show a power advantage over similarly clocked 65nm GTX 260s.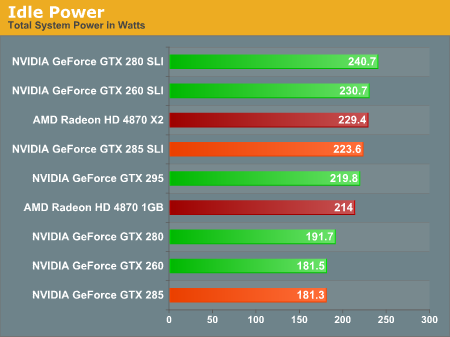 Idle power shows that NVIDIA is able to get some power savings when nothing is going on with the GPU. Power draw at idle decreased by about 10W with the move to 55nm which shows that in addition to their power saving features the die shrink does help. This advantage carries over to SLI as well with the GTX 285 SLI landing between the two single card dual-GPU systems.
The GeForce GTX 295 slides in just above the single GPU 4870 1GB while AMD's 4870 X2 consumes about 10W more than NVIDIA's higher performing dual-GPU card.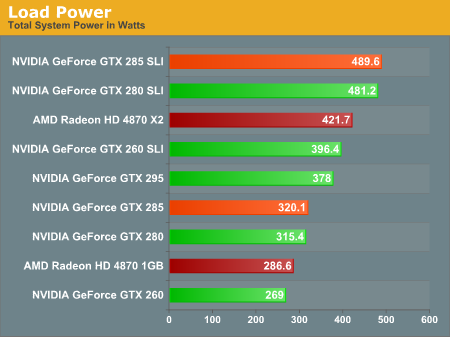 We see a different story when we look at load power. In spite of the die shrink, the added overclock pushes the GeForce GTX 285 higher under load than any other single GPU part. When SLI is enabled this becomes the most power hungry dual card setup we tested.
As for the GeForce GTX 295, we once again see good performance with lower power draw than the Radeon HD 4870 X2 and, in fact, less power draw than all the other dual-GPU setups we tested.
While a half node die shrink isn't the holy grail of power savings, the major advantage for NVIDIA comes from the die size decrease. We don't have measurements on the GPU after the shrink (we don't want to tear apart our hardware until we've tested things like 3-way SLI), but with the massive size of GT200 and the heavy price cuts NVIDIA was forced to make shortly after launch, the cost savings is a very important factor in this move.
NVIDIA needs to keep its price competitive and that means it needs to keep its costs down. Building an overclocked GTX 280 helps raise the price while building the parts at 55nm helps lower the cost. NVIDIA wants this card to be successful.