Age of Conan Performance
Age of Conan is our only MMO test both because it is very easy to benchmark and because it is graphically intensive as far as modern MMOs go even without DX10. The opening section of the game is restricted to just the player, so we are able to benchmark without the interference of other gamers. This also happens to be one of two test we are running that favor AMD hardware (the other test is Race Driver GRID).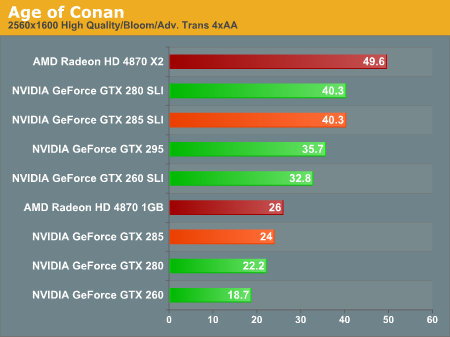 At 2560x1600, the GeForce GTX 285 splits the difference between the stock clocked GTX 280 and the Radeon HD 4870 1GB. At this res, SLI and CrossFire offer more robust and reliable performance than single cards, but 30 fps isn't necessarily required for a good experience with this MMO as long as framerates are smooth (which they are with the GTX 285 and the Radeon HD 4870 1GB).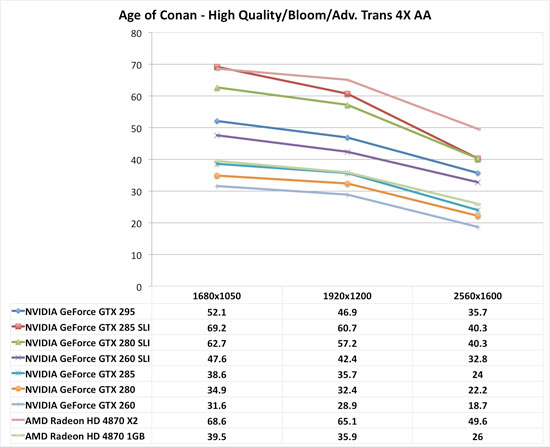 Click to Enlarge
Looking at the rest of the tests, we can see that the ~$380 GeForce GTX 285 is on par with the 4870 1GB (which can be had for about $250). Price wise, the competition with the GTX 285 is closer the more expensive Radeon HD 4870 X2 (which can be had for about $430 though some mail in rebate offers can net a better deal). The single card CrossFire solution provides much higher performance than the GTX 285 for the extra cash here.
As for the performance improvement over the stock clocked GTX 280 ranges from about 8% to a little over 10%, which is actually pretty good for the overclock we've got.