Microsoft Excel 2007

Just as there are applications that favor the Phenom II's IMC, there are those scenarios that are highly optimized for Intel's architectures. Running the Excel Monte Carlo simulation all of the Core 2 Quads and even the Core 2 Duo E8600 are faster than AMD's Phenom II. This is simply a test that is highly optimized for Intel's architectures, which is a big reason Intel prefers it. But it's real world and it's worth identifying.
Sony Vegas Pro 8: Blu-ray Disc Creation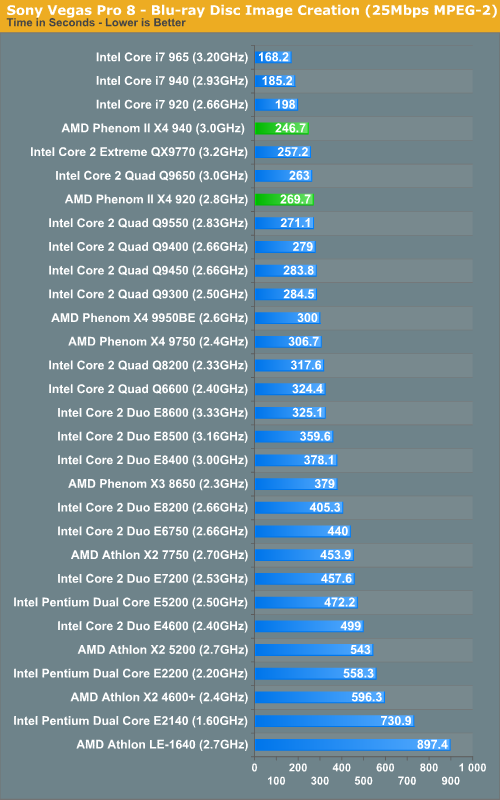 Encoding yet again, and Phenom II does very well. This time around we're creating a Blu-ray disc, something that will perhaps become more common place in the next couple of years. Other than the Core i7, Phenom II is the fastest processor around. It's the strength of the integrated memory controller at work - both Core i7 and Phenom II rule the charts here. Penryn is good but not good enough, even at the same clock speed, to compete.
Sorenson Squeeze: FLV Creation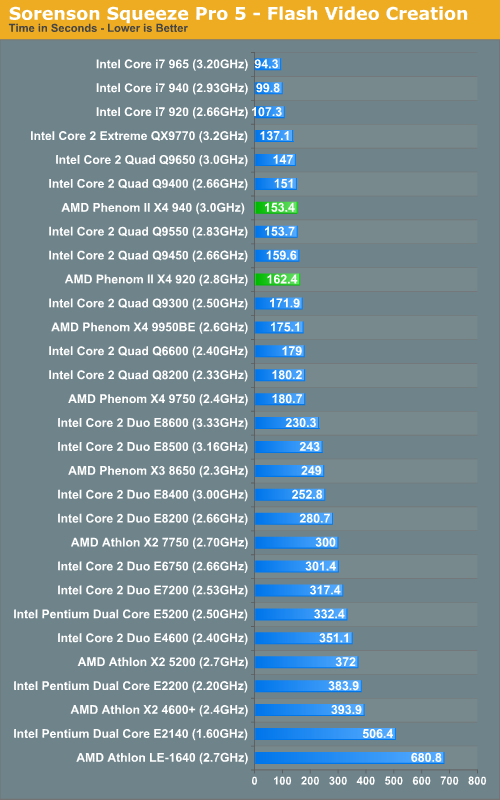 There's a certain degree of variability between the runs here which is why we see the Q9400, Q9550 and Phenom II X4 940 all around the same level of performance. The takeaway point? AMD is fully competitive here, and a real alternative to Intel's Core 2 Quad at the same price point and beyond.
WinRAR - Archive Creation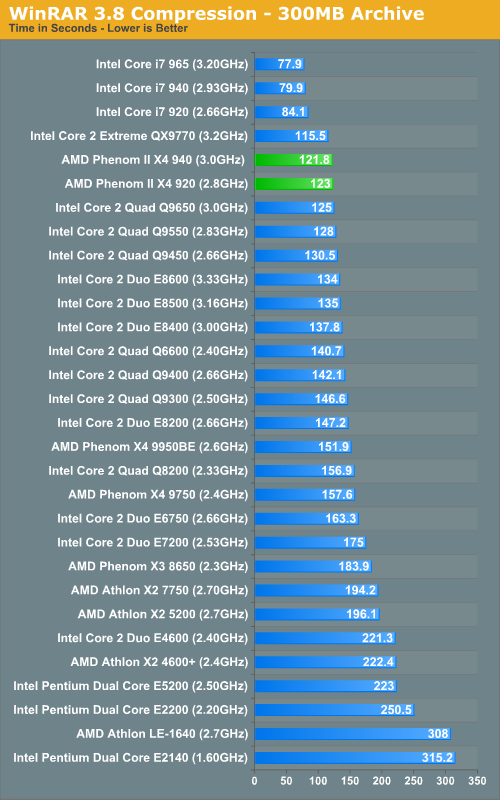 Compression programs love multiple cores and fast memory access. This test bodes well for the Phenom II's IMC design and it shows with results besting all of the Core 2 processors except for the $1100+ QX9770.