DivX 8.5.3 with Xmpeg 5.0.3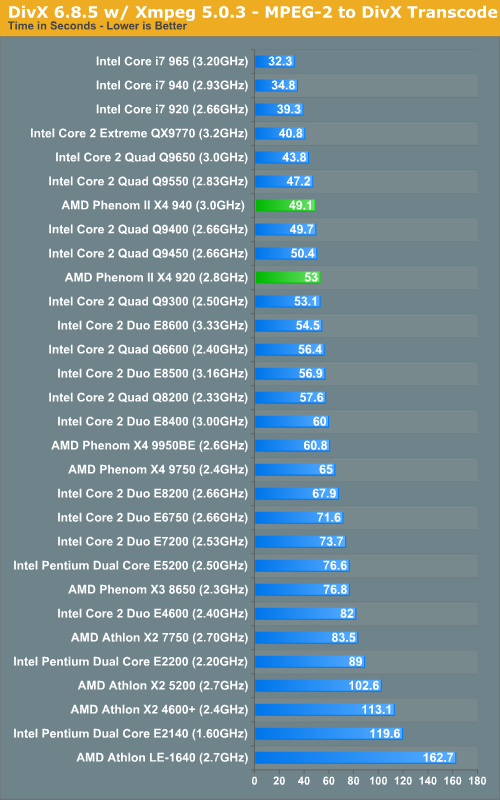 Now this is a tremendous victory for AMD. The Phenom II X4 940 doesn't break any performance records, nor can it outshine the Core i7 920, but what it does do is offer the same DivX encoding performance as Intel's Core 2 Quad Q9400. The cache and clock speed advantages are just too much for Intel's parts.
x264 HD Encode
Graysky's x264 HD test uses the publicly available x264 codec (open source alternative to H.264) to encode a 4Mbps 720p MPEG-2 source. The focus here is on quality rather than speed, thus the benchmark uses a 2-pass encode and reports the average frame rate in each pass.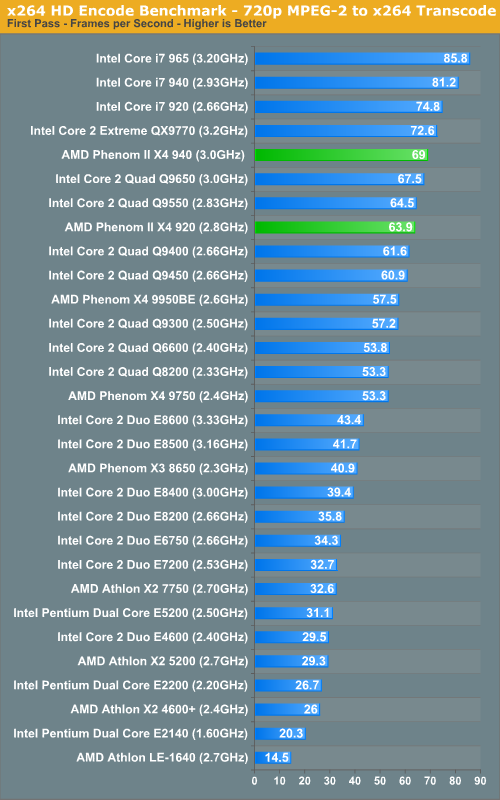 The first pass of the x264 test is a very unique win for AMD; clock for clock it's faster than Penryn here. The trick is that the first pass of the x264 test is mostly an analysis pass, which really benefits from Phenom's integrated memory controller. It's an advantage that no amount of cache can overcome.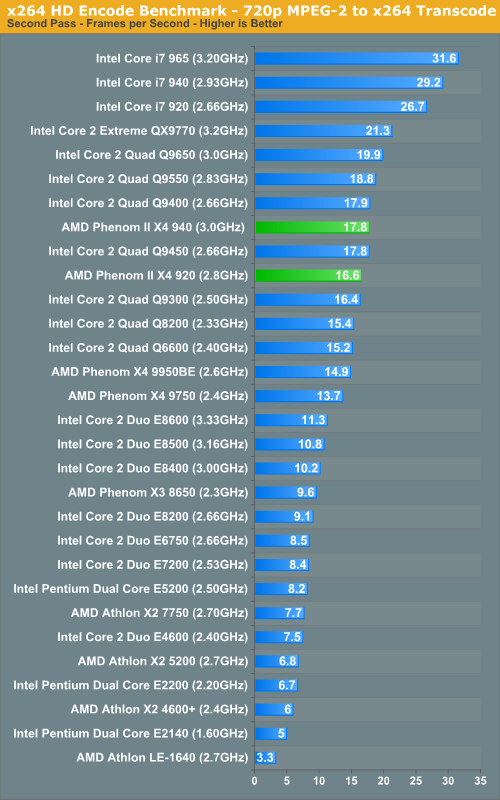 The second pass of the x264 encode is where the majority of the work gets done, hence the lower frame rates. The actual encode is happening here and the Phenom II X4 940 ties the performance of the Core 2 Quad Q9400. The same goes for the Phemom II X4 920 and the Q9300. The Q9550 and the Q9400 are faster than the 940 and 920 respectively, but Intel needs to reduce the pricing on both of those parts to remain competitive.
Windows Media Encoder 9 x64 Advanced Profile

Windows Media Encoder has always been an AMD favorite and Phenom II does extremely well here. Again, clock for clock we're at the same performance levels of Penryn, thanks to Phenom's IMC. The Phenom II X4 940 and 920 both outperform their price competitors; in fact, they both perform outside of their price class.