The final addition to the Eee Family shown at the event is the Eee Keyboard.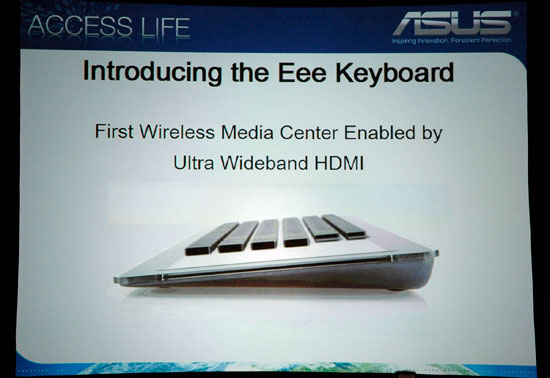 The Eee Keyboard looks like a full sized keyboard (reminiscent of Apple's aluminum keyboard) but with two major differences: an integrated PC and an integrated 5" touchscreen display. I wrote about such a device in one of my blogs at WePC.com, take the numeric keypad away from a standard keyboard and replace it with a touchscreen/touchpad and that's what you get with the Eee Keyboard.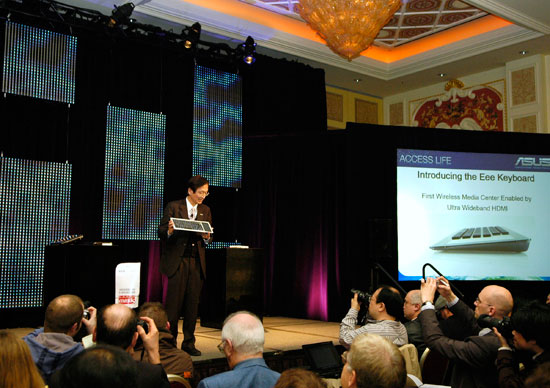 The integrated PC (no word on specs, presumably very Eee-like?) allows the keyboard itself to be all you need for a computer, assuming you have a display nearby. The display part of the equation is pretty sexy, the Eee Keyboard has an integrated Ultra Wideband HDMI transmitter - if you've got a display with a UWB HDMI receiver, all you'll need is this keyboard and you're good to go, no cables required. There's a standard HDMI port on the keyboard as well. As soon as you say wireless, however, battery life becomes something to discuss, and at present we have no idea what sort of battery life that Eee Keyboard will offer. We're unsure about whether or not an optical drive is part of the keyboard, but it does present some intriguing ideas.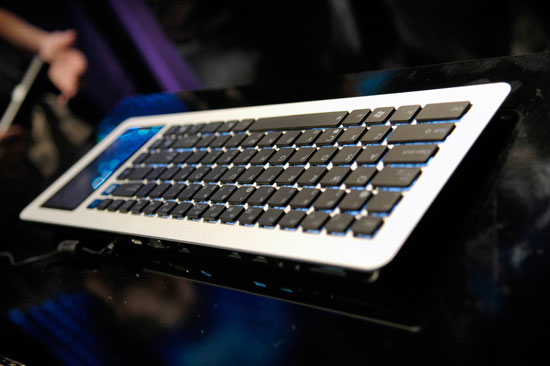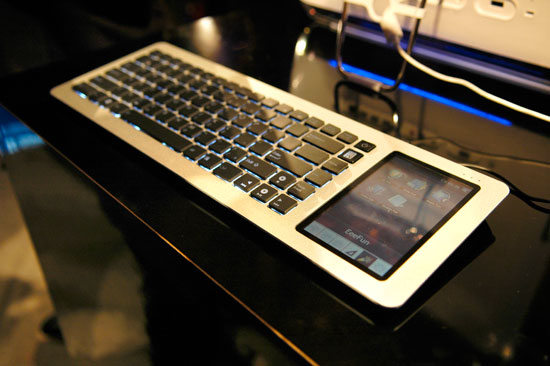 The touch screen can function as either a screen for the integrated PC or as a trackpad for whatever machine you have the Eee Keyboard hooked up to. A large, glass trackpad on a keyboard seems like the ideal way to bring multi-touch to the desktop.