CES does not officially open its doors until Thursday, but already many people are in Las Vegas, and the meetings have begun. One area where we've already noticed a difference from previous years is in the availability of hotel rooms. Yes, the economic slump is rearing its ugly head once again, and several people we've talked to commented on the availability of rooms in downtown Las Vegas, even in late December. Not only are the rooms available, but pricing on hotel suites is down anywhere from 20% to 50% compared to previous years! Not that we're complaining about the prices, but it will be interesting to see how much of an impact the economy has had on the show itself.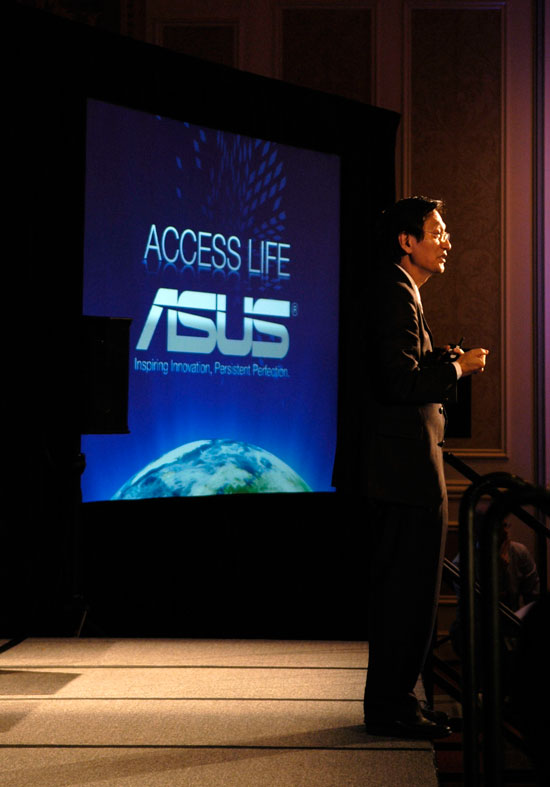 Several of us from AnandTech arrived on Tuesday, in time for the ASUS press conference. There is no doubt that ASUS has seen a lot of success with the Eee brand over the past year (Eee stands for Excellent, Exciting, Easy -- or Easy to Learn, Easy to Work and Easy to Play depending on which slide you're looking at), and with success comes repetition. The Eee PC and netbooks in general are new and interesting, true, and there are plenty of uses for such devices. However, we do like to see innovations in other areas of the industry. Certainly ASUS isn't focusing solely on Eee brand hardware, but you might be forgiven for thinking otherwise after the media event.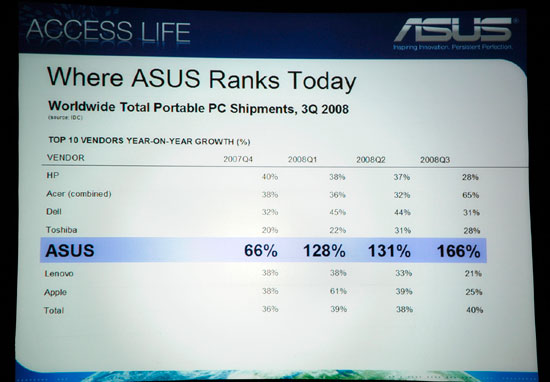 With over $22B in sales for 2007, ASUS is huge. Around 40% of all desktop motherboards shipped worldwide come from ASUS. But growth in the mobile space is just ridiculous thanks to ASUS' Eee line of netbooks. Total ASUS mobile shipments increased 166% in Q3 2008 compared to Q3 2007 thanks to the Eee line. The 40 minute presentation by ASUS chairman Jonney Shih introduced several new concepts for the Eee Family. Most of the changes seem to focus on adding more features and options into various netbooks.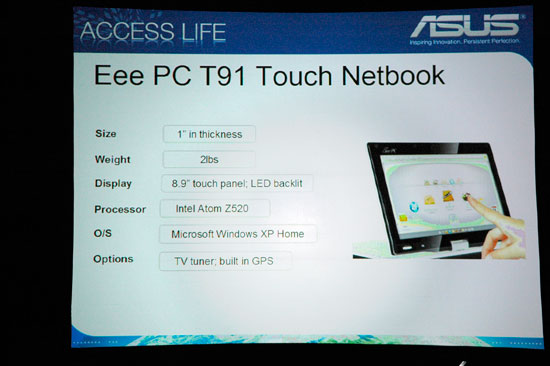 The Eee PC T91 and T101H were both introduced (8.9" and 10.2" chassis, respectively), with one of the major additions being a touch sensitive interface. These models also feature a tablet PC display, so you can rotate it in fold flat against the keyboard if you prefer. ASUS provided some demos of new interface ideas, but if you've ever seen a tablet PC you have a good idea of what to expect -- only in a netbook rather than a tablet PC. Pricing on these devices on the other hand will be very interesting, considering tablet PCs have formerly cost significantly more than competing ultraportables. The new touchscreen devices in the Eee Family will also support multi-touch, which could open the doors for some innovative ideas.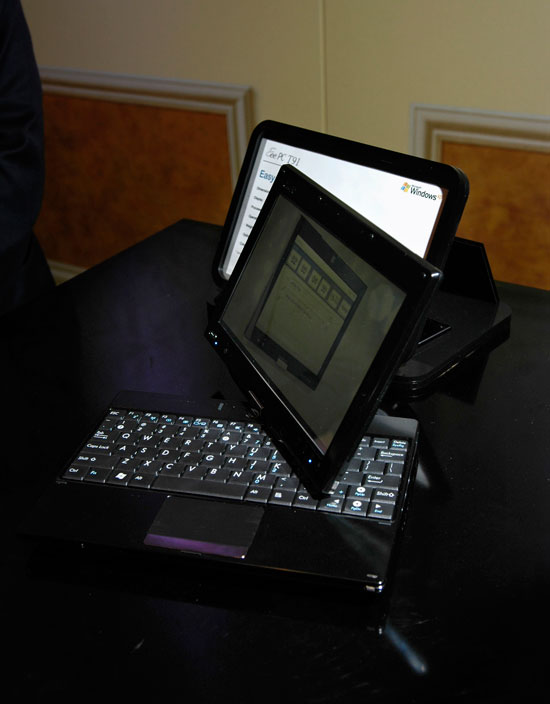 The T91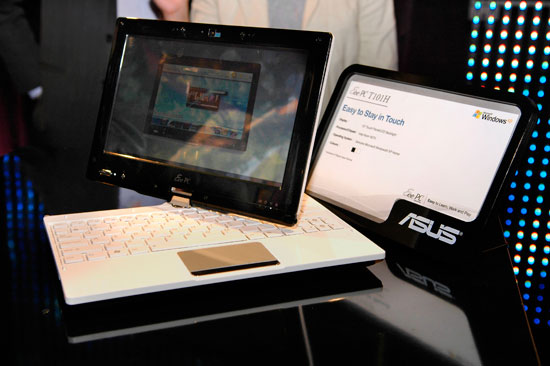 The T101H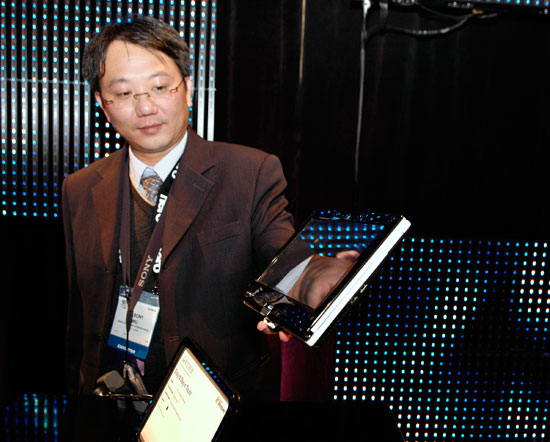 The T101H in tablet mode
An optional TV Tuner and GPS will be available for the Eee PC touch models.