Board & Features Overview
Foxconn Blood Rage X58
Market Segment
High End-Gaming & Benchmarking
CPU Interface
Socket LGA 1366
CPU Support
LGA1366-based Intel i7 Nehalem Support
Chipset
Intel X58
BCLK Ref Clock Range
CPU Default or Manual 66-500MHz in 1MHz increments
DDR3 Memory Speed
Auto, 6X-16X Multipliers Available. Upto 2133MHz Support
Uncore Multiplier Selection
Auto, 12X-24X Multipliers Available
QPI Multiplier Selection
Auto, 18X-24X Multipliers Available
CPU Core Voltage
Auto Default - +1260MV (1.26V Over Stock) in 10mv Increments
CPU Clock Multiplier
12X-31X Multipliers Available (Dependant On Processor)
DRAM Voltage DDR3
Auto, 1.50V ~ 2.86V in 0.01V increments, 1.50V standard
DRAM Timing Control
tCL, tRCD, tRP, tRAS, tRFC, tWR, tWTR, tRRD, tRTP + XMP Support IMC Channel/Interleaving Settings Available
DRAM Command Rate
Auto, 1T, 2T, 3T
X58 (IOH) Voltage
1.10V-2.36V in 0.02V increments
SB Voltage
1.40V ~ 1.80V in ~ 0.02V increments (1.506V Default)
CPU VTT Voltage
Default - +1260mv in 20mv increments
1.8V PLL Voltage
Default, 1.60V ~ 2.405V in 0.0.4V increments (1.80V Default)
CPU Vdroop Compensation
Enabled, Disabled
DIMM Slot 1-3 Vref
Address and Data Ref Voltage Adjustment for each slot 0.50X (Default) 0.496X - 0.674X Multipliers Available in 62 Steps
Memory Slots
Three 240-pin DDR3 DIMM Slots
Triple Channel
Regular Unbuffered DDR3 Memory to 6GB Total
Expansion Slots
4 - PCIe 2.0 x16 Mechanical
(Supports up to NVIDIA 3-way SLI Technology; 2 Slots support full 16X Bandwidth. 3-Way SLI support in 8X speed, 4 Slot Operation at 8X Speed.)
1 - PCIe (1.x) x1
1 - PCI Slot 2.2
Onboard SATA/RAID
6x SATA 3.0Gbps Ports - Intel ICH10R
Hot Plug and NCQ Support, RAID 0, 1, 5 RAID 0+1 Support & Intel Matrix Technology Support
Additional SATA & IDE
Marvell 88SE6320 SAS/Sata (2 Ports) 3.0Gbps, Hot Plug and NCQ Support, Raid 0, 1.Onboard Jmicron JMB363 IDE Connector. Floppy Drive Connector
Onboard Connectors
12 USB 2.0 Ports - (8) I/O Panel, (4) via headers
2x 1394a Ports - (1) I/O Panel, (1) via header
Onboard LAN with Teaming
2X Realtek 8111C Gigabit LAN with Teaming Support
Onboard Audio
Sonar X-Fi Xtreme Soundcard - 7.1 Channel HD Audio with EAX 4.0 & CMSS 3D Support
Power Connectors
ATX 24-pin, 8-pin ATX 12V
I/O Panel
1 x PS/2 Keyboard
2 x eSATA (Jmicron JMB363)
1 x SPDIF - Coaxial Out
1 x IEEE 1394
2 x RJ45
8 x USB 2.0/1.1
Fan Headers
4 - 1X CPU, 3XSystem/Chassis
Fan Control
Full Fan Control For All Fan Headers in BIOS
BIOS Revisions Used
G13 Retail Shipping BIOS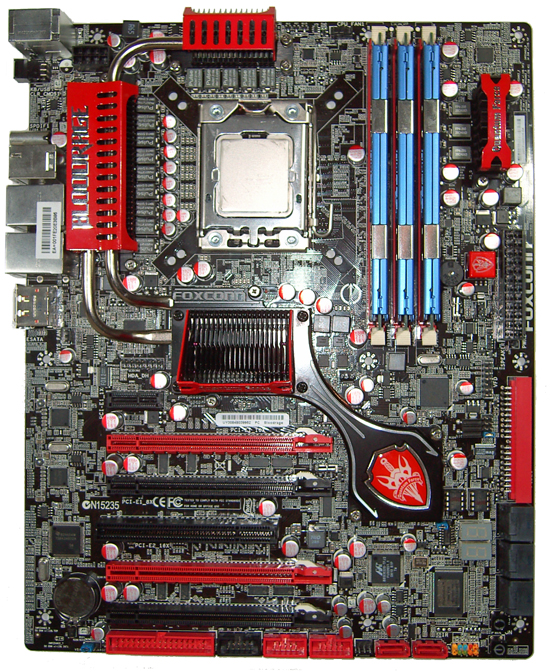 There's no shortage of options on the Blood Rage, although the slot configuration may be viewed as a curious one for some users. Foxconn decided to opt for a layout favoring dual SLI/CrossFire rather than giving preference to clearing enough PCIe slots for triple SLI/CrossFire goodness. Water-cooling maybe an option to get around slot spacing if using three graphics cards, but we're not sure if such a narrow profile waterblock is available, you've only got ~2cm of space between adjacent PCIe slots to play with. For benchmarking, you'll probably have to resort to using a PCIe flexi-riser, although GPU overclocks can be limited somewhat by the added trace lengths these introduce. That is assuming of course that you can find or have a suitable 3 way SLI connector for the cards. The current retail box includes a 2 way PCB SLI bridge only.
LGA 775 mounting holes are also present around the CPU socket, a nice option, but bear in mind that Nehalem's socket specification already includes a backing plate of it's own which is pre-attached to all boards. If your socket 775 cooler is not of the push-pin variety, you may find the standard backplate provided with your cooler does not sit well over the Nehalem one. We'll be checking out a few of our LGA 775 air-coolers in time for the full review.
Power regulation is where things get really serious on this board. The 12-phase power for the CPU uses the International Rectifier IR3502A controller. This is a true 12-phase solution without any of the associated marketing bunk that seems so prevalent in this section of the industry. VTT/Uncore is a required 2-phase implementation , while memory gets a 3-phase setup. Both memory and VTT power are supplied by using the IR FETs with an Intersil controller. Solid polymer capacitors are used throughout for power supply decoupling, with liberal use of MLCC capacitors to augment high frequency decoupling where the Polymer caps roll-off. There's no doubt this power supply design will have the extreme crowd licking their lips.
On the subject of 'extreme' use, the dual BIOS chip configuration that we first saw on the Black Ops is still intact on the Blood Rage. This allows 2 seperate BIOS files to be stored on the board or two similar ones - in case the first fails. Just move the jumper over to the second chip and voila, it could not get any easier.
You'll also notice that there are only three memory slots. This'll allow you to run up to 12GB using 4GB DIMMs, which is more than enough for your high-end enthusiast PC, unless you happen to need more memory for large file or virtualization purposes. Finding 4GB DDR3 DIMMs on the other hand could prove to be problematic (and expensive), making 6GB (3x2GB) the most likely configuration. Foxconn's reasoning behind this move is to improve overclocking by reducing trace length to vital signaling and power lines. A centralized PWM circuit allows utilizing the low impedance output of the IR FETs without resorting to large amounts of capacitance for compensation.
We support this kind of design decision on a dedicated high-end overclocking board. There's no point in going to the lengths of employing superior circuits if the implementation is shoddy. We've also noticed that some of the six memory slot boards from ASUS are too wide to be used in some of the smaller gaming cases as they leave scant if any room between drives bays and the SATA ports. The Blood Rage's conventional width means it should have no problem fitting in such PC cases. However, the maximum memory limitation means this board is not as attractive to those looking for an all-around workhorse.
The bundled accessory range is impressive, containing four different cooling options (passive, air (fan), water, and a pot for LN2/DI) for the uni-connected heatsink. For the gamers out there, the bundled Sonar soundcard employs a Creative X-Fi chipset with EAX 4.0 capabilities via software, a welcome move compared to the standard Realtek offerings. A standard slew of IDE/SATA/SAS cables are all on tap, together with USB and 1394 I/O modules. The AEGIS panel software and a collection of motherboard related tools are also included in the package.

The $300 price tag was a bit of a surprise move from our perspective -- we were expecting a bundle like this to come in toward the $375-$400 mark. $300 and up is a lot of money for a motherboard, but is actually competitive (go on shoot us for saying that!) within this target segment. We've been keeping a close eye on Newegg over the past few days and have noticed that the boards are selling out as soon as they arrive, although we did manage to grab one.
Our testing was all performed on the G13 shipping BIOS -- the same BIOS you'll be firing your board up on if you buy one right now. For once, we're in the lucky position of having no fewer than three of these motherboards in our test labs. Two full-retail package boards were sent to us by Foxconn and we went on to buy a third one to confirm our results against our sample retail boards. It'll please you to know all three boards exhibit the same traits when used with the exact same components. What is not pleasing is the current state of the shipping BIOS that we will discuss shortly.
Foxconn Blood Rage
Overclocking / Benchmark Testbed
Processor
Intel Core i7 920 2.66GHz CPU, 20X Default Multiplier 4.8GT/s QuickPath
Cache: 256 KB L2/core and 8 MB shared L3
CPU Voltage
Various
Cooling
Dtek Fuzion CPU cooler, 2 x PA120.2 Radiators, 3X Noctua NF-P12 120MM fans, DDC Ultra with Petra top. Cascade cooling 2x1.5HP rotary compressors
Power Supply
PCP1200W
Memory
Kingston Hyper X KHX16000D3K3/3GX 3X1GB Kit
Memory Settings
Various
Video Cards
EVGA GTX 280
Video Drivers
180.48 WHQL
Hard Drive
Western Digital 7200RPM 250GB SATA 3/Gbps 16MB Buffer
Optical Drives
Plextor PX-B900A, Toshiba SD-H802A
Case
Open Test Bed - Dimastech Benching Station, Lian-Li V2110
BIOS
G13 Retail
Operating System
Vista 64-bit, XP 32-bit
.
All testing was performed under the Vista 64-bit OS with SP1 utilizing a fresh install. Windows XP Professional 32-bit SP3 was thrown into the mix just to confirm the working/non-working state of the bundled AEGIS panel motherboard software utility. Foxconn has revamped the AEGIS panel GUI for the Blood Rage. Use of this software has been hit and miss for us. Although it installs fine on Vista and XP, we found that the overclocking utility does not work correctly for making changes, resulting in an information only application at this point. Any changes to voltages, bus speeds, or even pressing the apply button without making a change results in an operating system freeze.
We also attempted bus speed changes with SetFSB using the correct PLL part entry. Again, regardless of a change or non-change setting, pressing the apply button results in an OS hang-up. We've reported this back to Foxconn and await confirmation that they can re-create this problem and perhaps instigate a speedy fix. Onwards to initial results….