Corsair CX400W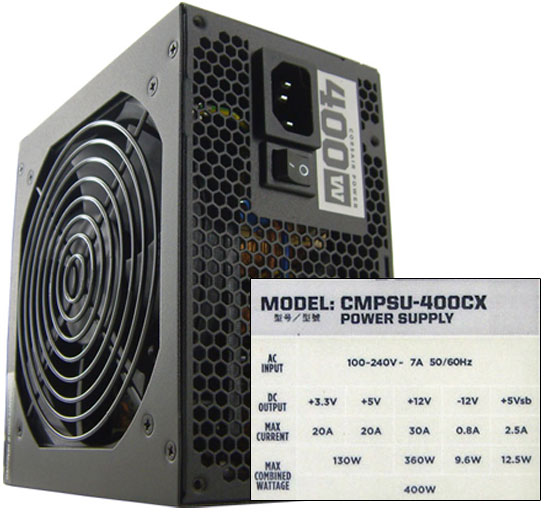 Corsair's latest product is the CX400W. There is also a new HX450W but we weren't able to get that one in time for our roundup unfortunately. The CX400 is the lowest-end unit from Corsair, which still has enough quality to satisfy even enthusiasts. It comes in black and has a large Corsair logo imprinted in the side panels of the housing. A 120mm Adda fan cools these units. The back is perforated with hexagonal-shaped openings.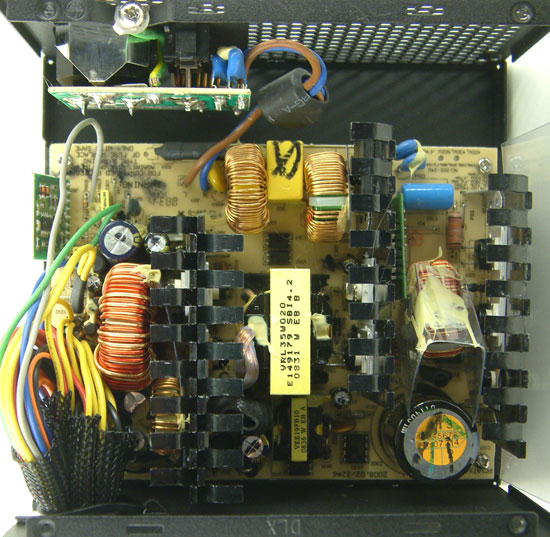 The inside reveals a typical Seasonic design with three heatsinks, two for the primary side and the third for the secondary side. Half of the filtering stage is attached to the little sister PCB connected to the other side of the AC jack and then leading onto the main PCB. The primary cap is made by Chemi-Con and the secondary comes from Ostor, a slightly lower end vendor Seasonic uses for these units.
The Corsair CX400W seems to be well equipped with long cable harnesses and plenty of connectors. It is also the only power supply until now with a 4/8-pin 12V connector. It also comes with a 6-pin PEG connector with a length of 60cm (24"). There are six SATA and six Molex connectors as well, which will be good for people with a low-end CPU and GPU but a vast amount of hard drives. The cables are sleeved in black like all Corsair power supplies.